Session Information
Session Type: Abstract Submissions (ACR)
Background/Purpose: Several brain-reactive autoantibodies in the blood have been inconsistently associated with Neuropsychiatric Systemic Lupus Erythematosus (NPSLE) in adults but very little is known whether such findings are relevant to neurocognitive dysfunction (NCD) with childhood-onset systemic lupus erythematosus (cSLE). NCD with cSLE often impairs working memory, visuoconstructional (VC) ability, attention and working speed. The objective of this research was to examine the relationship between select candidate biomarkers in the serum for their usefulness in the identification of cSLE-associated NCD.

Methods: As part of a larger study, the cognitive ability of 38 patients with cSLE was studied using the cSLE Battery of Neuropsychological Tests (Ross et al; 2008) that probes cognitive domains typically impaired with cSLE, with overall cognitive performance expressed as the average z-scores of the standardized tests (mean in healthy reference population= 0; standard deviation= 1). Serum levels of neutrophil gelatinase associated lipocalin (NGAL; involved in blood-brain barrier integrity), as well as auto- antibodies to NR2 (involved in neuronal plasticity and apoptosis); phospholipids (aPL) (associated among others with white matter hyperdensities on magnetic resonance imaging and thrombosis), and ribosomal-P (associated with depression and seizure; proposed involvement in neuronal apoptosis) were measured using commercially available standard assays.

Results: The overall level of cognitive function was significantly worse in those with cSLE who tested positive for aPL-antibodies as compared to aPL-antibody negative cSLE patients [mean+SE; -2.44± 1.13 vs. -0.38± 0.61; p= 0.041]. We found aPL antibodies to be associated with a 5-fold increased risk of NCD (40% vs. 12%; p =0.08). We also found anti-ribosomal P antibodies present in 67% (24/38) of the cSLE patients. As shown in Figure 1, those who tested positive for anti-ribosomal P antibodies had a significantly lower overall cognitive functioning vs. cSLE patients without anti-ribosomal P antibodies (p= 0.0006). Conversely, we found serum levels of anti-NR2 antibodies to be unrelated to cognitive ability. The same was true for serum levels of NGAL.

Conclusion: Presence of aPL and anti-ribosomal P antibodies in the serum is associated with the level of cognitive ability of children with cSLE, providing proof-of principle that discovery of biomarkers for NPSLE in the blood is feasible. Additional research is necessary to assess whether the duration of antibody exposure and/or the combination of antibodies are suited to reliably identify patients who suffer from cSLE-associated NCD or are at risk of developing it.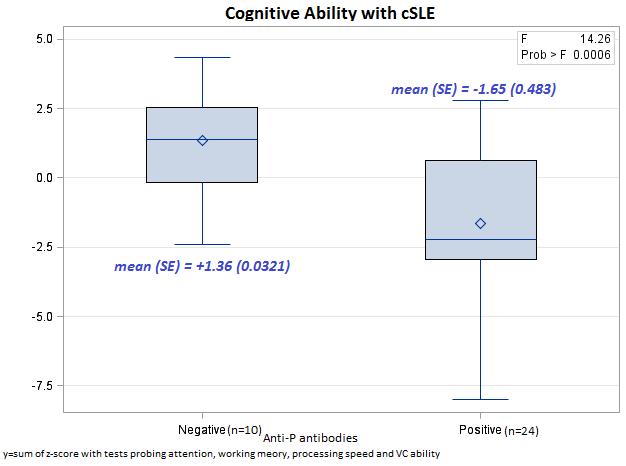 ---
Disclosure:
H. Brunner,
None;
J. Hummel,
None;
S. Nelson,
None;
E. C. Thomas,
None;
J. L. Huggins,
None;
M. L. Curran,
None;
J. Ying,
None;
M. S. Klein-Gitelman,
None.
« Back to 2012 ACR/ARHP Annual Meeting
ACR Meeting Abstracts - https://acrabstracts.org/abstract/blood-based-biomarkers-of-neurocognitive-dysfunction-in-childhood-onset-systemic-lupus-erythematosus/