Session Information
Session Type: Abstract Submissions (ACR)
Background/Purpose: The aim of this study was to examine the longitudinal utility of a biomarker signature in conjunction with myositis autoantibodies (autoAbs) as biomarkers of disease outcome in refractory myositis patients treated with B cell depletion (BCD).
Methods: In the RIM Trial, all subjects received 1 gram of rituximab on 2 consecutive weeks. Using start of treatment as baseline, serum samples (n=177) were analyzed at 0, 8, 16, and 24 weeks after BCD  with multiplexed sandwich immunoassays (Meso Scale Discovery) to quantify type -1 IFN-regulated and other pro-inflammatory chemokines and cytokines. Biomarker scores were generated based on a priori assignment from literature review for serum levels from the following pathways: type-1 IFN-inducible (IP-10, I-TAC, MCP1), Th1 (IFNγ, TNFα, IL2), Th2 (IL4, IL5, IL10, IL12, IL13), Th17 (IL6, IL17, IL1b) and regulatory cytokines (IL10 and TNFa).  Biomarker scores are defined as the normalized sum of cytokine/chemokine levels adjusted to a 100-point scale. Myositis autoAbs (anti-synthetase (anti-syn) n=28, TIF1-g n=19, Mi-2 n=25, SRP n=21, MJ n=18, non-myositis associated (non-MAA) n=24, unidentified autoantibody n=9, and no autoantibodies n=33) determined by immunoprecipitation at baseline, were correlated with outcome measures. Kruskal-Wallis rank sum test was used for comparisons.
Results: The mean (SD) values for muscle disease and physician global disease activity VAS scores (0-100 mm) were 46 (22) and 49 (19). IFN scores (median values) were higher at baseline in patients with anti-syn; (43), TIF1-g (31) and Mi-2 (30) compared with other autoAb groups (p<0.001).  No significant improvement in biomarker scores was detected at 8 weeks. However, at 16 weeks after BCD anti-syn and Mi-2 autoAb (+) patients and non-MAA had a greater improvement in IFN scores (– 6.7,  – 6.1 and -7.2  p<.001) while TIF1-g (+) patients worsened by 7.0. The change in IFN score at 16 weeks correlated with percent change in muscle (r=0.27, p<0.001) and physician VAS (r=0.16, p=0.06). High IFN scores at baseline (>30) demonstrated the greatest clinical improvement based on global and muscle VAS among patients in certain autoAb groups (e.g., Mi-2, none and "undefined") (IFN score-autoAb interaction p=0.075; Figure).
Regulatory scores were higher at baseline in patients with anti-syn (31) and non-MAA (32) vs. other groups (p=0.01). Regulatory score improved at 16 weeks in anti-syn (-5.8) and Mi-2 (-3.4) and non-MAA (-7.2, p=0.028). Th1 scores decreased in the anti-syn, Mi-2, non-MAA and to a lesser extent in the TIF-g group at 16 weeks (p=0.039) with the greatest improvement at 24 weeks (p=0.014) suggesting a longer time to improvement if the Th1 score is elevated.  Th17 remained unchanged.
Conclusion: Biomarker signatures in conjunction with autoAbs prior to treatment help guide response to BCD in refractory myositis. In addition, biomarker and clinical response is greatest at 16 weeks after BCD.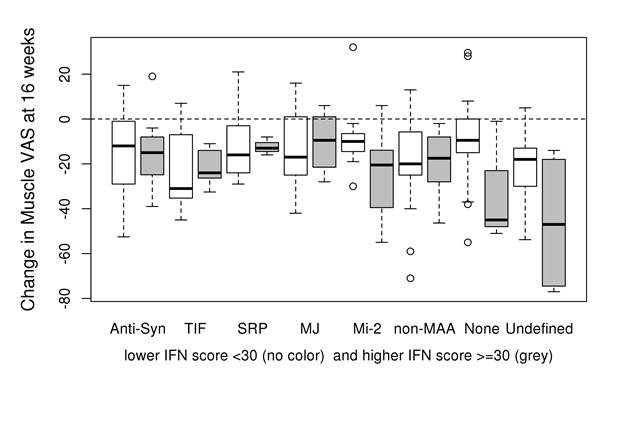 ---
Disclosure:
A. M. Reed,
None;
C. S. Crowson,
None;
M. S. Hein,
None;
C. Lopez de Padilla,
None;
H. Khun,
None;
R. Aggarwal,
None;
D. P. Ascherman,
None;
M. C. Levesque,
None;
C. V. Oddis,
None.
« Back to 2013 ACR/ARHP Annual Meeting
ACR Meeting Abstracts - https://acrabstracts.org/abstract/biomarker-and-serologic-predictors-of-clinical-improvement-after-b-cell-depletion-in-refractory-adult-and-juvenile-dermatomyositis-dm-and-adult-polymyositis-pm-the-rim-rituximab-in-myosit/