Session Information
Session Type: Poster Session (Monday)
Session Time: 9:00AM-11:00AM
Background/Purpose: SLE disproportionately affects underrepresented racial minorities, groups that often have lower rates of medication adherence. This study aimed to explore barriers and facilitators of adherence to SLE medications among minority patients.
Methods: We conducted a qualitative descriptive study using semi-structured interviews. Twelve minority SLE patients who have been prescribed DMARDs and 12 lupus clinic personnel (including 6 doctors, 2 nurse practitioners, 1 pharmacist, and 3 nursing staff) were recruited through purposive sampling. We interviewed 8 patients who had not refilled DMARDs regularly and 4 who did. Interviews were audio-recorded, transcribed, and analyzed using applied thematic analysis. An interdisciplinary stakeholder group consisting of patients, providers, and staff then matched facilitators to barriers to identify potential interventions.
Results: Patient characteristics are summarized in table 1. We identified 4 major themes to barriers of medication adherence. These are:
External factors, including medication costs, difficulties with insurance, logistical issues with pharmacy, misinformation, and lapses in communication with providers;
Intrinsic factors including forgetfulness in taking medications, denial of having a chronic illness and need to take medications, under-treated depression, concerns about side effects, lack of knowledge of benefits of taking medications and consequences of nonadherence, lack of trust in the provider and health system, low health literacy, and beliefs in religion and alternative medicine;
Medication features, including high number of pills, large pill size, and side effects;
Physical limitations, including fatigue, mobility issues, and lack of medication taking skills.
The most frequently mentioned barriers were cost, lack of knowledge, and side effects.
We also identified 6 major themes that facilitate adherence. These are:
Organizational strategies, including using reminders and pill organizers;
Social support, including support from family, friends, and providers/staff at the lupus clinic;
Internal motivation, including knowledge of consequences of not taking medications and benefits of taking them, accountability to the provider, and staying healthy to care for others;
External factors, including being able to pay for medications, easy access to doctors and/or pharmacist;
Medication features, including the small pill size and simplified regimens.
Provider communication, including clear, frequent, and motivating communication.
The most frequently mentioned facilitators are using reminders and pill organizers, support from family and friends, and knowledge of consequences.
Table 2 shows matching of facilitators to barriers.
Conclusion: We have identified a number of distinct barriers and facilitators to adherence among minority SLE patients. Although the most frequently cited barriers were cost, knowledge, and side effects, each patient faced a distinct set of several predominant barriers, and each identified different sets of facilitators. These findings suggest a need for individualized intervention to improve adherence.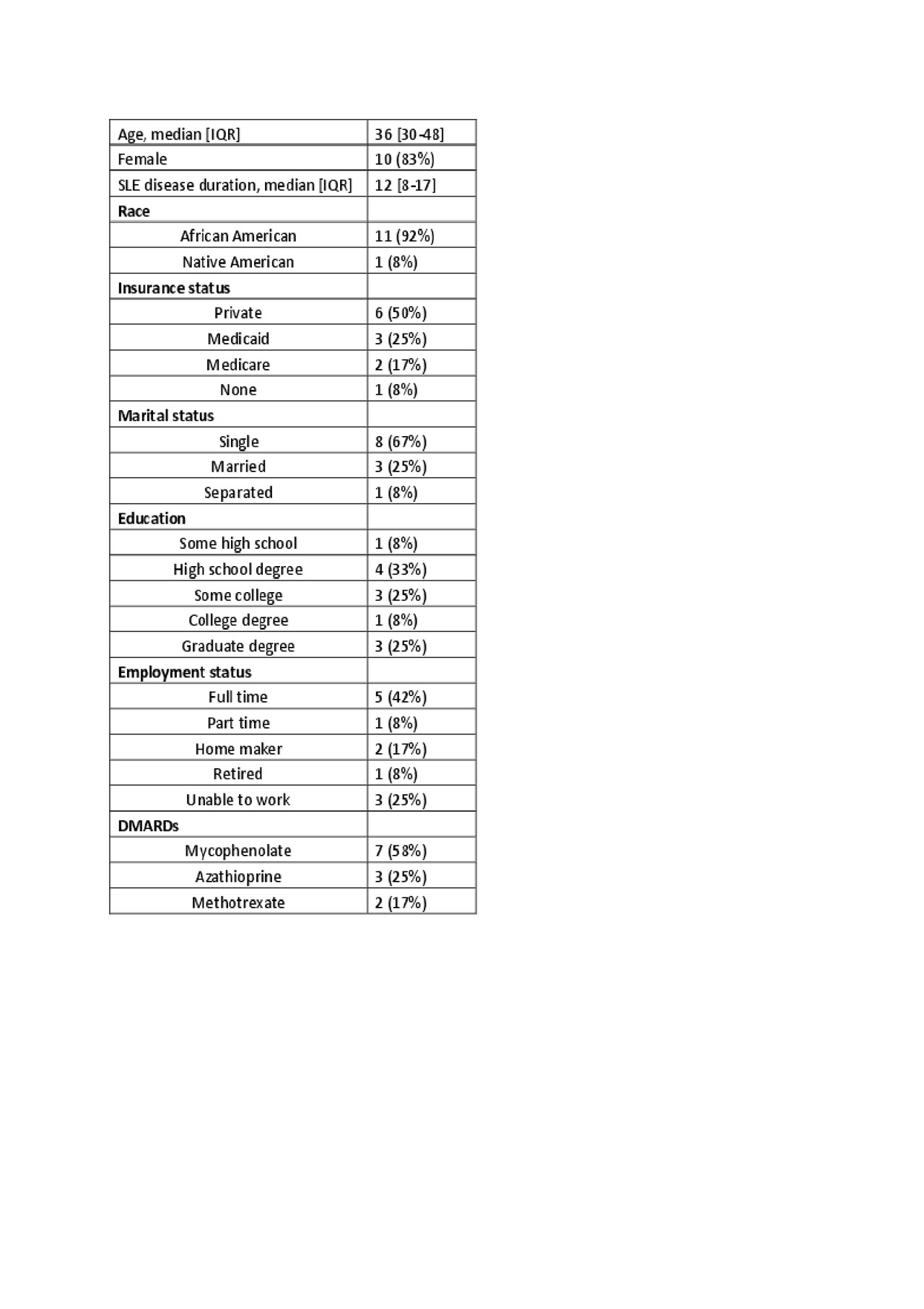 Qualitative table1

Qualitative table2
---
Disclosure: K. Sun, None; C. Dombeck, None; T. Swezey, None; A. Corneli, None; A. Eudy, GSK, 2; R. Sadun, None; J. Rogers, None; L. Criscione-Schreiber, None; J. Doss, None; M. Clowse, GSK, 2, UCB, 5.
To cite this abstract in AMA style:
Sun K, Dombeck C, Swezey T, Corneli A, Eudy A, Sadun R, Rogers J, Criscione-Schreiber L, Doss J, Clowse M. Barriers and Facilitators of Medication Adherence Among Minority SLE Patients: A Qualitative Study [abstract].
Arthritis Rheumatol.
2019; 71 (suppl 10). https://acrabstracts.org/abstract/barriers-and-facilitators-of-medication-adherence-among-minority-sle-patients-a-qualitative-study/. Accessed April 13, 2021.
« Back to 2019 ACR/ARP Annual Meeting
ACR Meeting Abstracts - https://acrabstracts.org/abstract/barriers-and-facilitators-of-medication-adherence-among-minority-sle-patients-a-qualitative-study/