Session Information
Session Type: Poster Session (Monday)
Session Time: 9:00AM-11:00AM
Background/Purpose: To describe current biologic disease-modifying antirheumatic drug (bDMARD) treatment patterns for Australian Rheumatology Association Database (ARAD) participants with Rheumatoid Arthritis (RA) including switching and reasons for switching.
Methods: ARAD, a voluntary longitudinal observational database established in 2001, collects long-term outcome data for people with inflammatory arthritis in Australia. Participants complete semi-annual, then annual questionnaires. Reasons for stopping bDMARD therapy, such as inefficacy or side-effects, were extracted from Sept. 2001 to May 2018 for all RA participants. Logistic regression was used to evaluate the characteristics of participants who switched compared to those who did not at first switch point. Switching patterns determined for each bDMARD and time on first, second and third-line bDMARDs were analysed using Cox regression survival analysis methods.
Results: 3,470 RA participants were included in the analysis. First-line bDMARDS were etanercept (ETA, n=1,414), adalimumab (ADA, n=1,024), infliximab (INX, n=155), golimumab (n=98), abatacept (ABA, n=66), certolizumab (n=38), tocilizumab (TOC, n=21), rituximab (n=24) and tofacitinib (TOF, n=23). 47.7% starting first-line bDMARD therapy switched to another bDMARD, 50.5% switched from second-line therapies and 42.3% switched from third-line therapies. Inefficacy (52.8%) or side effects (20.6%) were the most commonly cited reasons for stopping therapy, irrespective of line of treatment. Factors associated with switching compared to those continuing first-line use were female gender, tertiary education, more recent questionnaire year, higher HAQ score, current prednisolone and current opioid use as shown in the table. Switching due to side effects were more strongly associated with a higher HAQ score and longer duration of disease than with inefficacy.
Figure 1 shows the complex pattern of use of specific bDMARDs. The bars on the left represent the first-line bDMARD, subsequent use is represented as progressing from left to right. The thickness and colour of the lines indicate the number switching to the next line of bDMARD or stopping use.
The median time on first-line bDMARD varied from 258 days for ABA to 98 days for TOF. Compared with first-line ETA, participants were more likely to stop first-line ADA (HR 1.16; 95%CI: 1.04-1.29) and INX (HR 1.52; 95%CI: 1.26-1.85), whereas no differences were seen for other first-line bDMARDs (figure 2). For second-line therapies, compared to ETA, the risk of stopping was higher for INX and lower for TOC and TOF. For third-line, the risk of stopping was lower for all bDMARDs except INX.
Conclusion: Based on ARAD data, the treatment algorithm for bDMARD use in Australia is complex. Overall, around 50% of ARAD participants switch to another bDMARD therapy irrespective of the first, second or third-line bDMARD used. 50% of stoppages were due to inefficacy and 20% were due to side effects.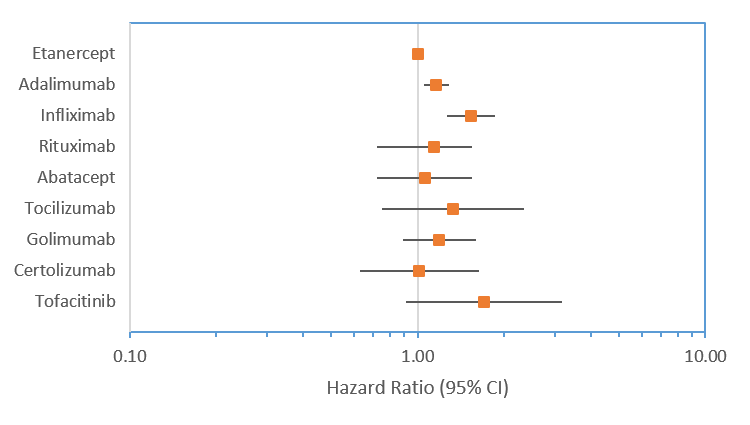 ---
Disclosure: A. Fletcher, Eli Lilly, 2, Pfizer, 2, Abbvie, 2; M. Lassere, None; L. March, BMS, 8, Janssen, 8; C. Hill, None; C. Barrett, None; G. Carroll, None; R. Buchbinder, None.
To cite this abstract in AMA style:
Fletcher A, Lassere M, March L, Hill C, Barrett C, Carroll G, Buchbinder R. Australian Rheumatoid Arthritis (RA) Biologic Treatment Pathways: An Australian Rheumatology Association Database (ARAD) Analysis [abstract].
Arthritis Rheumatol.
2019; 71 (suppl 10). https://acrabstracts.org/abstract/australian-rheumatoid-arthritis-ra-biologic-treatment-pathways-an-australian-rheumatology-association-database-arad-analysis/. Accessed December 1, 2020.
« Back to 2019 ACR/ARP Annual Meeting
ACR Meeting Abstracts - https://acrabstracts.org/abstract/australian-rheumatoid-arthritis-ra-biologic-treatment-pathways-an-australian-rheumatology-association-database-arad-analysis/