Session Information
Session Type: Poster Session (Sunday)
Session Time: 9:00AM-11:00AM
Background/Purpose: While RA patients are known to have excess respiratory morbidity and mortality, less is known about the role of chronic respiratory diseases in the development of RA. Prior studies using retrospective cohort or case-control studies suggest an association between asthma and increased RA risk, but were limited by potential for recall bias and lack of data on smoking and RA serostatus. Chronic obstructive pulmonary disease (COPD) as a risk factor for incident RA has not previously been studied. We investigated whether asthma or COPD are associated with subsequent risk of developing RA, independent of smoking.
Methods: We performed a prospective cohort study investigating asthma, COPD, and incident RA risk in two prospective cohorts, the Nurses' Health Study (NHS, 1988-2014) and NHSII (1991-2015). Self-reported asthma and COPD were confirmed using validated supplemental respiratory questionnaires. Medical record review determined incident RA (meeting 1987 ACR or 2010 ACR/EULAR criteria), serostatus, and date of diagnosis. Covariates including smoking pack-years were self-reported every 2 years. Two separate pooled analyses were performed: 1) asthma as primary exposure, and 2) COPD as primary exposure, each compared to women who never reported asthma or COPD. Cox regression models estimated hazard ratios (HR) and 95% confidence intervals (CI) for RA (overall and by serostatus), adjusting for smoking and other potential confounders. We performed subgroup analyses among never and ever smokers and by age to evaluate possible effect modification for asthma and RA risk by smoking and age.
Results: We identified 1,060 incident RA cases (63% seropositive) during 4,384,471 person-years of follow-up. In the asthma analysis, the RA incident rate (IR) for 15,148 women with validated asthma was 0.38 per 1000 person-years compared to an IR of 0.23 per 1000 person-years for women without asthma or COPD. Asthma was associated with increased risk for all RA (HR 1.53, 95%CI 1.24, 1.88) compared to no asthma/COPD after adjusting for covariates including continuous pack-years and smoking status (Table 1). Among never-smokers, asthma was associated with increased risk for all RA (HR 1.53, 95%CI 1.14, 2.06) and seronegative RA (HR 1.91, 95%CI 1.22, 2.97), but not seropositive RA. In the COPD analysis, the RA IR for 3,573 women with validated COPD was 0.66 per 1000 person-years. COPD was associated with increased risk of all RA (HR 1.89, 95%CI 1.31, 2.75) and seropositive RA (HR 2.07, 95%CI 1.31, 3.25) after adjusting for covariates including continuous pack-years and smoking status (Table 2). The association of COPD with seropositive RA was most pronounced in the subgroup of ever-smokers who were >55 years old (HR 2.71, 95%CI 1.55,4.76).
Conclusion: In this large prospective cohort study, asthma and COPD were both associated with increased risk for incident RA, independent of smoking status/intensity. Identifying asthma and COPD patients as at-risk populations for RA can help develop prevention and screening strategies as well as provide insight into the role of chronic airway inflammation in RA pathogenesis.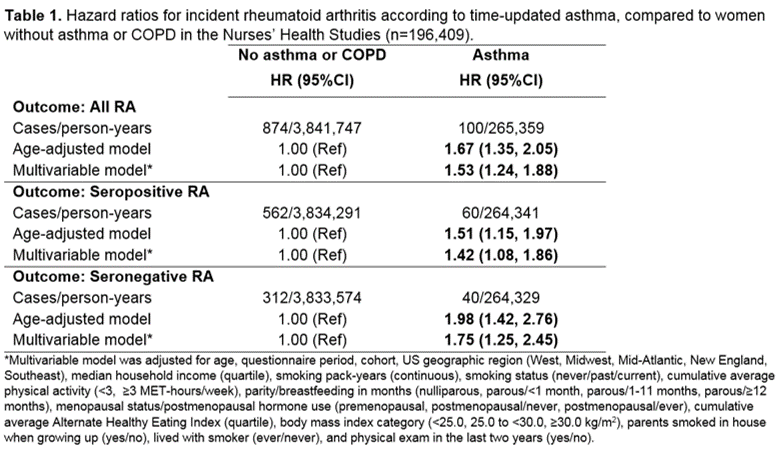 ---
Disclosure: J. Ford, None; X. Liu, None; S. Chu, None; B. Lu, None; M. Cho, GlaxoSmithKline, 2, Genentech, 5; E. Silverman, GlaxoSmithKline, 2, 9; K. Costenbader, Astra-Zeneca, 2, Glaxo Smith Kline, 2, Janssen Scientific Affairs, LLC, 2, Lupus Foundation of America, 2, Lupus Research Alliance, 2, Merck, 2; C. Camargo, None; J. Sparks, None.
To cite this abstract in AMA style:
Ford J, Liu X, Chu S, Lu B, Cho M, Silverman E, Costenbader K, Camargo C, Sparks J. Asthma, Chronic Obstructive Pulmonary Disease, and Subsequent Risk for Incident Rheumatoid Arthritis Among Women: A Prospective Cohort Study [abstract].
Arthritis Rheumatol.
2019; 71 (suppl 10). https://acrabstracts.org/abstract/asthma-chronic-obstructive-pulmonary-disease-and-subsequent-risk-for-incident-rheumatoid-arthritis-among-women-a-prospective-cohort-study/. Accessed November 26, 2020.
« Back to 2019 ACR/ARP Annual Meeting
ACR Meeting Abstracts - https://acrabstracts.org/abstract/asthma-chronic-obstructive-pulmonary-disease-and-subsequent-risk-for-incident-rheumatoid-arthritis-among-women-a-prospective-cohort-study/