Session Information
Session Type: Abstract Submissions (ACR)
Background/Purpose:
We have showed that the cytokine TWEAK is a biomarker for lupus nephritis (LN). However, soluble receptors for key immune pathways are also potential biomarkers of inflammatory diseases, including SLE. Thus, we hypothesized that a soluble form of TWEAK receptor, Fn14, might be present in human serum or urine and could be a biomarker for LN.
Methods:
Serum and urine from 67 patients from the Einstein Lupus Cohort were included in this study. 34 had active LN (renal SLEDAI≥4) and 33 had inactive, non-LN SLE (general SLEDAI≤2). Healthy normals (n=39), age and race matched, were also evaluated. ELISAs were performed on serum and urine samples to determine soluble Fn14 and TWEAK levels.  All data was analyzed using STATA 10.1
Results:
Of the 106 patients, 47% were Black, 47% were Hispanic and 6% were of another race/ethnicity. 79% were female with a median age of 43y. For the SLE patients the median disease duration was 6.0y. As expected LN patients had higher median protein to creatinine ratios as compared to both inactive SLE patients and normals (1.22 v 0.11 v 0.09, p<0.001).  Although the normal group had a higher median GFRs overall, all groups had normal median values (90 v 89 v 115, p=0.02)
Serum Fn14 (sFn14) levels were significantly higher in LN compared to normals (p=0.002) and trended toward significance when comparing LN to the inactive SLE group (p=0.06). Median urine Fn14 levels tended to be higher in the LN group as compared the inactive SLE (p=0.06) and normals (p=0.05) but did not achieve significance with normalization to urine creatinine (p=0.06 and 0.12 for comparison to inactive SLE and normal, respectively). While there was no significant difference between the groups with regard to serum TWEAK, as previously shown, median urinary TWEAK levels were significantly elevated in the LN group compared to inactive SLE and normal groups when normalized to urine creatinine concentration (LN v inactive SLE (p=0.002) and LN v normal (p=0.002).
We performed an ROC analysis to determine the capability of sFn14 to distinguish between LN and inactive SLE as well as LN and normals. The AUC for sFn14 by itself was fair (LN v inactive SLE, AUC: 0.63; LN v normals, AUC: 0.70) while that of normalized uTWEAK was good (LN v inactive SLE, AUC: 0.77; LN v normals, AUC: 0.72). However, when the AUC for sFn14 and uTWEAK were combined the AUC was increased (LN v inactive SLE, AUC: 0.80; LN v normals, AUC: 0.76).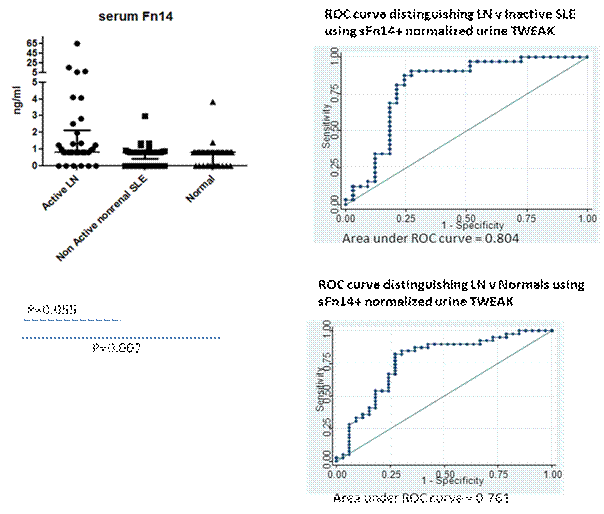 Conclusion:
sFn14 levels are significantly elevated in patients with LN. This novel finding contributes to our previous observations that urinary TWEAK is elevated in this patient population. Adding sFN14 levels to urinary TWEAK levels as a combined biomarker has a higher capacity than each alone to distinguish between LN and inactive SLE as well as LN and normals. sFn14 is a promising novel biomarker in LN, further underscoring the TWEAK/Fn14 pathway as a potential therapeutic target that warrants further study.
---
Disclosure:
I. Blanco,
None;
P. Wu,
None;
T. S. Zheng,
Biogen Idec,
3;
S. Weng,
BiogenIDEC,
3,
Bagen IDEC,
1;
J. S. Michaelson,
Biogen Idec,
1,
Biogen Idec,
3;
L. C. Burkly,
Biogen Idec,
1,
Biogen Idec,
3;
C. Putterman,
Biogen Idec,
2.
« Back to 2012 ACR/ARHP Annual Meeting
ACR Meeting Abstracts - https://acrabstracts.org/abstract/association-of-urinary-and-serum-soluble-fn14-levels-and-tweak-levels-with-lupus-nephritis-disease-activity/