Session Information
Session Type: ACR Poster Session C
Session Time: 9:00AM-11:00AM
Background/Purpose:
Interstitial lung disease (ILD) is a frequent complication and a major contributor to mortality and morbidity in polymyositis and dermatomyositis (PM/DM). Prior studies have linked the presence of anti-synthetase autoantibodies (ASA) and part of the HLA 8.1 ancestral haplotype (AH8.1) to ILD in PM/DM patients. This study aimed to evaluate the contribution of HLA-DQA1*05 to the presence of ILD in Caucasian PM/DM independent of ASA.
Methods:
A total of 82 Caucasian patients with adult-onset PM/DM per Bohan and Peter criteria and with HLA class I (A, B and C) and class II (DRB1 and DQA1) evaluated by sequence-specific oligonucleotide probe hybridization and priming techniques or sequencing methods were included. ILD status was determined by retrospective chart review based on imaging results, lung biopsy, and/or pulmonary function tests. ASA were determined by standard immunoprecipitation methods. AH8.1 was defined as the presence of HLA-A*01, B*08, C*07, DRB1*0301, and DQA1*05. Pearson chi-square (or Fischer exact when appropriate), multiple logistic regression tests and forward stepwise logistic methods were applied. P < 0.05 was considered statistically significant.
Results:
Overall, 27 (33%) had ILD, 29 (35%) were positive for ASA and 29 (35%) carried the AH8.1. ILD was associated with ASA (OR=8.0, 95%CI: 2.83-22.58, P<0.001) and with the AH8.1 (OR=3.66, 95%CI: 1.38-9.67, P=0.009) as expected.  Of the five AH8.1 alleles, HLA-DQA1*05 was the only locus significantly associated with ILD after adjusting for the presence of ASA (OR=5.95, 95%CI: 1.47-24.05, P=0.012). This association remained significant after adjusting for the presence of the other alleles of the AH8.1 and ASA status (OR=12.31, 95% CI: 1.81-83.81, P=0.010). Chi squared tables, categorizing the cohort based on the presence or absence of each AH 8.1 allele, were used to assess the independent effect of HLA-DQA1*05 on risk of ILD conditioned on ASA status and the frequency of ILD was higher in DQA1*05 carriers, however, due to limited power, not all comparisons met statistical significance. Additionally, forward stepwise logistic analysis, while keeping ASA in the model regardless of step, showed that DQA1*05 was the only HLA allele that remained in the best fit model for risk of ILD (OR=5.95, 95% CI: 1.47-24.05, P=0.012). Figure 1 shows the risk of ILD in Caucasian PM and DM patients based on the ASA and DQA1*05 status.  
Conclusion:
HLA-DQA1*05 is associated with an increased risk of ILD in Caucasian PM and DM patients, independent of ASA and other AH8.1 alleles, implying that HLA-DQA1*05 impacts the risk of ILD independently from ASA in Caucasian PM/DM. Thus, HLA-DQA1*05 may be a useful screening test for evaluating the risk of ILD in ASA negative PM/DM patients and may have diagnostic, prognostic and pathogenic implications for myositis-associated ILD that should be further assessed in additional cohorts.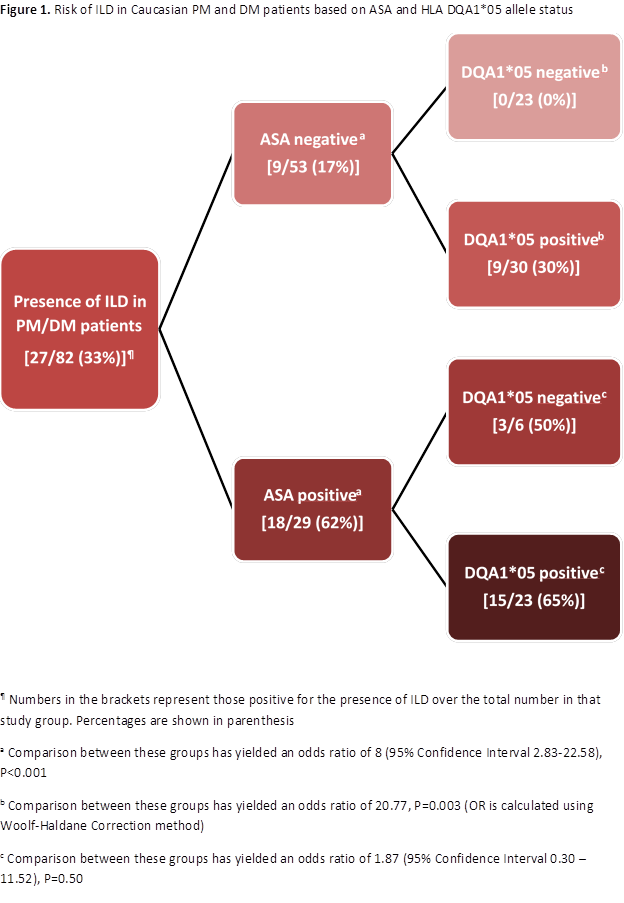 ---
Disclosure: A. Schiffenbauer, None; S. Faghihi-Kashani, None; T. P. O'Hanlon, None; W. Flegel, None; S. Adams, None; I. N. Targoff, None; C. V. Oddis, None; R. Aggarwal, Pfizer Inc, 2,Bristol-Myers Squibb, 2,Mallinckrodt, 2,Genentech and Biogen IDEC Inc., 2,Momenta, 2,Bristol-Myers Squibb, 5,Octapharma, 5,Mallinckrodt, 5; L. G. Rider, None; S. R. Ytterberg, None; L. Christopher-Stine, OptionCare, 5,Mallinckrodt, 5,Inova Diagnostics, Inc., 7; S. K. Danoff, None; P. F. Dellaripa, Genentech and Biogen IDEC Inc., 9,Up to date, 7; E. Shamim, None; A. Mammen, None; F. W. Miller, None.
To cite this abstract in AMA style:
Schiffenbauer A, Faghihi-Kashani S, O'Hanlon TP, Flegel W, Adams S, Targoff IN, Oddis CV, Aggarwal R, Rider LG, Ytterberg SR, Christopher-Stine L, Danoff SK, Dellaripa PF, Shamim E, Mammen A, Miller FW. Association of HLA-DQA1*05 with the Presence of Interstitial Lung Disease Independent of Autoantibody Status in Caucasian Patients with Polymyositis and Dermatomyositis [abstract].
Arthritis Rheumatol.
2017; 69 (suppl 10). https://acrabstracts.org/abstract/association-of-hla-dqa105-with-the-presence-of-interstitial-lung-disease-independent-of-autoantibody-status-in-caucasian-patients-with-polymyositis-and-dermatomyositis/. Accessed June 1, 2023.
« Back to 2017 ACR/ARHP Annual Meeting
ACR Meeting Abstracts - https://acrabstracts.org/abstract/association-of-hla-dqa105-with-the-presence-of-interstitial-lung-disease-independent-of-autoantibody-status-in-caucasian-patients-with-polymyositis-and-dermatomyositis/