Session Information
Session Type: Poster Session A
Session Time: 9:00AM-11:00AM
Background/Purpose: The COVID-19 pandemic is especially terrifying for patients on immunosuppression for autoimmune disease. With the exception of social isolation, experts do not have clear guidelines for these patients due to the concern that stopping medications may increase risk of autoimmune disease flares and pro-inflammatory cytokine/chemokine response. These same inflammatory molecules are thought to be responsible for virus-induced immunopathological events and death in COVID-19.  The purpose of this project is to establish guidelines for management of immunosuppression in autoimmune disease patients and collect pilot data to develop strategies at the healthcare system level to address barriers and facilitators in the treatment of high-risk populations.
Methods: Participants were consented prior to blood collection for routine toxicity monitoring (IRB #00131823).  Patients verified their autoimmune diagnosis; current immunosuppression medication list; and whether they believe they currently have or had symptoms of COVID-19. They were asked if they had previous COVID PCR testing and those results.  A cytokine panel developed by ARUP (Test #0051394) assessed the concentrations of interleukin (IL)-2 receptor (IL-2r), soluble, TH1 cytokines (interferon (IFN)-γ, IL-2, IL-12); TH2 (IL-4, IL-5, IL-10, IL13); Monokines (tumor necrosis factor (TNF)-α, IL1β, IL6, IL8) and IL-17. COVID-19 IgG serologic testing developed by ARUP for research purposes was performed. We summarized demographics and clinical outcomes of interest using median and range for distribute skew continuous variable; we reported counts for categorical variables.
Results: Thirty-nine patients with autoimmune disease on immunosuppressive/immunomodulatory therapy were enrolled between April 18 and May 21, 2020. The clinical features of these patients shown in Table 1.  The median age of participants was 45 years within the range of 23 to 76 years. Most participants were white (n=27, 69%), females (n=35, 90%) and had a diagnosis of systemic sclerosis (n=27, 69%). Half of these patients were on hydroxychloroquine (n=20, 51%).  One patient reported current COVID symptoms and five patients were previously symptomatic for COVID-19 infection.  One patient that obtained COVID PCR testing while symptomatic was positive. There was minimal elevations in cytokine profiles including, IL-2r (n=2), IL-10 (n=1), and IL-6 (n=1).  Serology testing of The Utah COVID cases by testing day are described in Figure 1. Only one patient of the five reporting previous symptoms was positive for COVID IgG. This subject had rheumatoid arthritis (RA) and was on Enbrel. She reported diarrhea and a low-grade fever for one day, a mild cough s mild, and loss of taste and smell for five days.  All other subjects had negative COVID IgG response.
Conclusion: In this cohort of 39 autoimmune disease patients that presented for routine laboratory monitoring during the COVID pandemic, there were minimal elevations in serum cytokines suggesting that their inflammation was well controlled. The single COVID positive patient had mild symptoms on immunosuppression. Cytokine profiles and COVID serology testing can possible guide rheumatologists' recommendations regarding immunosuppression.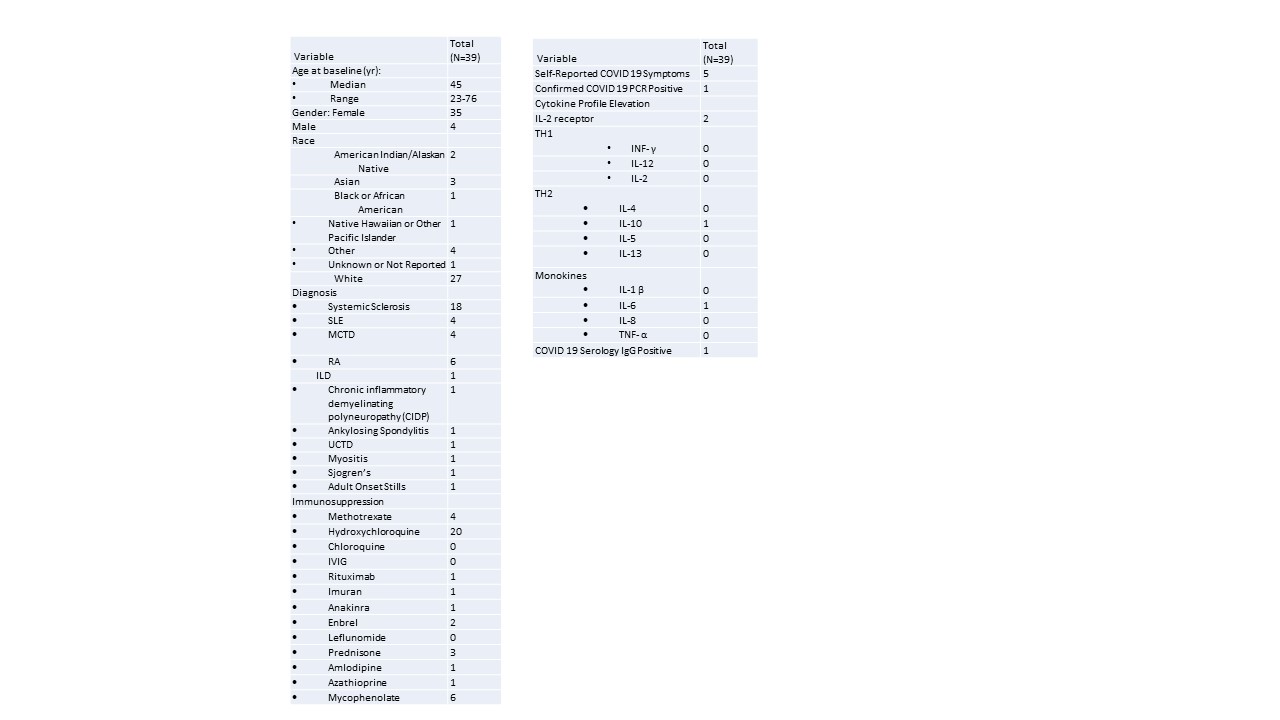 Clinical Features of Autoimmune Disease Patients Tested in Utah During COVID Pandemic
COVID cases during study period
---
Disclosure: Q. Pritchett, None; R. Overbury, None; D. Lebiedz-Odrobina, None; J. Thomas, None; T. Braaten, None; S. Clardy, None; M. Elgort, None; E. Spivak, None; P. Slev, None; L. Peterson, None; T. Frech, None.
To cite this abstract in AMA style:
Pritchett Q, Overbury R, Lebiedz-Odrobina D, Thomas J, Braaten T, Clardy S, Elgort M, Spivak E, Slev P, Peterson L, Frech T. Assessing Cytokine Profiles and COVID Serology in Patients on Immunosuppression to Guide Care Recommendations [abstract].
Arthritis Rheumatol.
2020; 72 (suppl 10). https://acrabstracts.org/abstract/assessing-cytokine-profiles-and-covid-serology-in-patients-on-immunosuppression-to-guide-care-recommendations/. Accessed September 24, 2022.
« Back to ACR Convergence 2020
ACR Meeting Abstracts - https://acrabstracts.org/abstract/assessing-cytokine-profiles-and-covid-serology-in-patients-on-immunosuppression-to-guide-care-recommendations/