Session Information
Session Type: Poster Session (Sunday)
Session Time: 9:00AM-11:00AM
Background/Purpose: Most research studies support the fact that both, radiographic and non-radiographic axial spondyloarthritis (r-axSpA and nr-axSpA), share similar clinical characteristics and equivalent burden of the disease. However, worldwide data about nr-axSpA entity is limited, and specific research on the subject in Spain is almost non-existent. The purpose of the present study is to describe and compare the characteristics and burden of the disease in patients with r-axSpA and nr-axSpA in Spain.
Methods: The Atlas 2017 is an initiative of the Spanish Coordinator of Patient Associations of Spondylarthritis (CEADE) aiming to better understand the reality of the patients suffering from this disease from an integrated approach. During this project, a cross-sectional on-line survey of unselected patients with self-reported axSpA from all geographical regions in Spain was conducted from May 1st to August 15th 2016 by the University of Seville. Participants were recruited through patient organizations. Patients and disease characteristics and reported outcomes were analysed and compared between patients with r-axSpA and patients with nr-axSpA. These included: socio-demographic characteristics, symptoms duration until diagnosis, patient-reported outcomes on disease activity (BASDAI), mental health (GHQ-12), employment status, treatment and healthcare utilization.
Results: In total, 680 axSpA patients participated in the Atlas survey. Mean age was 45.7±10.8 years, 52.5% were female and 36.9% university-educated. Of those, 35 (5.2%) self-reported a diagnosis of nr-axSpA while the rest (94.8%) reported r-axSpA. Compared to r-axSpA patients, those with nr-axSpA were more frequently women (50.4% vs 91.4%, p< 0.001; respectively), had longer diagnostic delay (10.1±8.9 vs 8.4±7.6 years), similar degree of disease activity (BASDAI: 5.7±2.1 vs 5.7±2.0), higher psychological distress (GHQ: 7.5±4.9 vs 5.7±4.) and approximately the same proportion of unemployment (20.0% vs 21.8%) (table 1). In addition, 20.0% of nr-axSpA received biologics vs 36.7% of r-axSpA p=0.044. The number of visits to the rheumatologist in the past 12 months were similar in both groups (3.8±4.5 vs 3.3±3.9), while the visits to the GP were much higher within the nr-axSpA (8.0±10.7 vs 5.1±13.2 p=0.005).
Conclusion: Patients with nr-axSpA were more frequent women and presented younger age, higher diagnostic delay and lower use of biologic therapy compared to axSpA. However, for the overall sociodemographic characteristics, PROs, employment status and healthcare uses, both groups reported similar trends.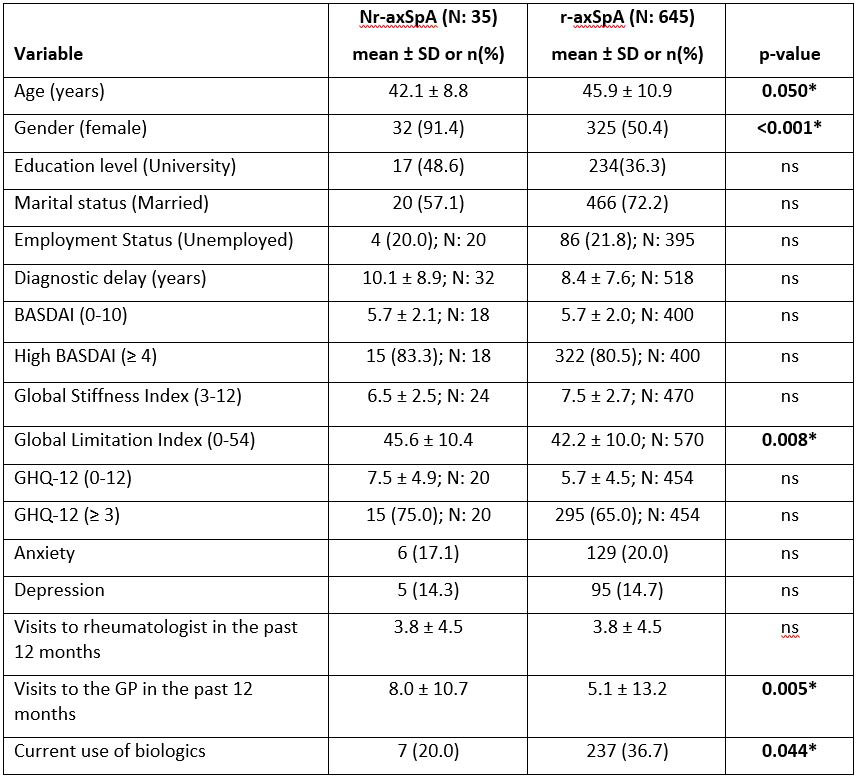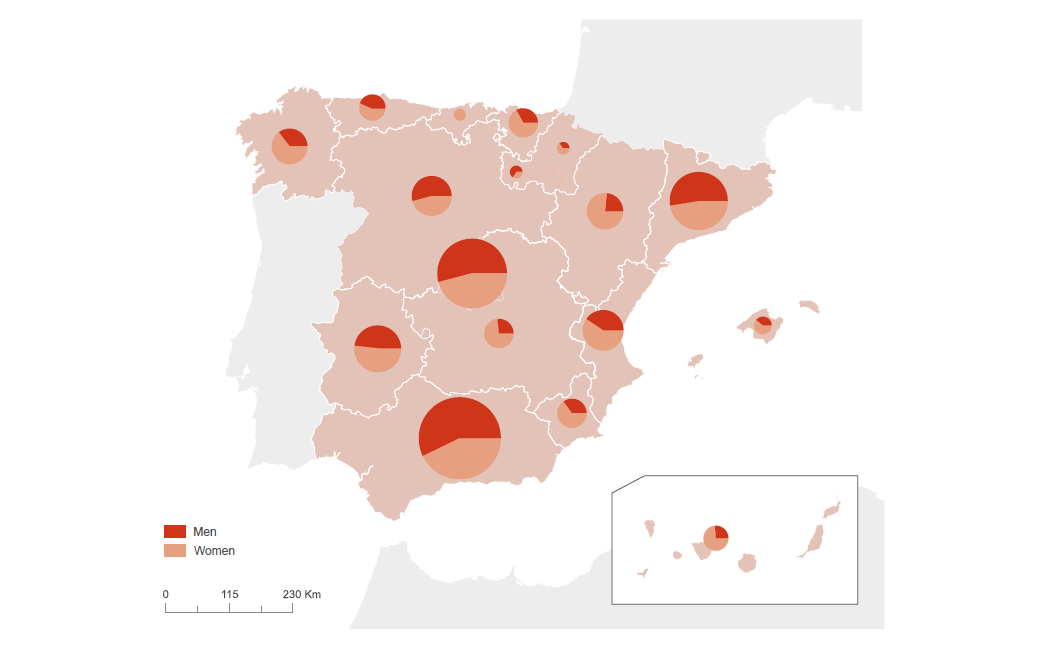 ---
Disclosure: M. Garrido-Cumbrera, None; J. Gratacós, None; E. Collantes, None; P. Zarco, None; C. Sastre, Novartis employee, 3; S. Sanz-Gómez, None; V. Navarro-Compán, AbbVie, 5, 8, Bristol, 8, Bristol, Roche, 8, Eli Lilly and Company, 5, 8, Eli Lilly, Novartis, Abbvie, UCB, MSD, 5, 8, MSD, 5, 8, Novartis, 5, 8, Pfizer, 5, Roche, 8, UCB, 5, 8.
To cite this abstract in AMA style:
Garrido-Cumbrera M, Gratacós J, Collantes E, Zarco P, Sastre C, Sanz-Gómez S, Navarro-Compán V. Are There Really Differences Between Non-radiographic and Radiographic Axial Spondyloarthritis? Data from the Spanish Atlas [abstract].
Arthritis Rheumatol.
2019; 71 (suppl 10). https://acrabstracts.org/abstract/are-there-really-differences-between-non-radiographic-and-radiographic-axial-spondyloarthritis-data-from-the-spanish-atlas/. Accessed November 29, 2022.
« Back to 2019 ACR/ARP Annual Meeting
ACR Meeting Abstracts - https://acrabstracts.org/abstract/are-there-really-differences-between-non-radiographic-and-radiographic-axial-spondyloarthritis-data-from-the-spanish-atlas/