Session Information
The 2020 Pediatric Rheumatology Symposium, originally scheduled for April 29 – May 2, was postponed due to COVID-19; therefore, abstracts were not presented as scheduled.
Session Type: ACR Abstract Session
Session Time: 6:00PM-7:00PM
Background/Purpose: Patients with refractory rheumatic diseases face poor quality of life, long-term sequelae and life-threatening complications. With advances in allogenic hematopoietic stem cell transplantation (allo-HSCT), this procedure becomes an interesting therapeutic option, allowing patients to achieve complete remission and withdrawal of all medications.
Methods: A retrospective study was conducted to report all cases of allo-HSCT performed in children with refractory rheumatic diseases at a large tertiary care paediatric hospital since 2017. Patients' demographics, disease course, allo-HSCT protocol, course and outcome are described. A review of the literature was performed and the reported patients course was compared to our local experience. Patients/parental consent was obtained from all subjects.
Results: Two patients with systemic-onset juvenile idiopathic arthritis (sJIA) underwent allo-HSCT. Patients' characteristics are shown in Table 1. Both had failed multiple lines of immunosuppressive treatments and experienced severe disease and treatment-related complications. Patient 1 was transplanted from a matched unrelated donor and Patient 2 from a matched related donor. Both patients experienced early complications following HSCT but recovered without major sequelae (Table 2). At last follow-up (2.3 and 0.9 years from allo-HSCT for Patient 1 and 2, respectively), both patients are in complete remission and off immunosuppressive medications. Engraftment was excellent with most recent chimerism at 100% for Patient 1 and 89% for Patient 2. In the literature, allo-HSCT is reported as a treatment option in very few paediatric JIA patients [1-3]. In a recently described cohort of 16 JIA patients who underwent allo-HSCT (of whom 11 had sJIA), complete remission was achieved in 90% and 9% had transplantation-related mortality (TRM) (median follow-up 2.4 [range 0.2-8.0] years) [1].
Conclusion: Allo-HSCT should be considered as an alternative therapeutic option early in the course of severe paediatric rheumatic diseases refractory to conventional treatments as it is currently the only curative treatment. The decision to proceed to allo-HSCT should not be delayed since (i) it increases TRM, and (ii) allo-HSCT does not correct disease and treatment's sequelae. With current TRM rates < 10 % in favourable settings, allo-HSCT should be considered sooner after failure of conventional lines of treatment, and not only in patients with no other therapeutic options. This will likely decrease long-term complications induced by the disease and drug-related toxicities.
References
1. J MFS, Ladomenou F, Carpenter B, et al. Allogeneic hematopoietic stem cell transplantation for severe, refractory juvenile idiopathic arthritis. Blood advances 2018;2(7):777-86.
2. Greco R, Labopin M, Badoglio M, et al. Allogeneic HSCT for Autoimmune Diseases: A Retrospective Study From the EBMT ADWP, IEWP, and PDWP Working Parties. Frontiers in immunology 2019;10:1570.
3. Silva J GJ, Ladomenou F, et al. Allogenic Heamatopoietic Stem Cell Transplantation for Systemic Onset Juvenile Idiopathic Arthritis. Biol Blood Marrow Tranplant 2015;21(2):S46.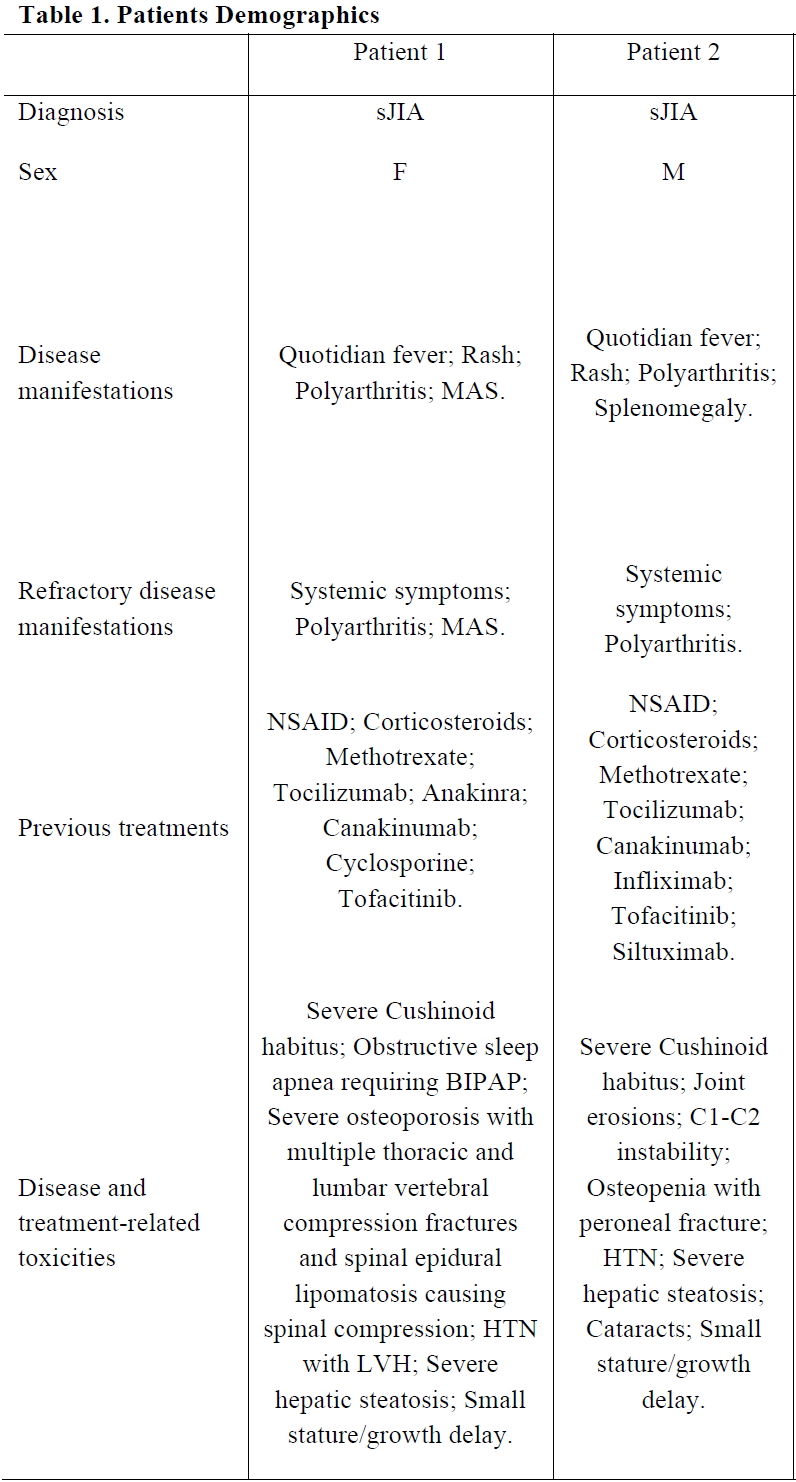 Auto_HSCT: Autologous hematopoietic stem cell transplantation; BIPAP: bilevel positive airway pressure; F: female; HSCT: hematopoietic stem cell transplantation; HTN: hypertension; LVH: left ventricular hypertrophy; M: male; MAS: macrophage activation syndrome; NSAIDs: nonsteroidal anti_inflammatory drugs; sJIA: systemic_onset juvenile idiopathic arthritis.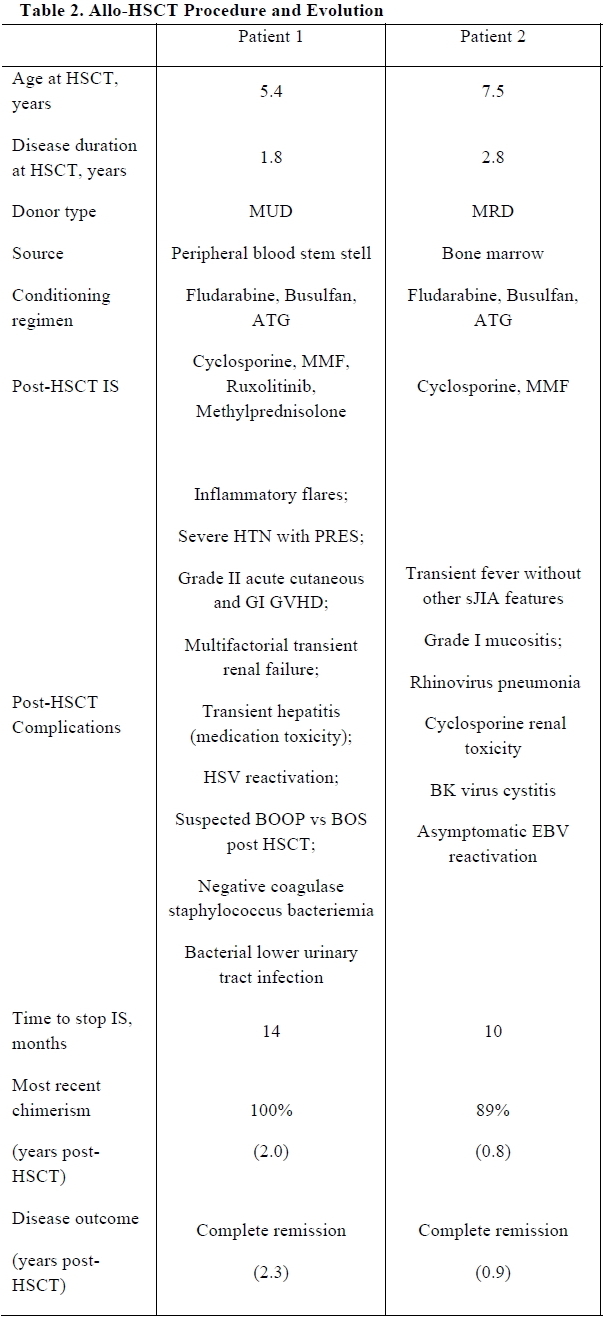 ATG: anti_thymocyte globulin; BOOP: bronchiolitis obliterans with organizing pneumonia; BOS: bronchiolitis obliterans syndrome; EBV: Epstein_Barr virus; GI: gastrointestinal; GVHD: graft versus host disease; HSCT: hematopoietic stem cell transplantation; HSV: herpes simplex virus; HTN: hypertension; IS: immunosuppression; MMF: mycophenolate mofetil; MUD: matched unrelated donor; MRD: matched related donor; PRES: posterior reversible encephalopathy syndrome.
---
Disclosure: C. Beaufils, None; C. Proulx, None; A. Blincoe, None; P. Teira, None; H. Bittencourt, None; S. Cellot, None; M. Duval, None; J. Roth, None; M. Morin, None; J. De Bruycker, None; J. Couture, None; K. Samaan, None; H. Decaluwe, None; F. Touzot, None; E. Haddad, None; J. Barsalou, None.
To cite this abstract in AMA style:
Beaufils C, Proulx C, Blincoe A, Teira P, Bittencourt H, Cellot S, Duval M, Roth J, Morin M, De Bruycker J, Couture J, Samaan K, Decaluwe H, Touzot F, Haddad E, Barsalou J. Allogenic Hematopoietic Stem Cell Transplantation for Refractory Childhood Rheumatic Diseases [abstract].
Arthritis Rheumatol.
2020; 72 (suppl 4). https://acrabstracts.org/abstract/allogenic-hematopoietic-stem-cell-transplantation-for-refractory-childhood-rheumatic-diseases/. Accessed November 26, 2022.
« Back to 2020 Pediatric Rheumatology Symposium
ACR Meeting Abstracts - https://acrabstracts.org/abstract/allogenic-hematopoietic-stem-cell-transplantation-for-refractory-childhood-rheumatic-diseases/