Session Information
Session Type: Poster Session (Monday)
Session Time: 9:00AM-11:00AM
Background/Purpose: Some forms of spondyloarthritis (SpA) such as SAPHO syndrome are classified as auto-inflammatory disorders. Association with adult onset Still's disease (AoSD) has never been reported. We reported a case-series of 5 patients who presented features of both diseases.
Methods: Out of our cohort of 57 AoSD patients followed in our reference center, we identified 4 cases combining diagnosis of AOSD, on the basis of Yamaguchi's and/or Fautrel's classification criteria fulfilment, and SpA according to at least one classification criteria fulfilment: ASAS criteria for axial or peripheral spondylarthritis, Amor's criteria for spondyloarthritis or CASPAR criteria for Psoriatic Arthritis (PsA). A fifth patient, followed in another university center and combining both diseases according to the same criteria, was subsequently included. Medical past history, family background, AOSD and SpA onset and evolution, clinical, biological and radiological features, and treatment response were extracted retrospectively from medical chart through a pre-defined form.
Results: The 5 patients (3M, 2W) displayed the following characteristics (Table): mean age 43.4 ± 15.4 years, mean age at AoSD and SpA onset 35.4 ± 13.3 and 37.4 ± 12.5 years respectively, mean follow-up duration 8.0 ± 6.2 years (range 1-18 years). Four patients were Caucasian, one African, with no consanguinity. SpA manifestations occurred after AoSD onset in 4 patients (mean delay 5.2 ± 4.7 years); AoSD was diagnosed 11 years after SpA diagnosis in the 5th patient. At AoSD onset, the 4 cardinal symptoms were present: mean fever 39.2 ± 0.8°C, arthralgia and arthritis and skin rash in all patients, mean white blood count was 16,091 ± 4302/mm3 (89.2% of polymorphonuclears), mean ESR 74 ± 33 mm, mean CRP 156.5 ± 74.5 mg/L, mean ferritin was 658.6 ± 340.9 µg/L.
SpA-related symptoms are indicated in the Table. Two patients fulfilled the criteria for axial spondyloarthritis, two for peripheral spondyloarthritis, three for PsA and one for SAPHO syndrome. Three patients had personal and one had familial medical history of skin psoriasis. HLA B27 was negative in 4 patients (status unavailable in one patient). Besides the classical AOSD carpal ankylosis and narrowing of proximal and distal interphalangeal (PIP, PID) joints found in 3 patients, radiological features of SpA were observed: bilateral calcaneal enthesophytes; uni- or bilateral sacroiliitis suggestive of spondyloarthritis (Figure 1); erosion, ankylosis and reconstruction "PsA-like" signs on PIP and DIP (Figure 2); multifocal osteitis and osteolytic bone lesion suggestive of SAPHO. Articular symptoms responded well to biotherapies prescribed for AOSD (anakinra, tocilizumab or TNF inhibitors) in 4 patients; in the 5th patient, prednisone and methotrexate were sufficient to control symptoms.
Conclusion: The prevalence of SpA in our AOSD cohort was around 7.0%, thus greater than the prevalence of 0.3% in the French general population (Saraux et al. Ann Rheum Dis. 2005 Oct;64(10):1431-5). The association of both diseases suggests a possible pathophysiological link between these 2 entities.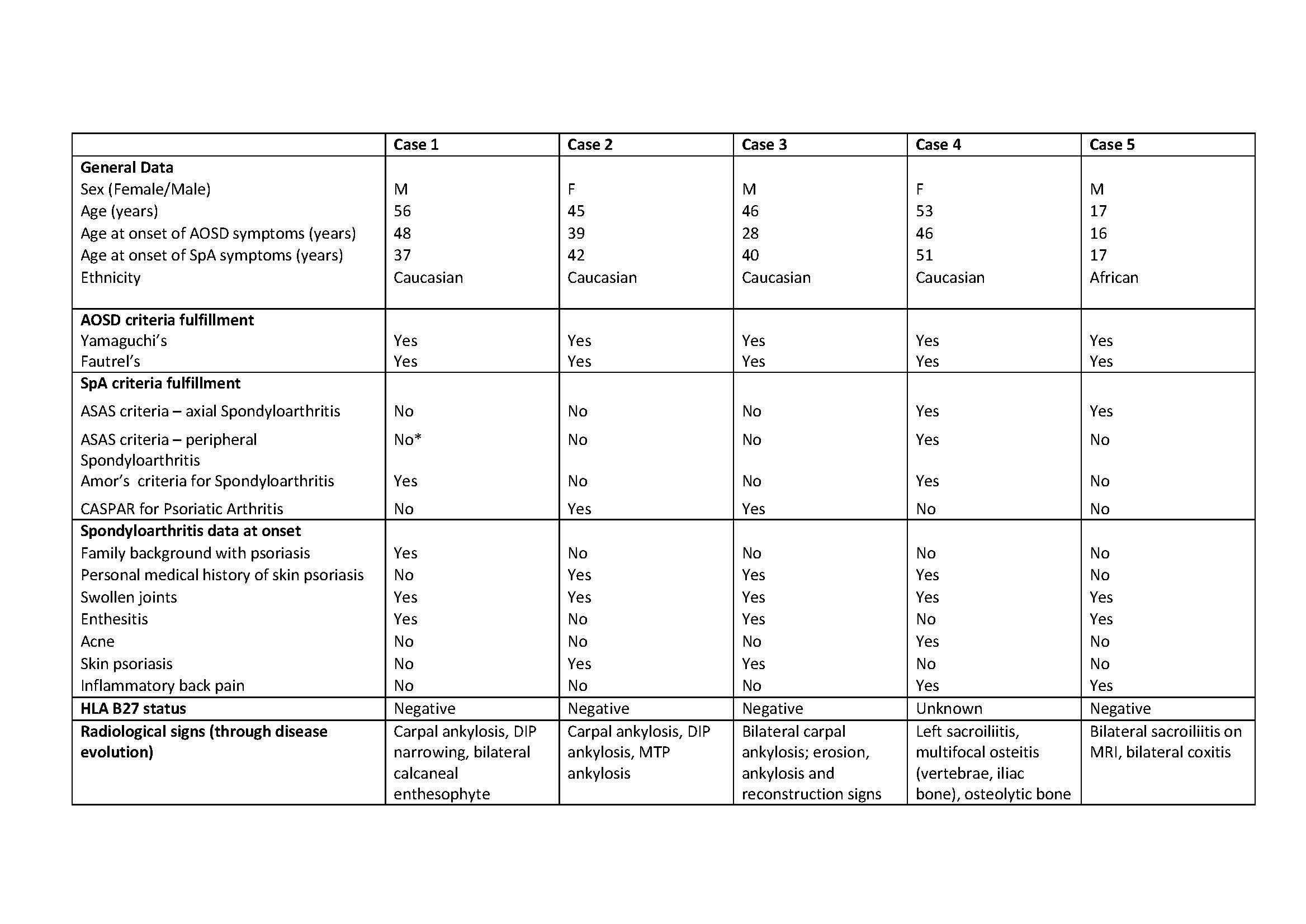 Table abstractV4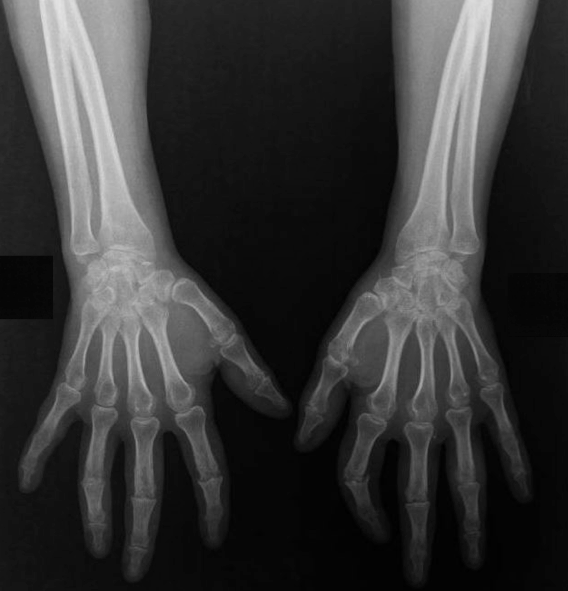 ---
Disclosure: A. Kamissoko, None; N. Hassold, None; A. Mathian, None; E. Pertuiset, None; G. Nocturne, None; B. Fautrel, AbbVie, 2, 5, 8, Biogen, 5, 8, BMS, 5, 8, Boehringer Ingelheim, 8, Celgene, 5, 8, Eli Lilly and Company, 2, 5, Janssen, 5, 8, Lilly, 8, Medac, 5, 8, MSD, 2, 5, 8, NORDIC Pharma, 5, 8, Novartis, 5, 8, Pfizer, 2, 5, 8, Roche, 5, 8, Sanofi-Aventis, 5, SOBI, 5, 8, UCB, 5, 8; S. Mitrovic, None.
To cite this abstract in AMA style:
Kamissoko A, Hassold N, Mathian A, Pertuiset E, Nocturne G, Fautrel B, Mitrovic S. Adult-Onset Still's Disease and Spondyloarthritis: Overlapping Syndrome or Incidental Association? A Series of 5 Cases [abstract].
Arthritis Rheumatol.
2019; 71 (suppl 10). https://acrabstracts.org/abstract/adult-onset-stills-disease-and-spondyloarthritis-overlapping-syndrome-or-incidental-association-a-series-of-5-cases/. Accessed November 30, 2020.
« Back to 2019 ACR/ARP Annual Meeting
ACR Meeting Abstracts - https://acrabstracts.org/abstract/adult-onset-stills-disease-and-spondyloarthritis-overlapping-syndrome-or-incidental-association-a-series-of-5-cases/