Session Information
Session Type: Abstract Submissions (ACR)
Background/Purpose: Antigen-induced peripheral tolerance is a potentially efficient and specific therapeutic approach to attenuate autoimmunity. Citrullinated peptides are major targets of disease-specific autoantibodies in Rheumatoid Arthritis (RA). Currently, citrullinated peptides serve primarily as biomarkers for the diagnosis of RA by measuring titers of anti-citrullinated protein antibodies.
In an attempt to develop a citrullinated peptides-based specific immunotherapy for RA, we previously showed the potential of two citrullinated peptides (citrullinated-filaggrin and citrullinated-β-fibrinogen) to up-regulate TGF-β mRNA expression and concomitant expansion of regulatory T cell population. In addition, our citrullinated peptides reduced the expression of inflammatory cytokines (INF-γ, TNF-α and IL-17), reduced the percentage of pathogenic IL-17+ cells and increased the apoptosis rate of T cells following incubation with RA-derived peripheral blood mononuclear cells (PBMC).
In view of the multiplicity of citrullinated target autoantigens in RA we tailored a multi-epitope citrullinated peptide (Cit-ME) derived from major prevalent citrullinated autoantigens (citrullinated filaggrin, fibrinogen, vimentin and collagen type II). The later was tested for treatment of adjuvant induced arthritis (AIA) via immune tolerance induction by attenuating the disease manifestations. 
Methods: Seven days following induction of AIA in Lewis female rats we administrated Cit-ME (300mg/rat) by 8 subcutaneous injections given on alternate days. Clinical scoring was performed once a week during the experiment. At the end of the experiment rats spleens were analyzed for apoptosis of CD4+ T cells by flow cytomety.
Results: Treatment with Cit-ME ameliorated the clinical score of the diseased arthritic rats.
Rats treated with the Cit-ME had significantly less arthritic symptoms compared to untreated rats at day 21 (Figure 1). Amelioration of disease manifestations was associated with increased apoptosis rate of T cells.
Conclusion: We demonstrated that citrullinated peptides induced immune tolerance in an experimental model of AIA.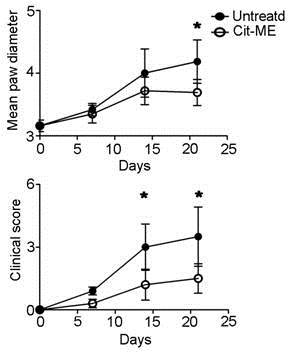 Figure 1. Treatment with Cit-ME suppressed Adjuvant induced arthritis (AIA) clinical score in Lewis rats
---
Disclosure:
H. Amital,
None;
S. Gertel,
None;
Y. Shoenfeld,
None.
« Back to 2013 ACR/ARHP Annual Meeting
ACR Meeting Abstracts - https://acrabstracts.org/abstract/administration-of-a-multi-epitope-citrullinated-peptide-attuneuates-adjuvant-induced-arthritis-in-rats-via-induction-of-immune-tolerance/