Session Information
Session Type: Poster Session (Sunday)
Session Time: 9:00AM-11:00AM
Background/Purpose: Rheumatoid arthritis (RA) patients often suffer from multimorbidity, the coexistence of multiple chronic morbidities. However, little is known about how multimorbidity accrues over time among RA patients compared to similar individuals without RA. Thus, we aimed to describe the longitudinal trajectories of multimorbidity after incident RA and compared to age- and calendar year- matched non-RA comparators, both from a large prospective cohort of female nurses.
Methods: We conducted a prospective cohort study utilizing the Nurses' Health Study, an ongoing (n = 121,700) prospective cohort of female registered nurses that began in 1976. Biennial questionnaires collected information on items such as sociodemographics, anthropometrics, dietary intake, and health conditions. Incident RA and date of diagnosis were determined by medical record review (all meeting 1987 ACR or 2010 ACR/EULAR classification criteria). For each woman with incident RA, we matched 10 non-RA comparators who had never reported RA at or prior to the index date (time of RA diagnosis) by age and calendar year. To quantify the potentially differential accumulation of multimorbidity over time, we used the validated Multimorbidity-Weighted Index (MWI), previously associated with physical function, mortality, and cognitive decline. We modified the MWI to exclude RA (exposure of interest), analyzing a total of 61 morbidities, each weighted according to their impact on the Short Form-36 physical functioning scale. The conditions included common and rare but debilitating conditions and spanned all organ systems; e.g., musculoskeletal (gout, osteoarthritis, osteoporosis, fractures, joint replacements), cardiovascular, and pulmonary systems. We demonstrated the trajectories of the overall MWI and components of the MWI over time in RA patients and their matched comparators. The between-group difference in trajectories was tested using linear mixed effect models.
Results: We identified 1,007 incident RA patients and matched 10,003 non-RA participants. Both had mean ages of 60 years (SD 10). Need to include mean follow-up time (big strength of the study). Past and current smoking was more common among RA individuals (65%) than comparators (56%). At baseline (Figure 1), the MWI was higher for the RA patients (mean 4.2) than matched comparators (mean 3.1). During the follow-up, MWI accrued more rapidly for RA patients than their matched comparators. For each decade, MWI score increased by 1.41 [95% confidence interval (CI) 1.20, 1.61] in RA patients. The largest contributor to the baseline difference and difference in trajectories over time was the musculoskeletal component of the MWI (Figure 2). Although similar at baseline, cardiovascular and pulmonary components of the MWI accrued more rapidly over time for the RA patients than the matched comparators.
Conclusion: Women with RA and their non-RA comparators exhibited differential accumulation of multimorbidity after incident RA. Since the MWI concomitantly captures current physical functioning and predicts future physical functioning, cognitive decline, and increased mortality, potential strategies to mitigate the accumulation of multimorbidity in RA patients are urgently needed.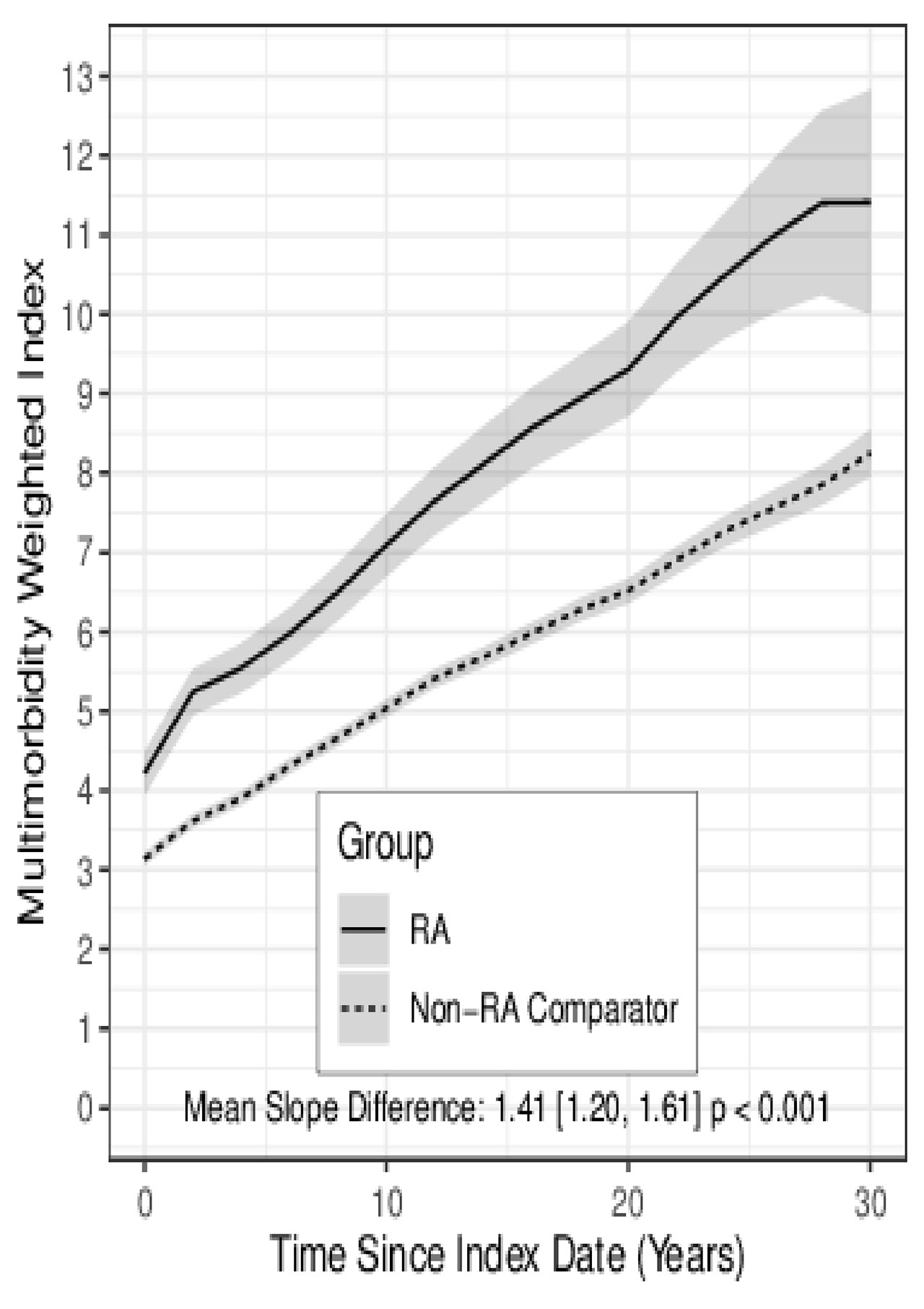 mwi_progression_production

mwi_progression_cat_production
---
Disclosure: K. Yoshida, None; T. Lin, None; M. Wei, None; S. Malspeis, None; S. Chu, None; C. Camargo, None; B. Raby, None; H. Choi, AstraZeneca, 2, GSK, 5, Horizon, 5, Selecta, 5, Takeda, 5; S. Tedeschi, None; M. Barbhaiya, None; B. Lu, None; K. Costenbader, Astra-Zeneca, 2, Glaxo Smith Kline, 2, Janssen Scientific Affairs, LLC, 2, Lupus Foundation of America, 2, Lupus Research Alliance, 2, Merck, 2; E. Karlson, None; J. Sparks, None.
To cite this abstract in AMA style:
Yoshida K, Lin T, Wei M, Malspeis S, Chu S, Camargo C, Raby B, Choi H, Tedeschi S, Barbhaiya M, Lu B, Costenbader K, Karlson E, Sparks J. Accrual of Multimorbidity After Incident Rheumatoid Arthritis and Matched Comparators Using a Large Prospective Cohort with 30 Years of Follow-up [abstract].
Arthritis Rheumatol.
2019; 71 (suppl 10). https://acrabstracts.org/abstract/accrual-of-multimorbidity-after-incident-rheumatoid-arthritis-and-matched-comparators-using-a-large-prospective-cohort-with-30-years-of-follow-up/. Accessed March 27, 2023.
« Back to 2019 ACR/ARP Annual Meeting
ACR Meeting Abstracts - https://acrabstracts.org/abstract/accrual-of-multimorbidity-after-incident-rheumatoid-arthritis-and-matched-comparators-using-a-large-prospective-cohort-with-30-years-of-follow-up/