Session Information
Session Type: Abstract Submissions (ARHP)
Background/Purpose: In order to enhance daily functioning for patients with chronic conditions, occupational therapists employ a range of techniques and strategies. Among these strategies, interventions within the educational approach have been reported as having limited to no evidence despite being used regularly in clinical practice (Steultjens, et al. 2002). Over a decade later, this study seeks to provide an update of current literature through the following aims: (1) to identify occupational therapy interventions that target patients with rheumatoid arthritis (RA) and (2) to systematically review the effectiveness of the identified interventions that utilize an educational approach.
Methods: To fulfill the first aim, a list of the most commonly used occupational therapy textbooks was obtained, and textbooks were searched for interventions targeting patients with RA. Data were grouped and categorized into specific intervention domains. To fulfill the second aim, MedLine, CINAHL, and select occupational therapy journals, were searched utilizing designated medical subject headings. Inclusion criteria were randomized control trials of educational interventions determined within the first aim, published between 2002 and 2013, and included adult participants (over 18 years old) diagnosed with RA. Study characteristics were extracted, and individual studies were reviewed for 6 criteria to determine methodological risk of bias. Studies lacked sufficient construct and assessment agreement to conduct a meta-analysis; therefore, a between-studies qualitative synthesis was conducted to determine levels of evidence for primary outcomes designated within individual trials.
Results: Twelve intervention categories emerged within the occupational therapy scope of practice, including four within the educational approach. 375 articles were screened and 21 studies (2478 participants) were included for data extraction (see Table for overview of characteristics). The identified studies evaluated a wide range of outcomes using diverse measures (over 30 assessments of pain, fatigue, disease activity, functional status, and psychosocial constructs). Interventions that utilized a combination of educational techniques demonstrated strong evidence to improve disease knowledge and disease activity, as well as psychosocial interventions to improve pain and disease activity. Moderate evidence was found for the effectiveness of joint protection/energy conservation on joint protection behaviors. Limited or no evidence existed for the remaining outcomes.
Conclusion: Although the number and quality of studies evaluating educational interventions have increased, there continues to be limited evidence that these approaches impact meaningful outcomes for patients with RA.
Reference: Steultjens EMJ et al. Arthritis Care Res 2012; 47:672-85.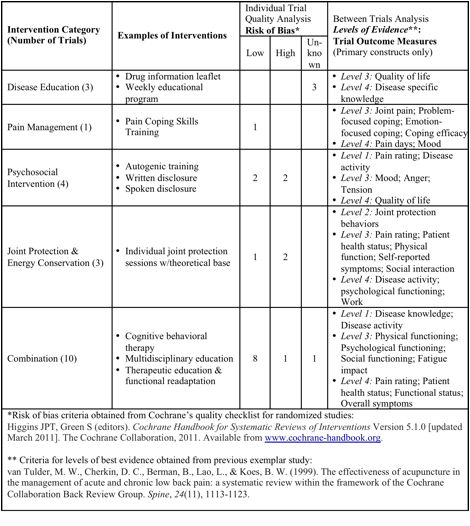 ---
Disclosure:
K. Carandang,
None;
E. Pyatak,
None.
« Back to 2014 ACR/ARHP Annual Meeting
ACR Meeting Abstracts - https://acrabstracts.org/abstract/a-systematic-review-of-the-educational-approach-of-occupational-therapy-for-rheumatoid-arthritis/