Session Information
Session Type: Abstract Submissions (ACR)
Background/Purpose: A therapeutic strategy based on the selective delivery of an immuno-regulatory cytokine to the sites of inflammatory disease has been developed. DEKAVIL is an 'armed antibody', composed of the human F8 antibody (specific to the EDA domain of fibronectin, a marker of angiogenesis) fused to the human anti-inflammatory cytokine interleukin-10 (IL10), enabling delivery and accumulation of the cytokine specifically at sites of disease. This 'targeting' approach increases the therapeutic index of IL10. A Phase Ib clinical trial is now on-going, which features the administration of weekly doses of DEKAVIL, in combination with MTX, to patients with RA who have previously failed at least one line of anti-TNF therapy. Objectives of the study are to establish the MTD, safety and tolerability, to obtain preliminary information on efficacy and to assess the PK behavior. Here, we report the results obtained in 14 patients studied to date.
Methods: Cohorts of 3-6 patients with active RA were assigned to receive escalating doses of DEKAVIL (6, 15, 30, 60, 110, 160 and 210 µg/kg respectively) in combination with 15mg of MTX. The treatment is given as once weekly sc injection for up to 8 weeks. Standard safety evaluations performed on days 1 through 28 were used to determine the dose limiting toxicity. Response was assessed after 4 and 8 weeks of treatment according to ACR and EULAR (DAS28) criteria. The PK profile and formation of human anti-fusion protein antibodies are measured using standard methods.
Results: Responses are summarized in the attached table. All 3 patients in the first cohort (6 μg/kg) achieved ACR 50 response, accompanied by a 'good' EULAR response. In cohort 2 (15 μg/kg), patient 5 enjoyed an ACR 70 response, whereas patients 4 and 6 did not reach ACR20 despite achieving 'moderate' EULAR response. In cohort 3 (30 μg/kg) patient 8 achieved an ACR70. This was particularly striking as it was prolonged and at a late evaluation time point. Patient 7 did not achieve any ACR response, and patient 9 achieved an ACR20 response. In cohort 4 (60 μg/kg) Patient 11 achieved an ACR50 at EOT, which improved to an ACR70 response at a late evaluation time point, demonstrating an extended response period. Patient 10 achieved an ACR20 and patients 12 and 13 did not respond. In cohort 5 (110 μg/kg) patient 14 achieved an ACR20 at week 5. Trends of swollen/tender joints and DAS28 score also showed improvement. Excellent tolerability was observed, since no grade >2 adverse drug reactions were reported. A very low signal from human anti-fusion protein antibodies was occasionally detected. Several patients are still being treated and followed-up.
Conclusion: The promising safety data, together with preliminary positive signs of activity, suggest that the targeted delivery of IL10 to the site of inflammation may be beneficial to patients with RA. The extended activity periods indicate the possibility for a long lasting therapeutic potential.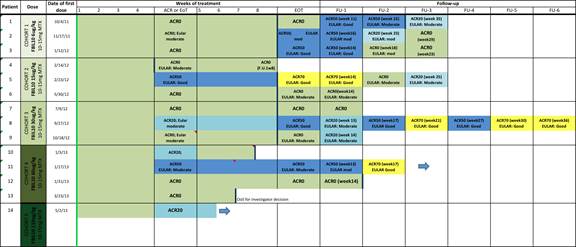 ---
Disclosure:
M. Galeazzi,
None;
L. Bazzichi,
None;
E. Prisco,
None;
G. D. Sebastiani,
None;
D. Neri,
Dario Neri,
1;
L. Giovannoni,
L Giovannoni,
3;
F. Bacchion,
F Bacchion,
3;
M. Bardelli,
None;
C. Baldi,
None;
E. Selvi,
None;
G. Minisola,
None;
R. Caporali,
None;
S. Bombardieri,
None.
« Back to 2013 ACR/ARHP Annual Meeting
ACR Meeting Abstracts - https://acrabstracts.org/abstract/a-phase-ib-clinical-trial-with-dekavil-f8-il10-an-immunoregulatory-armed-antibody-for-the-treatment-of-rheumatoid-arthritis-used-in-combination-with-methotrexate/