Session Information
Session Type: Poster Session (Tuesday)
Session Time: 9:00AM-11:00AM
Background/Purpose: Current practices promoting change in physical activity classify individuals as being more or less active. However, across 24-hours people spend time in different types of activities including sleeping. Variations in 24-hour activity may have implications for a person's health and well-being and may influence how a person responds to interventions that promote physical activity. The purpose of this study was twofold. First, we aimed to identify distinct 24-hour activity profiles in people with arthritis. Second, we explored individual characteristics and factors associated with those profiles.
Methods: A secondary analysis of baseline data from two ongoing randomized clinical trials studying the effect of physical activity counselling for people with knee osteoarthritis (OA), rheumatoid arthritis (RA), or systemic lupus erythematosus (SLE). 24-hour activity was measured by a Sensewear Mini worn for seven days. Participants completed an online survey for measures of demographics, occupation, depression (PHQ-9 Depression scale), and habitual sitting and walking behaviors (Self-reported Habit Index: SRHI). Activity profiles were identified using latent class analysis (LCA) to 24-hour activity data from individuals with 4 to 6 days (20+ hours) of wear. Data were stratified by minutes off body, sleeping, resting, sitting, and walking intermittently (< 50 steps / min) or purposefully ( > 50 steps / min). Multiple logistic regression with backward elimination were used to identify factors predictive of cluster allocation relative to a reference cluster with the highest sitting reported as an Odds Ratio (95%CI). Predictive variables included age, sex, type of arthritis, depression score, usual occupation and home leisure sitting habit, and outdoor walking habit scores.
Results: In 172 individuals [mean age 58.1 years; 86% female; OA (30%), RA (49%), SLE (21%), mean daily steps 5990 (SD: 3234)] we identified four distinct 24-hour activity profiles relative to the cohort (Figure 1). These included: 1) Balanced Activity (n=40) [on average 9.4 hours of sitting, 5.2 hours of walking, 7.4 hours of sleep], 2) High Sitting (n=35) [on average 13.2 hours of sitting, 1.9 hours walking, 6.9 hours of sleep], 3) High Sleeping (n=45) [on average 10.4 hours sitting, 2.8 hours walking, 8.4 hours of sleep], and 4) Low Sleeping (n=52) [on average 12.2 hours of sitting and 3.9 hours of walking, 6.5 hours of sleep] (Table1). Age and self-reported occupational sitting and walking outside habits predicted activity profile; showing that relative to the high sitting cluster, participants in the other clusters were younger (OR: 0.95 to 0.98), had lower occupational sitting (OR: 0.56 to 0.74) and higher walking outside habits (OR: 1.09 to 1.43) (Table2).
Conclusion: Using objectively measured physical activity data, we identified four 24-hour activity profiles. Our findings suggest that some profiles such as individuals with high sitting may be prime targets for future physical activity promotion initiatives, particularly in individuals with strong habitual activity behaviors.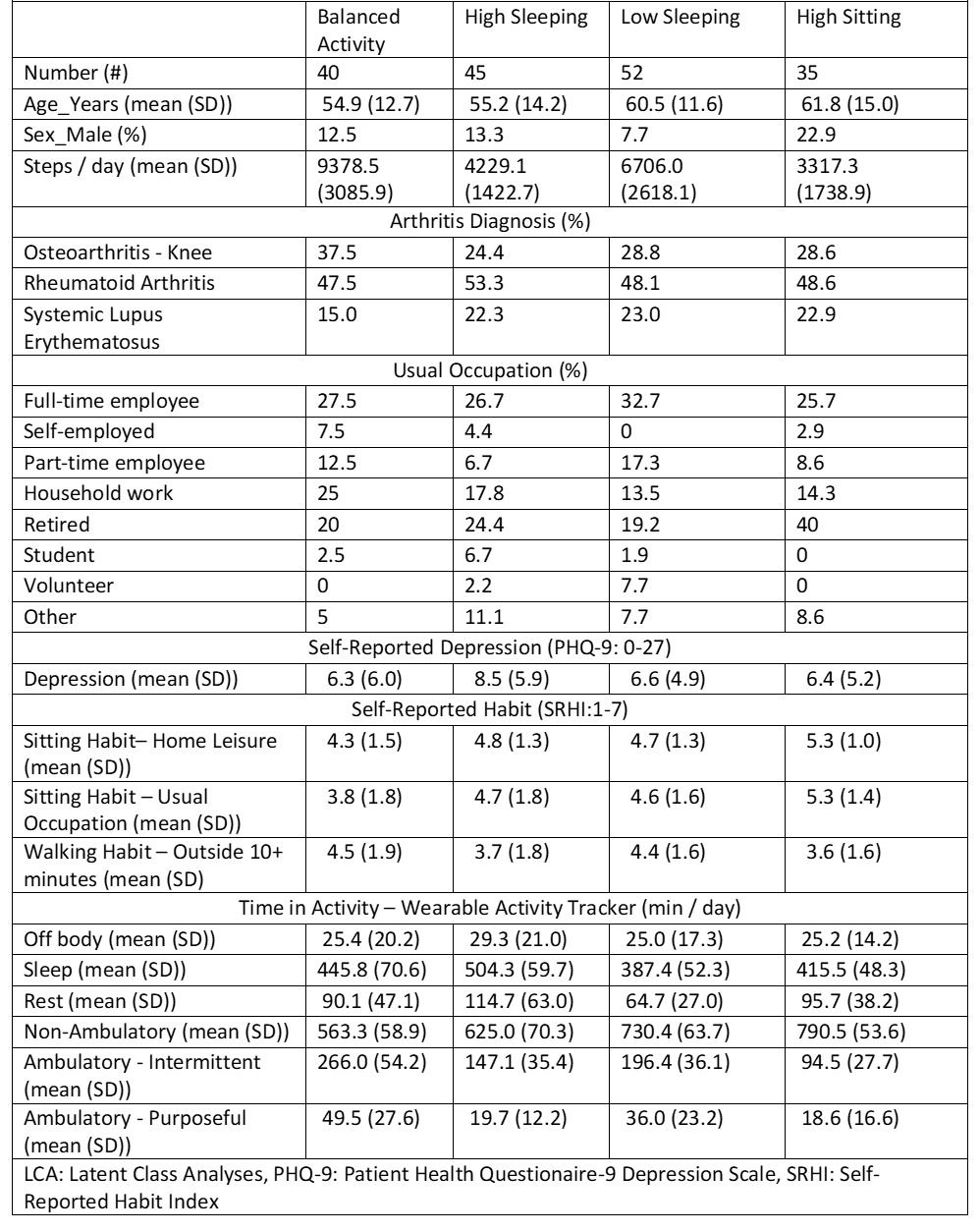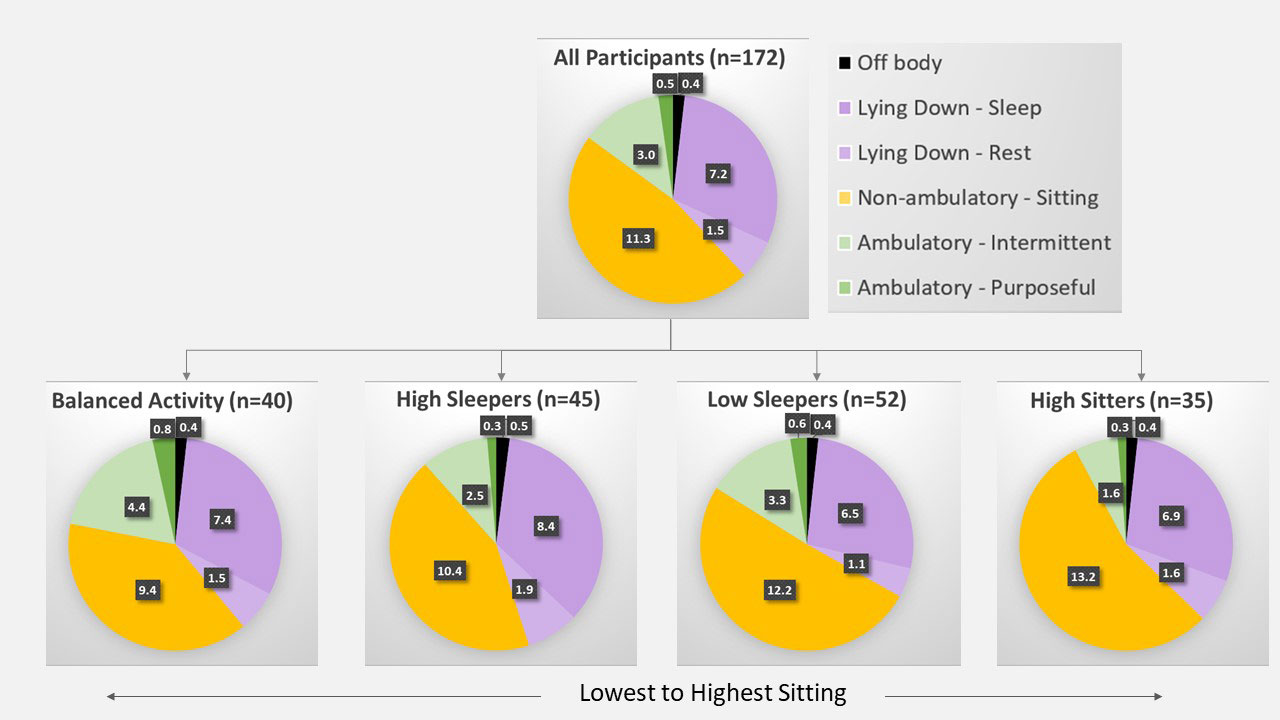 ---
Disclosure: L. Feehan, None; L. Li, None; N. Lu, None; H. Xie, None.
To cite this abstract in AMA style:
Feehan L, Li L, Lu N, Xie H. 24-hour Activity Profiling in People Living with Arthritis: Habits Matter [abstract].
Arthritis Rheumatol.
2019; 71 (suppl 10). https://acrabstracts.org/abstract/24-hour-activity-profiling-in-people-living-with-arthritis-habits-matter/. Accessed November 29, 2022.
« Back to 2019 ACR/ARP Annual Meeting
ACR Meeting Abstracts - https://acrabstracts.org/abstract/24-hour-activity-profiling-in-people-living-with-arthritis-habits-matter/