Session Information
Session Type: Poster Session (Sunday)
Session Time: 9:00AM-11:00AM
Background/Purpose: Von Willebrand Factor (VWF) is a glycoprotein synthesized in endothelial cells and megakaryocytes that has an essential role in primary hemostasis. There is increasing evidence indicating that VWF is involved in inflammation and may play a role in the pathogenesis of fibrosing and cutaneous inflammatory conditions. Our objective was to study the role of VWF in the pathogenesis of skin manifestations of patients with Juvenile Scleroderma (JScl) compared to those with Juvenile Dermatomyositis (JDM). We hypothesize that patients with JScl have increased VWF expression in the extravascular tissue as compared to those with JDM. Since JScl patients have increased collagen deposition in the subcutaneous matrix, and VWF binds collagen, we also hypothesize that VWF colocalize with collagen in the subcutaneous matrix
Methods: We examined 11 skin biopsies from 4 patients with systemic sclerosis (SSc), 3 with localized scleroderma (LS) and 4 with JDM. Double immunofluorescence staining was performed in each tissue with antibodies against vWF and collagens type I and III. DAPI (4′, 6-diamidino-2-phenylindole) was also used for counterstaining of inflammatory cells. Tissue staining patterns were compared between groups
Results: Biopsies were obtained from the upper extremity of 10 females and the lower extremity of 1 male. Mean age and median disease duration from the first presenting symptom at time of biopsy was 8.8 years (SD 4.5) and 7 months (IQR 3-8), respectively. Seven patients had elevated levels of VWF in serum around time of biopsy (median 221%, IQR 101-282). All but 1 biopsy was performed prior to initiation of immunosuppressive therapy. Immunofluorescence staining showed a superficial and deep perivascular inflammatory cell infiltrate that co-localized with VWF in all tissues. There was expression of VWF in the extravascular tissue of patients with JScl co-localizing with collagen III in the reticular dermis (Figures 1 and 2). In comparison, VWF expression did not co-localize with collagen in the dermis of patients with JDM (Figure 3). Patients with SSc had higher expression of VWF as compared to patients with LS
Conclusion: VWF may participate in the pathogenesis of cutaneous inflammatory conditions. We have demonstrated that VWF co-localizes with cellular inflammatory infiltrates in the perivascular areas and in the dermis of patients with JScl and JDM. We additionally speculate that VWF may participate in the pathogenesis of fibrosing skin diseases based on evidence of increased extravascular expression in the tissue of patients with JScl (vs. JDM), and its co-localization with collagen. VWF expression intensity in the dermis of JScl patients may relate to extent of disease (SSc vs. LS)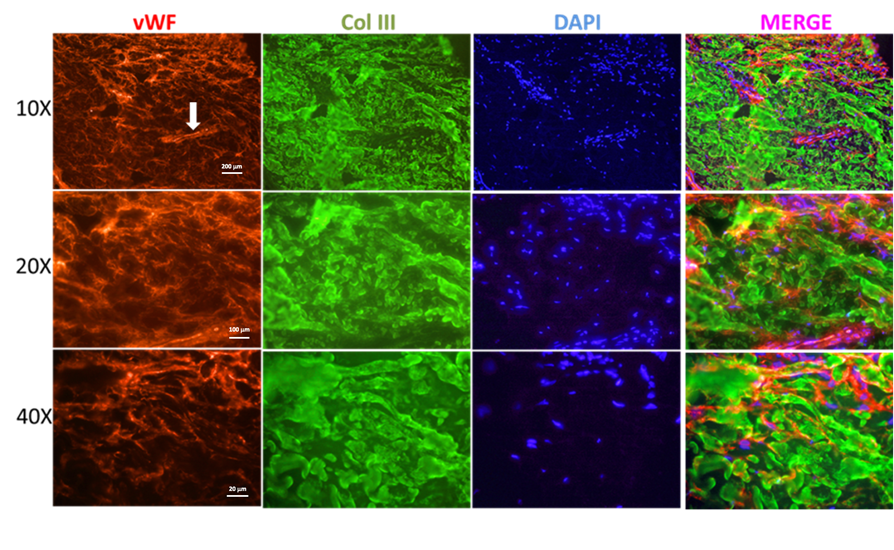 ---
Disclosure: N. Vasquez-Canizares, None; B. Agarwal, None; T. Rubinstein, None; D. Wahezi, None; M. Reyes Gil, None.
To cite this abstract in AMA style:
Vasquez-Canizares N, Agarwal B, Rubinstein T, Wahezi D, Reyes Gil M. Von Willebrand Factor Is Localized in the Extravascular Tissue of Patients with Juvenile Scleroderma [abstract].
Arthritis Rheumatol.
2019; 71 (suppl 10). https://acrabstracts.org/abstract/von-willebrand-factor-is-localized-in-the-extravascular-tissue-of-patients-with-juvenile-scleroderma/. Accessed March 1, 2021.
« Back to 2019 ACR/ARP Annual Meeting
ACR Meeting Abstracts - https://acrabstracts.org/abstract/von-willebrand-factor-is-localized-in-the-extravascular-tissue-of-patients-with-juvenile-scleroderma/