Session Information
Session Type: ACR Poster Session A
Session Time: 9:00AM-11:00AM
Background/Purpose: The RAMRIS scoring system is used to quantify synovitis, tenosynovitis, bone marrow edema (BME), bone erosions and joint space narrowing (JSN) on MRI examinations of the wrist and hand in clinical trials in RA. We explored methods to combine the MRI features into valid, responsive and feasible scores for a) inflammation and b) joint damage.
Methods: We analyzed baseline and 12-month MRI data (wrist and MCP 2-5) from the ARCTIC trial (derivation cohort, n=195, all fulfilling 2010 RA criteria) to assess five different approaches to the development of combined scores: 1) Unweighted summation: RAMRIS synovitis, tenosynovitis and BME were summarized to an inflammation score. Erosions and JSN were summarized to a damage score. 2) Normalized summation: Each component was transformed to the same scale before summation. 3) Weighted summation: We divided each component into three joint, tendon or bone areas, which were individually weighted and summarized. Weights were calculated conditioned to give the highest standardized response mean (SRM) to the resulting score. 4) Adjusted weighted summation: Weights from approach 3) were adjusted based on clinical experience and feasibility concerns (e.g. only whole numbers as adjustment weights). 5) Single site weighted summation: As in 3, but weights calculated for each individual bone, joint and tendon.
The combined scores were tested in pooled data from the CIMESTRA and OPERA trials (validation cohort, n=194, all fulfilling 1987 RA criteria, baseline and 12-month data for wrist and MCP 2-5). Validity was examined by assessing correlations to imaging, clinical and biochemical measures. Responsiveness was tested by calculating the SRM of the resulting combined score, and the relative efficiency using the score obtained by unweighted summation as reference.
Results: Patient characteristics, as well as baseline and follow-up RAMRIS scores were comparable between trials. Validity: All the combined scores were significantly correlated to other imaging, clinical and biochemical measures (table 1, all patients). Responsiveness: Inflammation scores combined by method 2, 3 and 4 had significantly higher responsiveness compared to unweighted summation. For the damage score, there was a trend towards higher responsiveness for method 4 (figure 1, data from OPERA and CIMESTRA).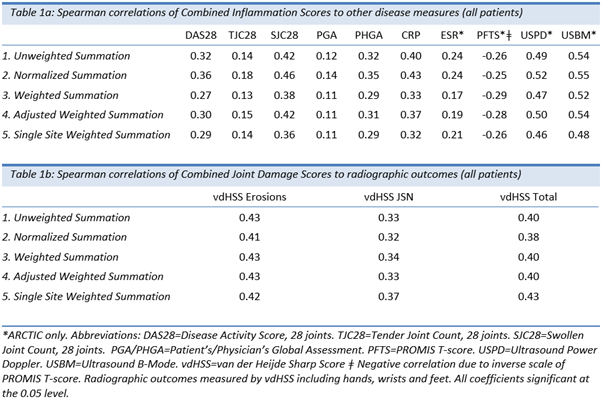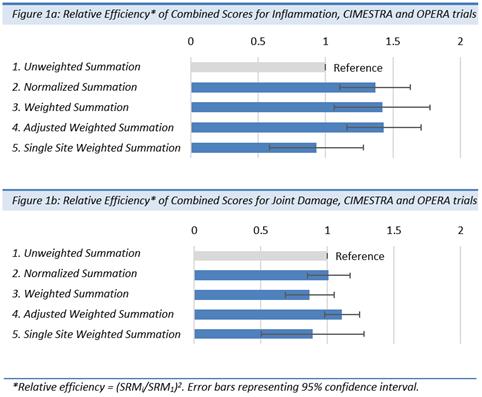 Conclusion: Combined RAMRIS scores assessing inflammation and damage with weighting of the individual components and adjustment for face validity and feasibility displayed the highest responsiveness. The discriminative properties of the proposed combined scores need to be tested in placebo-controlled clinical trials.
---
Disclosure: U. Sundin, None; M. Østergaard, None; D. Glinatsi, None; A. B. Aga, UCB, Inc., 5,AbbVie Inc., 5,Eli Lilly and Co., 5,Novartis, 5,Pfizer, Inc., 5; K. Hørslev-Petersen, None; M. L. Hetland, None; P. Junker, None; B. J. Ejbjerg, None; P. Bird, None; P. G. Conaghan, AbbVie Inc., 5,Bristol-Myers Squibb, 5, 8,GlaxoSmithKline, 5,Novartis, 5, 8,Pfizer, Inc., 5, 8,Roche, 5, 8; S. Lillegraven, None; E. A. Haavardsholm, AbbVie Inc., 2,Merck & Co., 2,Pfizer, Inc., 2,UCB, Inc., 2,Celgene Corporation, 5,Eli Lilly and Co., 5,Pfizer, Inc., 5,Roche, 5,UCB, Inc., 5.
To cite this abstract in AMA style:
Sundin U, Østergaard M, Glinatsi D, Aga AB, Hørslev-Petersen K, Hetland ML, Junker P, Ejbjerg BJ, Bird P, Conaghan PG, Lillegraven S, Haavardsholm EA. Validity and Responsiveness of Inflammation and Joint Damage Scores Based on the Omeract Rheumatoid Arthritis MRI Scoring System [abstract].
Arthritis Rheumatol.
2018; 70 (suppl 10). https://acrabstracts.org/abstract/validity-and-responsiveness-of-inflammation-and-joint-damage-scores-based-on-the-omeract-rheumatoid-arthritis-mri-scoring-system/. Accessed September 29, 2022.
« Back to 2018 ACR/ARHP Annual Meeting
ACR Meeting Abstracts - https://acrabstracts.org/abstract/validity-and-responsiveness-of-inflammation-and-joint-damage-scores-based-on-the-omeract-rheumatoid-arthritis-mri-scoring-system/