Session Information
Session Type: Poster Session (Tuesday)
Session Time: 9:00AM-11:00AM
Background/Purpose: In recent years, juvenile idiopathic arthritis (JIA) treatment options have expanded to include biologics such as tumor necrosis factor inhibitors (TNFi) and non-TNF inhibitors (non-TNFi). While several studies have characterized utilization of these drugs in adults, few have done so in pediatric and adolescent settings. In this study, we aimed to characterize the trends in biologic utilization among patients with oligoarticular and polyarticular arthritis in the United States.
Methods:  We performed a retrospective cohort analysis using a large US commercial insurance database to identify patients with a diagnosis of JIA between January 1, 1997 and October 19, 2018. To identify cases of oligoarticular and polyarticular JIA, we included diagnosis codes for JIA (ICD-9 714.3; ICD-10 M08) or rheumatoid arthritis (ICD-9 714.x; ICD-10 M06) under age 20. We identified biologic therapies claims by biologic generic names that included: TNFi drugs: etanercept, adalimumab, infliximab, golimumab and certolizumab pegol and non-TNFi drugs: tocilizumab, abatacept and rituximab. Prescription patterns (initiation, switches, and persistence) were described overall, and by drug.
Results:  A total of 29,537 unique biologic prescriptions were identified, with prescription volume increasingly steadily over the years examined. Approximately three-fifths (59%) of prescriptions were for females, and the median age of biologic recipients was 16 years (interquartile range 13-18 years). Etanercept accounted for approximately 41% of total prescriptions and increased relatively steadily between 1998 and 2018, whereas adalimumab accounted for more than half (54%) of total prescriptions and increased gradually between 2002 and 2007, moderately between 2007 and 2014 and sharply between 2014 and 2018.  Certolizumab pegol, while not approved for use in JIA in the US, comprised approximately 3% of all biologic prescriptions, while other biologics accounted for less than 1% of total volume observed.
Conclusion: To our knowledge, this study is one of the first to examine long-term trends in the biologic treatment of oligoarticular and polyarticular JIA in the US.  During the examination period the market was dominated by etanercept and adalimumab with a trend toward a sharp increase of adalimumab use starting in 2014.Further analyses will examine patient-level factors associated with biologic initiation, adherence and persistence in children and adolescents with JIA, as well as the effect that utilization management strategies, clinician and patient preferences may have on the patterns observed.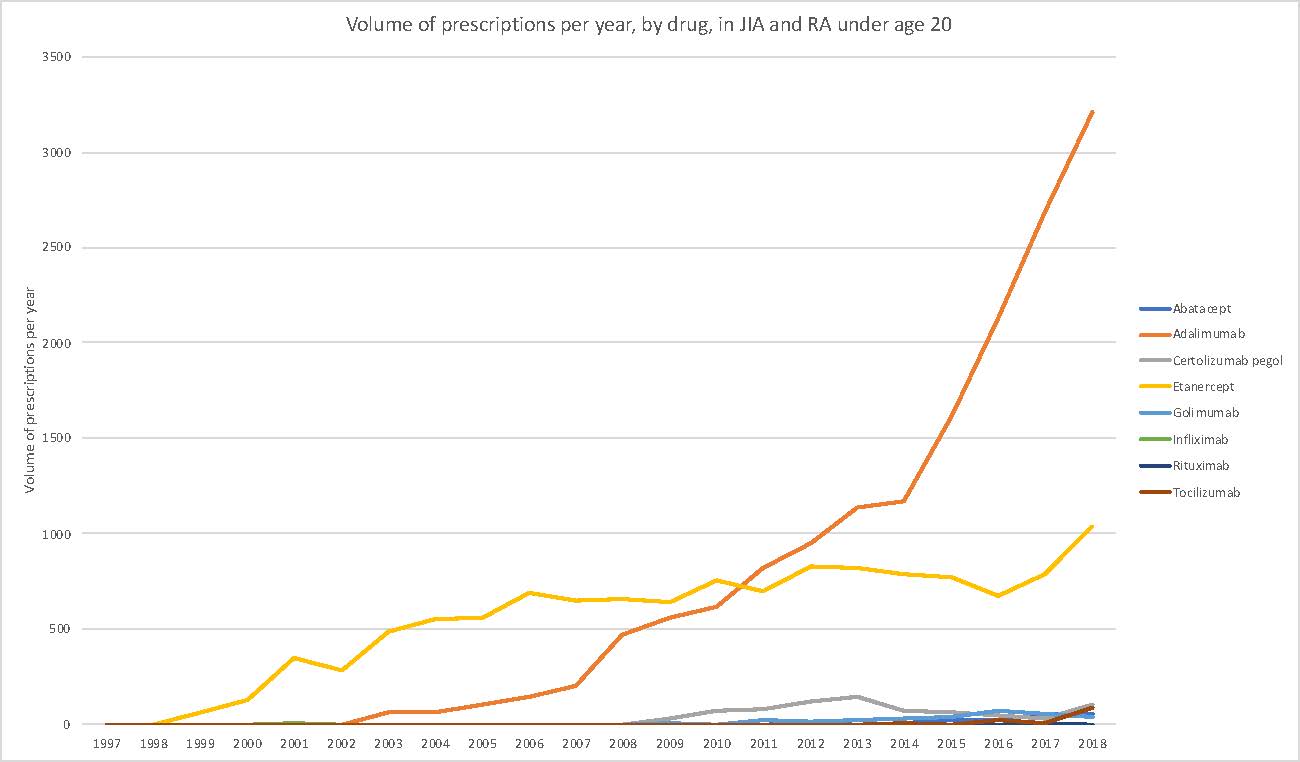 volume of prescriptions by year
---
Disclosure: D. Basodan, None; K. Andersen, National Heart, Lung and Blood Institute (NHLBI) Pharmacoepidemiology T32 Training Program (T32HL139426-01)., 2, National Heart, Lung and Blood Institute Pharmacoepidemiology T32 Training Program (T32HL139426-01)., 2; X. Li, None; J. Curtis, AbbVie, 2, 5, Abbvie, 2, 5, AbbVie, Amgen, Bristol-Myers Squibb, Corrona, Lilly, Janssen, Myriad, Pfizer, Regeneron, Roche, and UCB, 2, 5, Amgen, 2, 5, Amgen Inc., 2, 5, BMS, 2, 5, Bristol-Myers Squibb, 2, 5, Corrona, 2, 5, Crescendo, 2, 5, Eli Lilly, 2, 5, Eli Lilly and Company, 2, 5, Genentech, 2, 5, Janseen, 5, Janssen, 2, 5, Janssen Research & Development, LLC, 2, Lilly, 2, 5, Myriad, 2, 5, Patient Centered Outcomes Research Insitute (PCORI), 2, Pfizer, 2, 5, Radius Health, Inc., 9, Regeneron, 2, 5, Roche, 2, 3, 5, Roche/Genentech, 5, UCB, 2, 5; G. Alexander, Chair of FDA's Peripheral and Central Nervous System Advisory Committee, 9, Monument Analytics, a health care consultancy whose clients include the life sciences industry as well as plaintiffs in opioid litigation, 4, 5, OptumRx's National P&T Committee, 6, Serves as a paid advisor to IQVIA, 5, This arrangement has been reviewed and approved by Johns Hopkins University in accordance with its conflict of interest policies..
To cite this abstract in AMA style:
Basodan D, Andersen K, Li X, Curtis J, Alexander G. Utilization of Biologic Treatments in Oligoarticular and Polyarticular Juvenile Idiopathic Arthritis [abstract].
Arthritis Rheumatol.
2019; 71 (suppl 10). https://acrabstracts.org/abstract/utilization-of-biologic-treatments-in-oligoarticular-and-polyarticular-juvenile-idiopathic-arthritis/. Accessed September 30, 2022.
« Back to 2019 ACR/ARP Annual Meeting
ACR Meeting Abstracts - https://acrabstracts.org/abstract/utilization-of-biologic-treatments-in-oligoarticular-and-polyarticular-juvenile-idiopathic-arthritis/