Session Information
Session Type: Poster Session (Tuesday)
Session Time: 9:00AM-11:00AM
Background/Purpose: Despite significant advances in the treatment of psoriatic arthritis (PsA), disease control and remission remain a challenge. Research characterizing residual disease burden with current therapies and identifying unmet treatment needs across clinical, patient-focused, and economic domains has been limited. The aim of this review is to establish unmet needs in PsA patients with respect to the clinical, patient-reported and economic outcomes associated with current treatments.
Methods: A review of the literature from January 2008 to May 2019 was conducted. EMBASE and MEDLINE databases were searched to identify full-text, English-language articles and rheumatology conference abstracts evaluating the clinical, patient-reported, and economic outcomes associated with currently available advanced therapies (biologic disease-modifying anti-rheumatic drugs [DMARDs] and targeted synthetic DMARDs) and conventional synthetic DMARDs (csDMARDs) for adults with PsA. Randomized-controlled trials (RCTs), non-interventional observational studies, and economic models evaluating the impact of treatment on at least one outcome from the above categories were eligible for inclusion.
Results: Among 1,026 records initially screened, 100 articles were selected for inclusion. Of these, 52, 74, and 20 studies reported on the impact of treatment on at least one clinical, patient-reported, and economic outcome, respectively. Across studies, treatment with advanced therapies resulted in greater clinical efficacy and effectiveness, improvements in patient-reported outcomes, and higher 12-month persistence rates compared with csDMARD treatment. Advanced therapies were generally found to be cost-effective. Long-term outcomes over four or more years were investigated in 15 studies, revealing improvements in clinical outcomes consistent with shorter-term studies. Clinical and patient-reported outcome data at six and 12 months post-treatment initiation among patients treated with advanced therapies are summarized in Table 1. The proportion of patients achieving minimal disease activity at 12 months post-treatment initiation ranged from 23.6%–64.0%. The impact of advanced therapies on pain and physical functioning varied considerably across RCTs and observational studies. Though commonly assessed in RCTs, little real-world data are available for fatigue, enthesitis, and quality of life in PsA patients initiating advanced therapies.
Conclusion: While more effective than csDMARDs, a substantial proportion of PsA patients still fail to achieve complete disease control or remission with advanced therapies. There remains a need for new treatment options to further improve treatment outcomes in this patient population.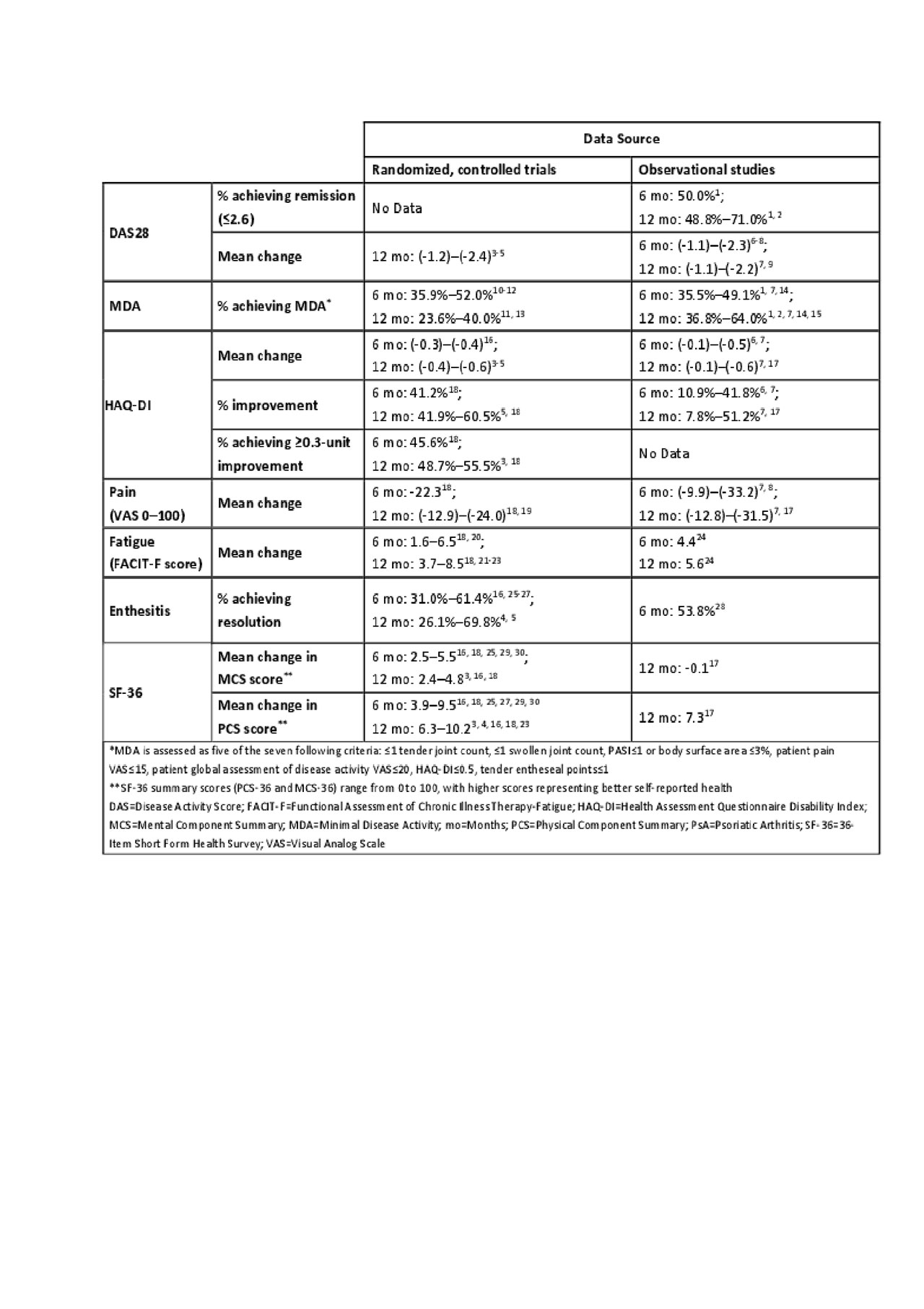 DV56686 PsA_UnmetNeedLitReview_Abstract_FINAL_TABLE

DV56686 PsA_UnmetNeedLitReview_Abstract_FINAL_TABLE2
---
Disclosure: D. Aletaha, AbbVie, 2, 5, 8, AbbVie, Janssen, Lilly, Novartis, Pfizer, and Roche, 5, AbbVie, Merck Sharp and Dohme, and Roche., 2, Amgen, 5, 8, Bristol-Myers Squibb, 8, Bristol-Myers Squibb, Celgene, Merck Sharp and Dohme, and UCB, 8, Celgene, 5, 8, Janssen, 5, Lilly, 5, 8, Medac, 5, 8, Merck, 5, 8, Merck Sharp and Dohme, 2, 8, Novartis, 2, 5, 8, Pfizer, 5, 8, Roche, 2, 5, 8, Sandoz, 5, 8, Sanofi/Genzyme, 5, 8, UCB, 8; M. Georgallis, AbbVie, 5; M. Wallace, AbbVie, 5; P. Zueger, AbbVie, 1, 3; R. Zeidman, AbbVie, 5.
To cite this abstract in AMA style:
Aletaha D, Georgallis M, Wallace M, Zueger P, Zeidman R. Unmet Treatment Needs in Patients with Psoriatic Arthritis [abstract].
Arthritis Rheumatol.
2019; 71 (suppl 10). https://acrabstracts.org/abstract/unmet-treatment-needs-in-patients-with-psoriatic-arthritis/. Accessed October 22, 2020.
« Back to 2019 ACR/ARP Annual Meeting
ACR Meeting Abstracts - https://acrabstracts.org/abstract/unmet-treatment-needs-in-patients-with-psoriatic-arthritis/