Session Information
Session Type: Poster Session (Sunday)
Session Time: 9:00AM-11:00AM
Background/Purpose: Patient-reported outcomes (PROs) are important indicators of treatment effectiveness and their role is increasing in comparative effectiveness studies. Little is known about PRO measures patients find most important for their disease, treatment effectiveness and health outcomes. In this study, we examined PROs voluntarily selected by patients with rheumatologic conditions to further elucidate which disease symptoms they found most important to track within the ArthritisPower registry. These findings will be useful to inform future data collection efforts for trial and clinical study planning. As the study is ongoing, this abstract will discuss initial PRO selections of study participants.
Methods: Adult US patients with self-reported rheumatoid arthritis (RA), psoriatic arthritis (PsA), ankylosing spondylitis (AS), systemic lupus erythematosus (SLE), osteoporosis (OP), osteoarthritis (OA), or fibromyalgia syndrome (FMS) in the ArthritisPower registry were invited to participate via an email invitation. Participants were prompted to select up to ten PRO (symptom) measures they felt were important to track for their condition at baseline via the ArthritisPower smartphone and web-based app. Patient-Reported Outcomes Measurement Information System (PROMIS) instruments focusing on symptoms of pain, physical and cognitive function, mental health, fatigue, social function, work impact, sexual function, and sleep were offered. The Outcomes Measures in Rheumatology (OMERACT) RA flare instrument (only for those with RA) and the Lilly-developed morning joint stiffness duration question were also offered. At three subsequent time points (Month [m] 1, m2, m3), participants were given the option to continue tracking their previously selected PRO measures or change to different measures. At m3, participants complete an exit survey to prioritize all measures selected during study participation and to specify other symptoms not available that they would have wanted to track. Descriptive statistics were conducted on baseline data.
Results: As of May 2019, 292 participants enrolled in this study and 251 completed baseline assessments. Mean age was 55.6 (9.2) years, 89.6% female, 91.2% White, mean disease duration of 12 (10.7) years. These characteristics were similar to the overall ArthritisPower population. The majority (64.1%) self-reported OA, followed by RA (49.0%), FMS (40.6%), PsA (26.3%), OP (20.3%), AS (15.5%) and SLE (5.6%), not mutually exclusive. The top 3 PRO domains that participants chose at baseline, were fatigue, mental health, and pain (Table). The average number of instruments selected for baseline completion was 6.9 (2.4).
Conclusion: Participants prioritized tracking fatigue, aspects of mental health, pain, physical function, social function, sleep, and morning stiffness. These findings provide insights into symptoms rheumatology patients find most important and will be useful to inform the design of future patient-centric clinical trials and real-world evidence generation.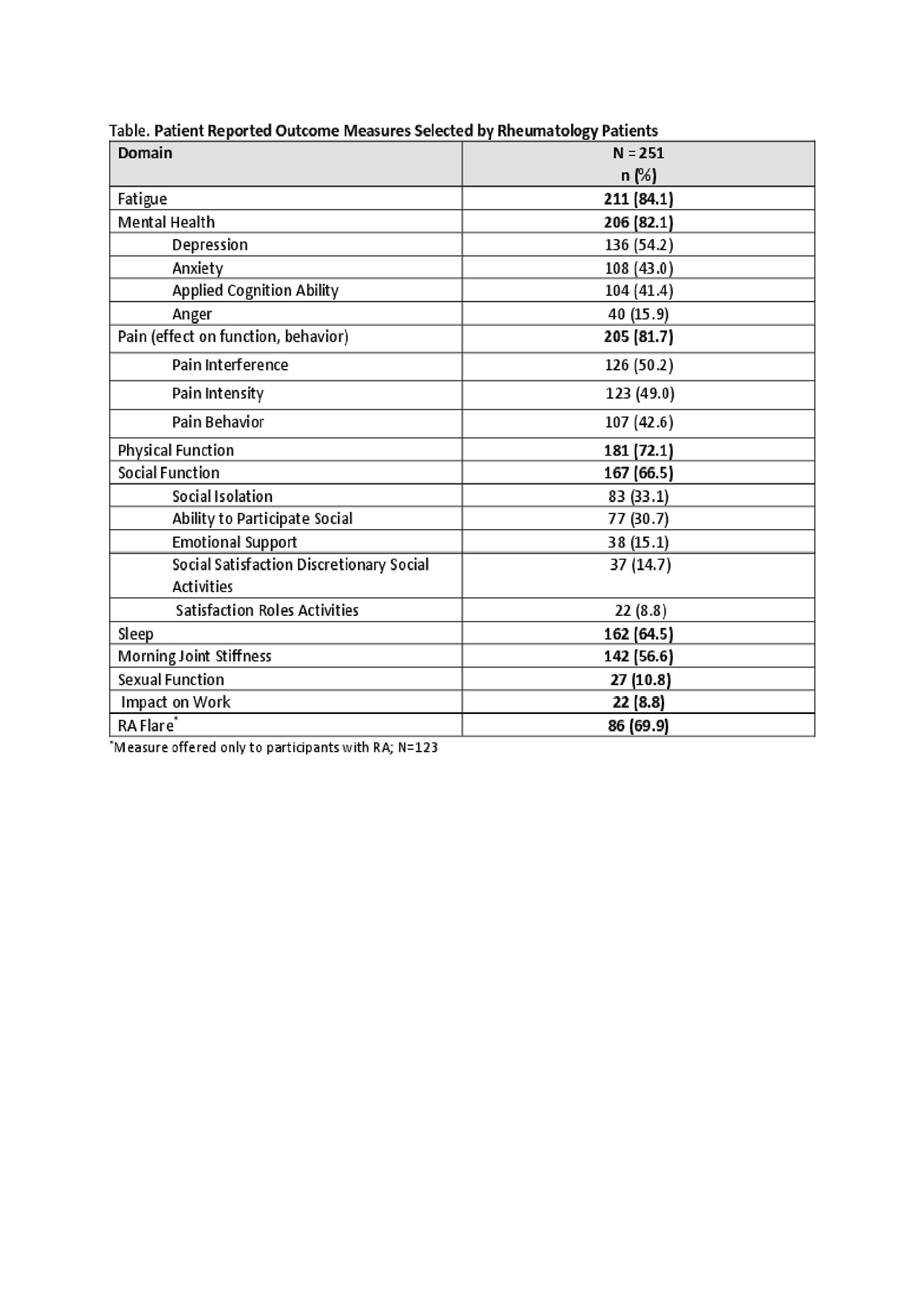 Table
---
Disclosure: W. Nowell, AbbVie, 1, Allergan, 1, Biogen, 1, BMS, 1, CVS, 1, Eli Lilly, 1, Global Healthy Living Foundation, 3, GSK, 1, Merck, 1, Pfizer, 1, Stryker, 1; C. Gaich, Eli Lilly & Company, 3, 4, Eli Lilly and Company, 1, 3, 4; K. Gavigan, Global Healthy Living Foundation, 3; Z. Cai, Eli Lilly and Company, 4, Eli Lilly and Company, 3; A. Cardoso, Eli Lilly and Company, 1, 3; T. Hunter, Eli Lilly, 1, 3, Eli Lilly and Company, 1, 3; J. Birt, Eli Lilly and Company, 3, Eli Lilly and Company, 4; J. Workman, Eli Lilly and Company, 1, 3, 4; J. Curtis, AbbVie, 2, 5, Abbvie, 2, 5, AbbVie, Amgen, Bristol-Myers Squibb, Corrona, Lilly, Janssen, Myriad, Pfizer, Regeneron, Roche, and UCB, 2, 5, Amgen, 2, 5, Amgen Inc., 2, 5, BMS, 2, 5, Bristol-Myers Squibb, 2, 5, Corrona, 2, 5, Crescendo, 2, 5, Eli Lilly, 2, 5, Eli Lilly and Company, 2, 5, Genentech, 2, 5, Janseen, 5, Janssen, 2, 5, Janssen Research & Development, LLC, 2, Lilly, 2, 5, Myriad, 2, 5, Patient Centered Outcomes Research Insitute (PCORI), 2, Pfizer, 2, 5, Radius Health, Inc., 9, Regeneron, 2, 5, Roche, 2, 3, 5, Roche/Genentech, 5, UCB, 2, 5.
To cite this abstract in AMA style:
Nowell W, Gaich C, Gavigan K, Cai Z, Cardoso A, Hunter T, Birt J, Workman J, Curtis J. Understanding Which Patient-Reported Outcomes Are Important to Rheumatology Patients: Findings from ArthritisPower [abstract].
Arthritis Rheumatol.
2019; 71 (suppl 10). https://acrabstracts.org/abstract/understanding-which-patient-reported-outcomes-are-important-to-rheumatology-patients-findings-from-arthritispower/. Accessed October 26, 2021.
« Back to 2019 ACR/ARP Annual Meeting
ACR Meeting Abstracts - https://acrabstracts.org/abstract/understanding-which-patient-reported-outcomes-are-important-to-rheumatology-patients-findings-from-arthritispower/