Session Information
Session Type: ACR Poster Session A
Session Time: 9:00AM-11:00AM
Background/Purpose: Tolerogenic dendritic cells (TolDCs) are promising tools for therapy of autoimmune diseases such as rheumatoid arthritis (RA). Here we characterise TolDCs from RA patients modulated with dexamethasone and monophosphoryl lipid A (MPLA) concerning gene expression, phenotype, cytokine profile, migratory properties and T cell-stimulatory capacity to explore their suitability for autologous cellular therapy.
Methods: TolDCs were generated from monocytes of 9 RA patients, meeting 2010 ACR/EULAR criteria, and 10 healthy controls, using dexamethasone for tolerization and MPLA for activation (MPLA-tDCs). The phenotype of MPLA-tDCs and their migratory behaviour towards lymphoid chemokines were analysed by flow cytometry and transwell assays. Cytokine secretion of MPLA-tDCs and their ability to activate autologous antigen-specific T cells was determined by flow cytometry and ELISA. Genome-wide transcriptional analysis was performed and differential expression was defined by a false discovery rate of ≤ 0.05.
Results: MPLA-tDCs derived from RA patients, exhibited characteristics of semi-mature DCs (Fig 1), such as: reduced expression of costimulatory and coactivation molecules and the capacity to migrate in response to ligands of lymph node homing chemokine receptors CCR7 and CXCR4. These cells displayed an anti-inflammatory cytokine profile inducing hyporesponsiveness and IL-10 secretion of autologous CD4+ T cells specific to synovial antigens. Global transcriptome analysis demonstrated that treatment with dexamethasone and MPLA overcame RA-associated effects on gene expression profiles of monocyte-derived DCs (Fig 2).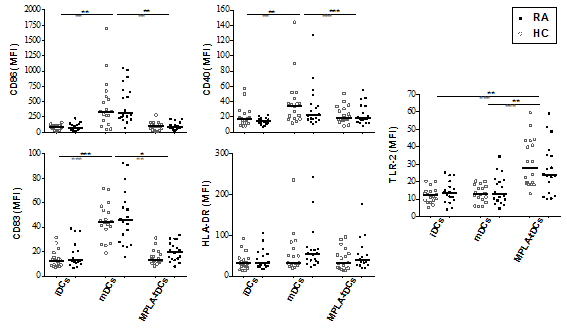 Figure 1. MPLA-tDCs from rheumatoid arthritis patients and healthy controls display low expression of maturation markers and high TLR2.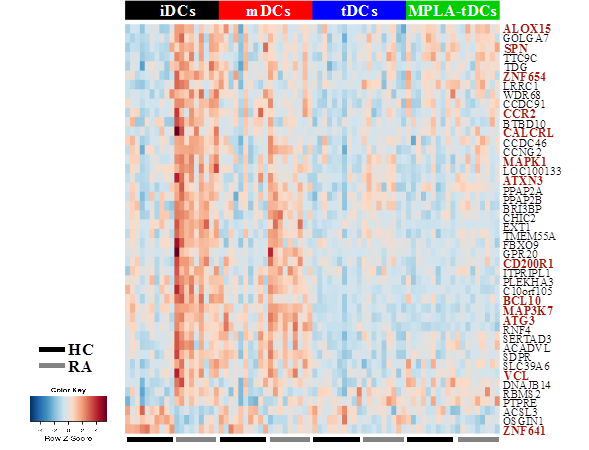 Figure 2. Conditioning with dexamethasone and MPLA induces similar transcriptional profiles on moDCs from RA patients and healthy controls, and reverses disease-associated effects on gene expression in MPLA-tDCs derived from monocytes of rheumatoid arthritis patients
Conclusion: Monocyte-derived DCs of RA patients have the potential to develop stable tolerogenic features when modulated with dexamethasone and MPLA, irrespective of disease status. The ability of MPLA-tDCs to impair T cell responses to synovial antigens validates their potential for the treatment of RA. Funding: Fondecyt-Chile 1100102 and 1140553, and Millennium Institute on Immunology and Immunotherapy P09-016-F.
---
Disclosure: P. García-González, None; O. Neira, None; K. Schinnerling, None; A. Sepúlveda-Gutiérrez, None; J. Maggy, None; L. Hoyos, None; R. Morales, None; G. Ubilla-Olguín, None; A. Mehdi, None; H. Nel, None; L. Soto, None; B. Pesce, None; M. C. Molina, None; M. Cuchacovich, None; M. Larrondo, None; D. Catalán, None; C. M. Hilkens, None; R. Thomas, None; R. Verdugo, None; J. C. Aguillón, None.
To cite this abstract in AMA style:
García-González P, Neira O, Schinnerling K, Sepúlveda-Gutiérrez A, Maggy J, Hoyos L, Morales R, Ubilla-Olguín G, Mehdi A, Nel H, Soto L, Pesce B, Molina MC, Cuchacovich M, Larrondo M, Catalán D, Hilkens CM, Thomas R, Verdugo R, Aguillón JC. Treatment with Dexamethasone and Monophosphoryl Lipid a Removes Disease-Associated Transcriptional Signatures in Monocyte-Derived Dendritic Cells from Rheumatoid Arthritis Patients and Confers the Ability to Modulate CD4+ T Cell Responses [abstract].
Arthritis Rheumatol.
2016; 68 (suppl 10). https://acrabstracts.org/abstract/treatment-with-dexamethasone-and-monophosphoryl-lipid-a-removes-disease-associated-transcriptional-signatures-in-monocyte-derived-dendritic-cells-from-rheumatoid-arthritis-patients-and-confers-the-abi/. Accessed July 31, 2021.
« Back to 2016 ACR/ARHP Annual Meeting
ACR Meeting Abstracts - https://acrabstracts.org/abstract/treatment-with-dexamethasone-and-monophosphoryl-lipid-a-removes-disease-associated-transcriptional-signatures-in-monocyte-derived-dendritic-cells-from-rheumatoid-arthritis-patients-and-confers-the-abi/