Session Information
Session Type: Abstract Submissions (ACR)
Background/Purpose: The principle of treating-to-target has been applied successfully to many diseases outside rheumatology and more recently to rheumatoid arthritis. Identifying appropriate therapeutic targets and pursuing these systematically has led to improved care for patients with these diseases and useful guidance for health care providers and administrators. Thus, an initiative to evaluate possible therapeutic targets and develop treat-to-target guidance was believed to be of benefit in SLE as well. An expert panel was convened for this purpose.
Methods: Thirty-four specialists in rheumatology, nephrology, dermatology and/or clinical immunology and a patient representative contributed to this initiative. The majority convened on three occasions. Twelve topics of critical importance for this endeavor were identified and a systematic literature review (SLR) was performed on these topics. The results of the SLR were condensed and reformulated as recommendations, discussed, modified, and voted upon. The finalized bullet points were analyzed for degree of agreement among the panel (strength of recommendation, SoR). The Oxford Center level of evidence (LoE, corresponding to the research questions, not shown) and grade of recommendation (GoR) were determined for each recommendation.
Results: The twelve systematic literature searches and their summaries led to eleven recommendations (Table). LoE and GoR of the recommendations were variable but agreement was >0.9 in each case.  An extensive research agenda was identified, and four overarching principles were also agreed upon.
Table: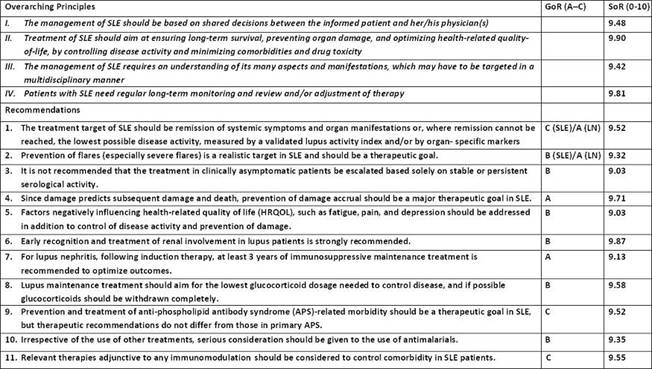 Conclusion: Treat-to-target-in-SLE (T2T/SLE) recommendations were developed by a large panel of multi-specialty experts and a patient representative. Although LoE and GoR were variable, agreement was excellent. Prominent features of these recommendations are targeting remission, preventing damage, and improving quality of life. It is anticipated that "treating-to-target" can and will be applicable to the care of patients with SLE.
---
Disclosure:
R. F. van Vollenhoven,
AbbVie, BMS, GSK, Merck, Pfizer, Roche, UCB,
2,
AbbVie, AstraZeneca, Biotest, BMS, GSK, Lilly, Merck, Pfizer, Roche, UCB, Vertex,
5;
M. Mosca,
None;
G. Bertsias,
None;
A. Kuhn,
None;
K. Lerstrøm,
None;
J. S. Smolen,
AbbVie Inc., Amgen, AstraZeneca, BMS, Celgene, Centocor-Janssen, Glaxo, Lilly, Pfizer, MSD, Novo-Nordisk, Roche, Sandoz, and UCB,
2,
AbbVie Inc., Amgen, AstraZeneca, BMS, Celgene, Centocor-Janssen, Glaxo, Lilly, Pfizer, MSD, Novo-Nordisk, Roche, Sandoz, and UCB,
5;
D. A. Isenberg,
I have consulted for a number of companiews including GSK, Roche, UCB and teva. I arrange for the payments offered to go a local arthritis charity .,
5;
M. Schneider,
None;
T. T. Working Party,
None.
« Back to 2013 ACR/ARHP Annual Meeting
ACR Meeting Abstracts - https://acrabstracts.org/abstract/treat-to-target-in-systemic-lupus-erythematosus-report-from-the-t2tsle-working-party/