Session Information
Session Type: Poster Session B
Session Time: 9:00AM-10:30AM
Background/Purpose: To evaluate the effect of generic tofacitinib in refractory uveitis patients.
Methods: It was a prospective observational study of 23 patients of refractory anterior uveitis. The primary disease with anterior uveitis was ankylosing spondylitis, psoriasis, psoriatic arthritis, bechet's disease, sarcoidosis, systemic lupus erythematosus (SLE), IBD (inflammatory bowel disease) associated arthritis or idiopathic uveitis. Those patients of uveitis who failed topical therapy, were given steroids (1 mg/kg prednisolone) along with steroid sparing immunosuppressant including methotrexate, mycophenolate mofetil, cyclosporine, cyclophosphamide or azathioprine. Generic tofactinib was given to patients who failed topical and oral therapy in form of combination of prednisone (failure to maintain 7.5 mg or below after 3 months of initiation) and at least 1 other systemic immunosuppressive drug (given in combination with steroids for atleast 3 months). These 23 refractory uveitis patients were included in the study and were given generic tofacitinib in dose of 5 mg twice a day. Patients were maintained on tofacitinib 5 mg twice a day and steroids were tapered and stopped in response to improvement in visual acuity and decrease in inflammation in anterior chamber as recorded by ophthalmologist.
Results: There were 13 men and 10 women (mean age, 28.7 years) with anterior uveitis (fig 1). The most common causes of uveitis were ankylosing spondylitis in 6 patients, bechet's in 5 patients, sarcoidosis in 4 patients, psoriatic arthritis in 2 patients, SLE, psoriasis and IBD arthritis in 1 patients each, idiopathic uveitis where disease could not be ascertain was seen in 3 patients as shown in table 1. Tofactinib was used amongst patients who failed steroids and methotrexate in 16 patients, mycophenolate mofetil in 5 and azathioprine in 2 patients.
Out of 23 patients treated with tofacitinib, 20 (86.95%) patients were able to achieve remission in uveitis with tapering off steroids within 3 months. However, 3(13.05%) patients on generic tofactinib could not achieve remission and taper steroids. The non responsive patients had SLE, IBD associated arthritis and bechet's disease.
Out of 20 patients who responded to tofacitinib, steroids were tapered to zero doses over 4 weeks in 15 patients (75%) and remaining 5 (25%) over 6 weeks.
Conclusion: To the best of our knowledge, this is the first study which shows generic tofactinib 5 mg twice a day dose can be used as an immunosuppressant in refractory uveitis in reducing inflammation and reducing steroid dosage.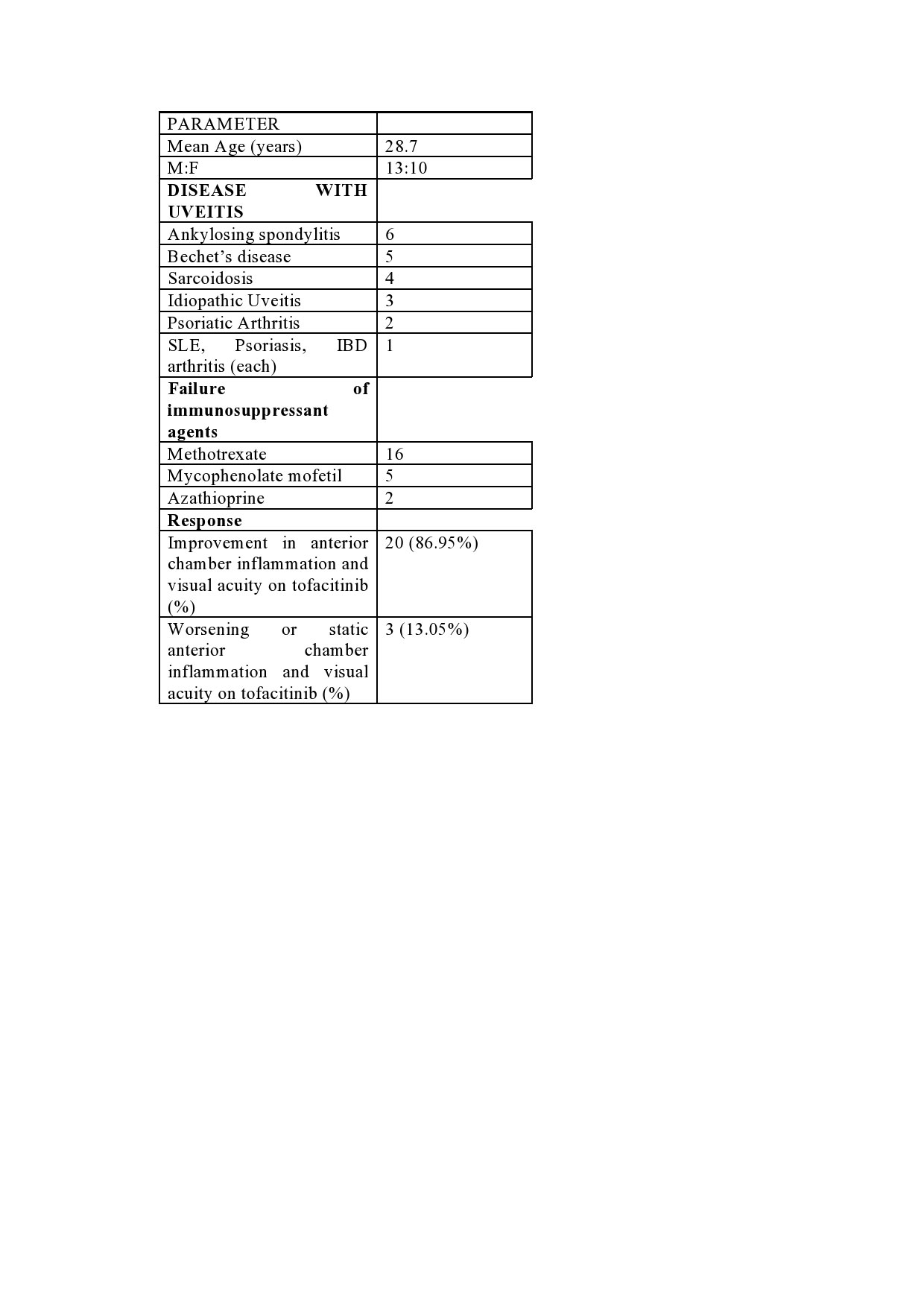 ---
Disclosures: N. Gupta, None; D. Mahajan, None.
To cite this abstract in AMA style:
Gupta N, Mahajan D. Tofacitinib in Refractory Uveitis – an Observational Study [abstract].
Arthritis Rheumatol.
2022; 74 (suppl 9). https://acrabstracts.org/abstract/tofacitinib-in-refractory-uveitis-an-observational-study/. Accessed September 29, 2023.
« Back to ACR Convergence 2022
ACR Meeting Abstracts - https://acrabstracts.org/abstract/tofacitinib-in-refractory-uveitis-an-observational-study/