Session Information
Session Type: Poster Session (Monday)
Session Time: 9:00AM-11:00AM
Background/Purpose: Aortitis can be idiopathic or associated with other conditions. It is frequently refractory to conventional immunosuppressive therapy. Tocilizumab (TCZ), an anti-IL-6 receptor antibody seems to be effective and safe.
Our aim was to assess the efficacy and safety of TCZ at short and long follow-up in a series of patients with Aortitis.
Methods: Retrospective, multicenter study of 79 patients diagnosed of inflammatory aortitis based on imaging techniques (PET/CT, CT angiography and/or MR angiography).
Results: We study 79 patients (61 w/ 18 m). 59 (74.7%) cases were Aortitis secondary to Giant Cell Arteritis (GCA), while 20 (25.3%) were idiopathic. The mean age was 71±8.5 years vs 64.2±7.1 years, respectively (p=0.001). At time of disease diagnosis more than a half of patients (59.5%) presented as main symptom polymyalgia rheumatica (PMR). Aortitis was diagnosed with PET/CT (71 patients), angioRMN (12 patients) and angioCT (8 patients). Prior to TCZ treatment, 61 (77.2%) patients had received conventional immunosuppressive drugs, 59 (74.7%) of them received MTX. After 24 months of treatment with TCZ, more than 75% of patients reached a prolonged remission in both groups (p=0.527), with only 4% of relapses after the same follow-up period (p=1.000). 40 (50.6%) patients had a control image technique (PET/CT) throughout follow up. 4 (3 secondary to GCA and 1 idiopathic) patients reached a complete improvement in uptake after one year of treatment.
Conclusion: Our results show that idiopathic aortitis occurs in younger patients compared with aortitis secondary to GCA. TCZ proved to be effective in both pathologies, allowing clinical and analytical improvement, as well as a reduction of corticoid dose, without increasing the risk of relapse. However, the improvement in imaging techniques seems to be slower.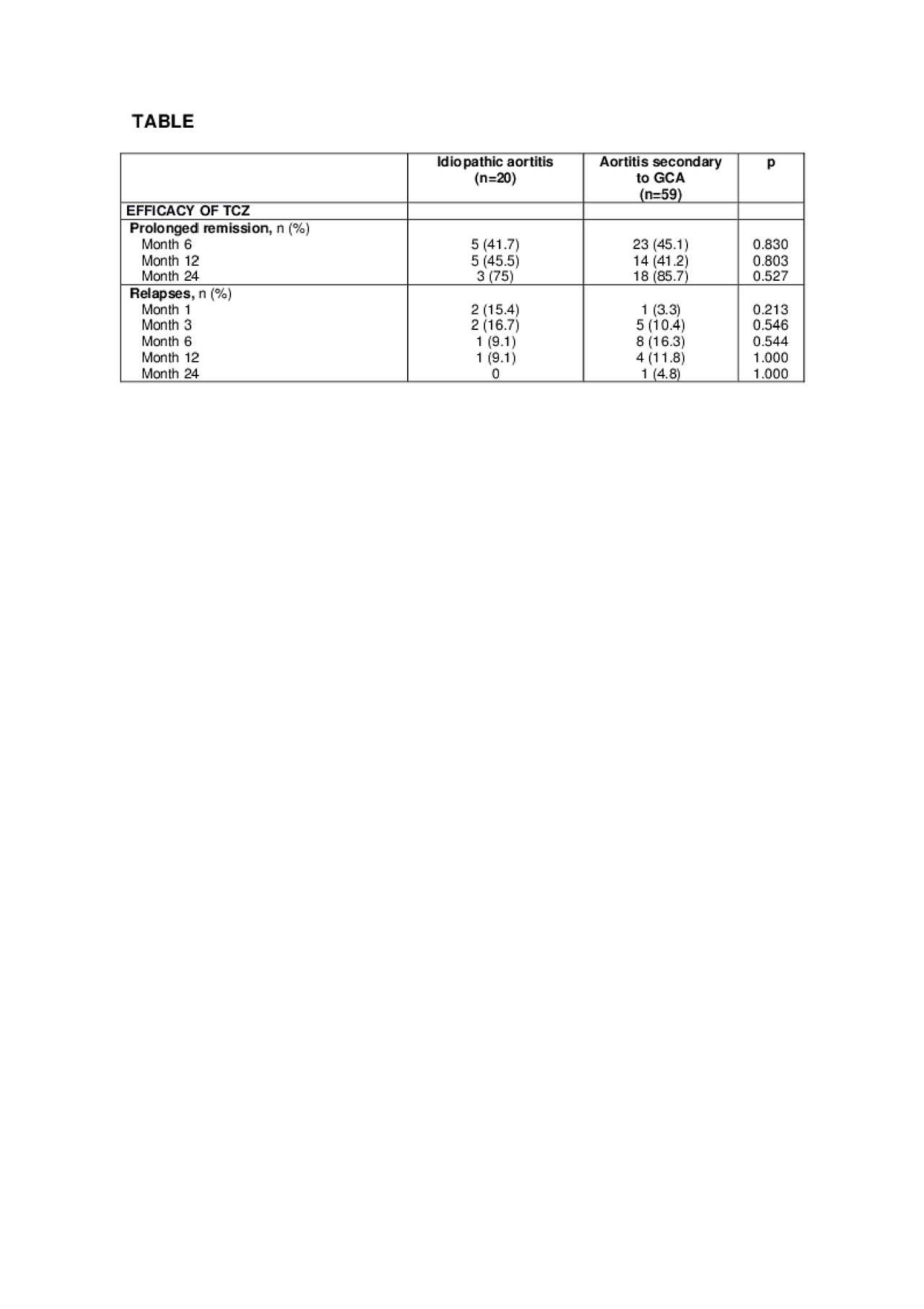 TABLE Aortitis
---
Disclosure: M. Calderón-Goercke, None; J. Loricera, None; D. PRIETO- PENA, None; V. Aldasoro Caceres, None; S. Castañeda, None; I. Villa, None; A. Humbría, None; C. Moriano, None; S. Romero-Yuste, None; J. Narváez, None; C. Gómez-Arango, None; E. Perez Pampín, None; R. Melero, None; M. Revenga, None; N. Álvarez-Rivas, None; F. Sivera, None; M. Álvarez del buergo, None; L. Marena-Rojas, None; E. Galindez-Agirregoikoa, None; B. Arca, None; R. Solans-Laqué, None; C. Vazquez, None; P. Lluch, None; E. salgado-Pérez, None; C. Luna-Gómez, None; F. Toyos-Sáenz De Miera, None; N. Fernández-Llanio, None; A. García, None; C. Larena, None; L. Sanchez-Bilbao, None; I. Gonzalez-Mazon, None; N. Palmou-Fontana, None; V. Calvo-Río, None; C. González-Vela, None; A. Corrales, None; M. Varela-García, None; E. Aurrecoechea, None; R. Dos Santos, None; S. Fernández, None; J. Hernández, None; M. González-Gay, AbbVie, 2, 5, 8, Abbvie, 2, 5, 8, Celgene, 5, 8, Eli Lilly, 2, 5, EliLilly, 2, 5, Jansen, 2, Janssen, 2, MSD, 2, 5, 8, Novartis, 2, 5, Pfizer, 5, 8, Roche, 2, 5, 8, Sanofi, 2, 5, 8, Sobi, 5, 8; R. Blanco, None.
To cite this abstract in AMA style:
Calderón-Goercke M, Loricera J, PRIETO- PENA D, Aldasoro Caceres V, Castañeda S, Villa I, Humbría A, Moriano C, Romero-Yuste S, Narváez J, Gómez-Arango C, Perez Pampín E, Melero R, Revenga M, Álvarez-Rivas N, Sivera F, Álvarez del buergo M, Marena-Rojas L, Galindez-Agirregoikoa E, Arca B, Solans-Laqué R, Vazquez C, Lluch P, salgado-Pérez E, Luna-Gómez C, Toyos-Sáenz De Miera F, Fernández-Llanio N, García A, Larena C, Sanchez-Bilbao L, Gonzalez-Mazon I, Palmou-Fontana N, Calvo-Río V, González-Vela C, Corrales A, Varela-García M, Aurrecoechea E, Dos Santos R, Fernández S, Hernández J, González-Gay M, Blanco R. Tocilizumab in Aortitis: A Multicenter Study of 79 Patients [abstract].
Arthritis Rheumatol.
2019; 71 (suppl 10). https://acrabstracts.org/abstract/tocilizumab-in-aortitis-a-multicenter-study-of-79-patients/. Accessed June 1, 2023.
« Back to 2019 ACR/ARP Annual Meeting
ACR Meeting Abstracts - https://acrabstracts.org/abstract/tocilizumab-in-aortitis-a-multicenter-study-of-79-patients/