Session Information
Session Type: Poster Session B
Session Time: 9:00AM-11:00AM
Background/Purpose: Hydroxychloroquine (HCQ) dosing is reduced in those with renal insufficiency according to guidelines (Marmor MF, et al. Ophthalmology 2016;123:1386–94) as it is partially cleared by the kidneys.  Some studies have found that HCQ use might protect against end stage renal disease.  We explored these issues using HCQ blood levels.
Methods: Hydroxychloroquine blood levels were measured by liquid chromatography-tandem mass spectrometry as described by Füzéry et al (Clin Chim Acta 2013;421:79–84). Renal insufficiency was defined as GFR < 50% or creatinine > 1.5 mg/mL.  At least one HCQ blood level was measured at a clinic visit in 1,066 patients. Excluding patients with prior renal insufficiency (275) and missing information (6), there were 785 patients eligible for analysis, contributing 34,046 person months. There were 71 incident renal insufficiency events after the first HCQ blood level measurement. For this analysis, a dataset with one record for each month of follow up for each person were constructed. Patients were followed from first measure of HCQ blood levels to their first incident renal insufficiency or their last recorded visit with HCQ blood levels.  To calculate the rate of renal insufficiency in each demographic or clinical subgroup, the number of renal insufficiency events was divided by the number of person months at risk and then converted to rates per 1,000 person years. Pooled logistic regression was used to assess the relationship between HCQ blood levels and rates of renal insufficiency.
Results: All patients met revised ACR or SLICC classification criteria and were 93.2% female, 41% African-American, and 47.8% Caucasian. Table 1 shows the association between patient characteristics and the rate of renal insufficiency. The categories of HCQ blood levels (mean or most recent) were divided into tertiles, each containing a third of the person-years, to see if there were any trends of HCQ blood levels in incident renal insufficiency.  Table 2 shows the association between HCQ blood levels tertiles and the rate of renal insufficiency. The rate of renal insufficiency increased with HCQ blood levels. Next, the HCQ blood levels were modeled as continuous variables (Table 3).  There were significant associations between HCQ blood levels and incident renal insufficiency. The associations persisted after adjustment of covariates.
Conclusion: HCQ blood levels clearly rose in those with renal insufficiency, whether we looked at the most recent level before renal insufficiency or the mean of all prior HCQ blood levels.  Disappointingly, HCQ blood levels at the mid or high tertile did not reduce later renal insufficiency. Thus, our data do not support that HCQ would reduce end stage renal disease.  Renal insufficiency was associated with higher HCQ blood levels, likely due to reduced HCQ renal clearance, justifying the recommendation to reduce dose in those with chronic kidney disease.
Rates of renal insufficiency events by demographics and patients characteristics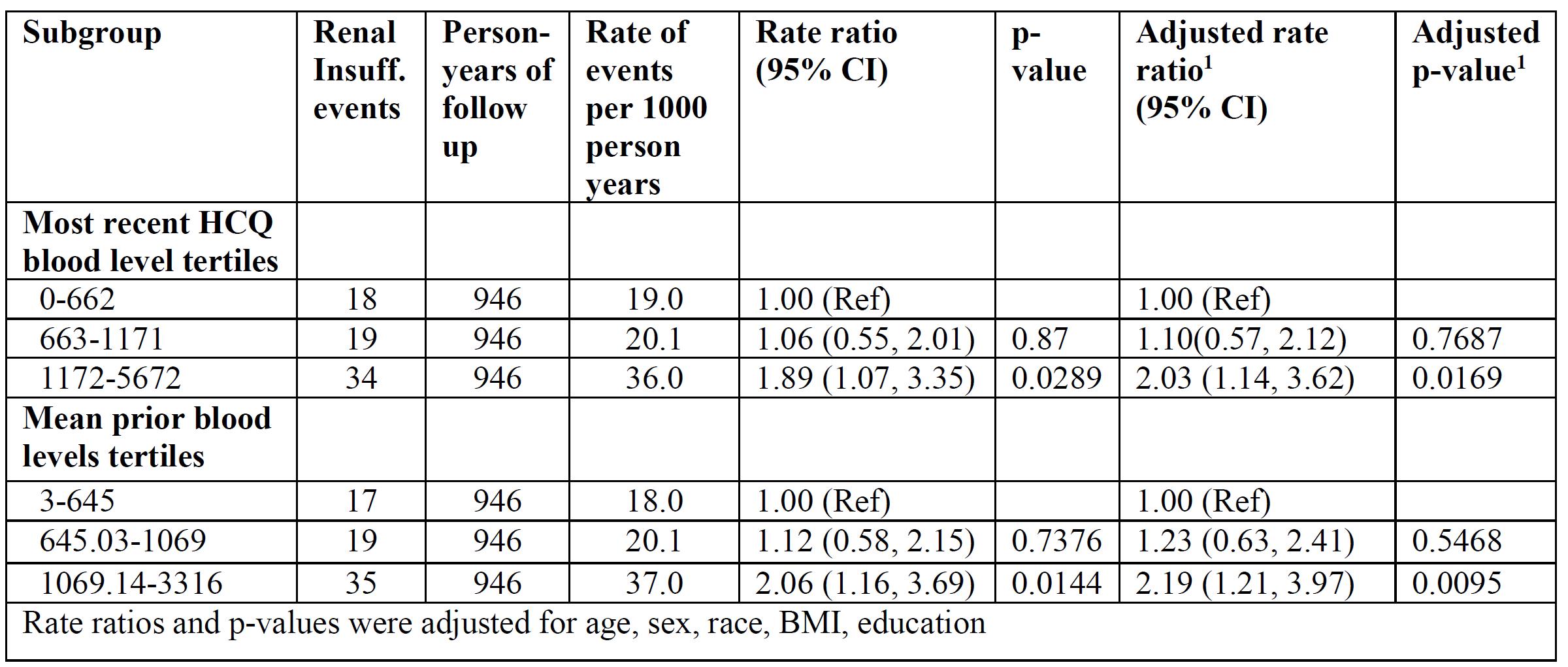 Rates of renal insufficiency events by HCQ blood levels

Association between HCQ levels and renal insufficiency
---
Disclosure: M. Petri, Astrazeneca, 2, 5, Exagen, 2, 5, GlaxoSmithKline (GSK), 2, 5, Eli Lilly and Company, 2, 5, AbbVie Inc., 5, Aleon Pharma International, Inc, 5, Amgen, 5, Annenberg Center for Health Sciences,, 5, Blackrock Pharma, 5, Bristol Myers Squibb, 5, Decision Resources, 5, Glenmark Pharmaceuticals, 5, INOVA, 5, IQVIA, 5, Janssen Pharmaceutical, 5, Merck EMD Serono, 5, Novartis, 5, Sanofi Japan, 5, Thermofisher, 5, UCB, 5; J. Li, None.
To cite this abstract in AMA style:
Petri M, Li J. Time to Renal Insufficiency Based on Prior Hydroxychloroquine Blood Levels [abstract].
Arthritis Rheumatol.
2020; 72 (suppl 10). https://acrabstracts.org/abstract/time-to-renal-insufficiency-based-on-prior-hydroxychloroquine-blood-levels/. Accessed November 27, 2022.
« Back to ACR Convergence 2020
ACR Meeting Abstracts - https://acrabstracts.org/abstract/time-to-renal-insufficiency-based-on-prior-hydroxychloroquine-blood-levels/