Session Information
The 2020 Pediatric Rheumatology Symposium, originally scheduled for April 29 – May 2, was postponed due to COVID-19; therefore, abstracts were not presented as scheduled.
Session Type: ACR Abstract Session
Session Time: 5:00PM-6:00PM
Background/Purpose: Interferon gamma (IFNγ) is a pivotal mediator of HLH. Emapalumab (a fully human anti-IFNγ monoclonal antibody) is efficacious in patients with primary HLH. In autoinflammatory diseases (AID), elevated IL-18 is considered a predisposing factor for secondary HLH, being a costimulus for IFNγ production. IL-18-transgenic or IL18BP-deficient mice, when triggered with toll-like receptor ligands, develop severe HLH; and neutralization of IFNγ leads to reversal of disease, supporting the role of IFNγ as the final downstream mediator.
Methods: We report the results of treatment with emapalumab (Table 1) in compassionate use in 2 patients with NLRC4- and in 1 patient with CDC42-associated AID. Cytokine levels, IFNγ expression, and HLH clinical and laboratory parameters were assessed.
Results: Levels of IL-18 were markedly increased ( >100,000 pg/mL) in all 3 patients, regardless of whether HLH was present at the time of sampling (Table 1). During HLH flares, increased IFNγ production was demonstrated by high CXCL9 levels (Table 1), which were strictly related to ferritin levels, and by increased IFNγ expression in NK cells and CD8T cells. Patient 1 (NLRC4 de novo pT337N) and patient 2 (NLRC4 de novo pI343N) presented with neonatal onset of autoinflammation and severe recurrent HLH. At 4 months of age, patient 1 experienced an HLH reactivation, with multiple organ failure requiring intensive care unit admission. Emapalumab (1 mg/Kg every 3 days), added to ongoing dexamethasone and cyclosporin A, led to HLH resolution (Figure 1). After 7 months, all therapies, including emapalumab, were discontinued, without HLH reactivation during a 4-year follow-up. In patient 2, emapalumab (1 mg/kg every 3 days for 5 doses and then 3 mg/Kg every 3 days for 3 months) was added to ongoing glucocorticoid and cyclosporin A during full-blown HLH, with prompt resolution (Figure 1). During emapalumab treatment, two mild HLH episodes occurred that were controlled with moderate intensification of glucocorticoids. Patient 3 (de novo pR186C) presented with neonatal onset of cytopenia, autoinflammation, rash, and recurrent HLH. A severe HLH flare, occurring while on anakinra and glucocorticoids, and requiring ICU admission because of multiple organ failure, was successfully treated with the addition of emapalumab (1 mg/kg for the first dose and then increased to 3 mg/kg every 3 days for 15 days) (Figure 1). She underwent successful hematopoietic stem cell transplantation.
Conclusion: In these 3 patients with monogenic AID associated with high IL-18 levels, HLH flares unresponsive to high-dose glucocorticoids were successfully controlled with emapalumab. Treatment was well tolerated, with no safety concerns.

Table 1: Levels of total IL_18, of the IFNγ_related chemokine CXCL9, and of ferritin before, during, and after administration of emapalumab.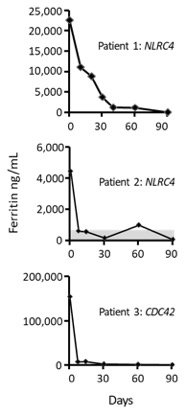 Figure 1: Ferritin levels following treatment with emapalumab. Shaded are reflects the normal range.
---
Disclosure: C. Bracaglia, None; A. Insalaco, None; G. Marucci, None; M. Pardeo, None; E. Sacco, None; V. Messia, None; G. Prencipe, None; I. Caiello, None; S. Fingerhutova, None; P. Dolezalova, None; V. Asnaghi, SOBI, 1; M. Ballabio, SOBI, 1; C. de Min, SOBI, 1; F. De Benedetti, Novartis, 1, 2, Novimmune, 1, Sobi, 1, 2, Roche, 1, 2, Pfizer, 1, Sanofi, 1, AbbVie, 1, Novimmune/Sobi, 1.
To cite this abstract in AMA style:
Bracaglia C, Insalaco A, Marucci G, Pardeo M, Sacco E, Messia V, Prencipe G, Caiello I, Fingerhutova S, Dolezalova P, Asnaghi V, Ballabio M, de Min C, De Benedetti F. Therapeutic Interferon Gamma Neutralization with Emapalumab in Patients with NRLC4- and CDC42-Associated Diseases Characterized by Recurrent and Severe Hemophagocytic Lymphohistiocytosis [abstract].
Arthritis Rheumatol.
2020; 72 (suppl 4). https://acrabstracts.org/abstract/therapeutic-interferon-gamma-neutralization-with-emapalumab-in-patients-with-nrlc4-and-cdc42-associated-diseases-characterized-by-recurrent-and-severe-hemophagocytic-lymphohistiocytosis/. Accessed September 16, 2021.
« Back to 2020 Pediatric Rheumatology Symposium
ACR Meeting Abstracts - https://acrabstracts.org/abstract/therapeutic-interferon-gamma-neutralization-with-emapalumab-in-patients-with-nrlc4-and-cdc42-associated-diseases-characterized-by-recurrent-and-severe-hemophagocytic-lymphohistiocytosis/