Session Information
Session Type: Poster Session A
Session Time: 9:00AM-11:00AM
Background/Purpose: The presence of fibromyalgia (FMS) in psoriatic arthritis (PsA) patients increases the scores of the clinical measures of disease activity.
The aim of this study is to examine whether ultrasound (US) can be used in the evaluation of disease activity in PsA patients with concomittant FMS as an objective tool that is not influenced by the presence of FMS
Methods: The study population included consecutive PsA patients that were recruited prospectively and fulfilled the CASPAR criteria. The assessment of the patients included, complete medical history and physical examination including assessment of joints (66/68 joint count), enthesitis (LEEDS and SPARCC), and fibromyalgia tender points. All the patients were assessed by the widespread pain index (WPI) and symptom severity score (SSS) for fibromyalgia criteria. Patients were classified with FMS if they fulfilled the 2016 fibromyalgia classification criteria. All the patients underwent a detailed US evaluation (gray scale and Doppler) including 52 joints, 40 tendons and 14 points of entheses (according to MASES index plus lateral epicondyles). The score of the US was based on the summation of a semi-quantitative score (0-3) for synovitis (based on the EULAR-OMERACT definition), tenosynovitis, and enthesitis score. All the evaluations occurred in the same day and the sonographer was blinded to the clinical data. 
Results: 156 patients completed the study. Overall 7540 joints, 5800 tendons and 2030 entheses were scanned by the US. 42 patients (26.9%) classified with both PsA and FMS were compared to 114 (73.1%) PsA patients without FMS. Patients with PsA and FMS had significantly increased scores for almost all the clinical measures, including non-MDA (97.6% vs. 54.4%, p< 0.001), mean CPDAI (11.6 vs. 6.8, p< 0.001), mean DAPSA (35.1 vs. 15.9, p< 0.001) and mean PASDAS (5.8 VS. 2.7, P< 0.001). On the other hand, the total US score and its' subcategories (US synovitis, tenosynovitis and enthesitis) did not demonstrate significant differences between those with to those without FMS (Table 1). The US score significantly correlated with each clinical score (CPDAI, DAPSA and PASDAS, p< 0.01) in the PsA without FMS but not in the PsA and FMS group (Table 2). Furthermore, these correlations were significantly higher for the CPDAI and PASDAS in the PsA without FMS compared to PsA with FMS (p< 0.05). Multivariable linear regression model showed that FMS was significantly associated with higher clinical scores (p< 0.001) but not with the US score (Table 3).
Conclusion:
Patients with PsA and FMS had increased scores of clinical measures compared to those without FMS. US scores were similar between the groups, independently of the presence of FMS. Hence, US has a significant additional value over composite clinical scores in the assessment of disease activity in PsA patients with fibromyalgia.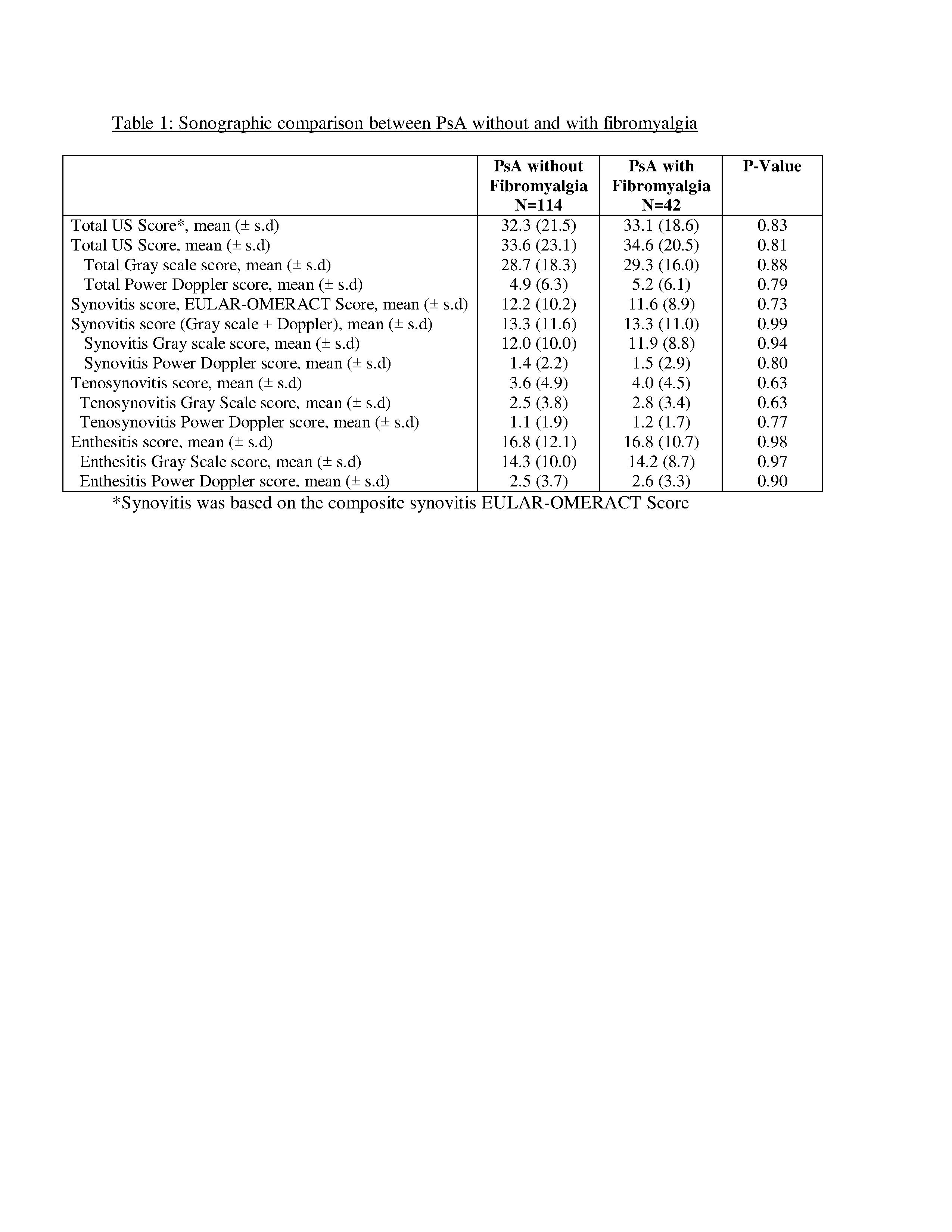 Table 1: Sonographic comparison between PsA without and with fibromyalgia
Table 2: Correlations of US score with Clinical scores in PsA with and without Fibromyalgia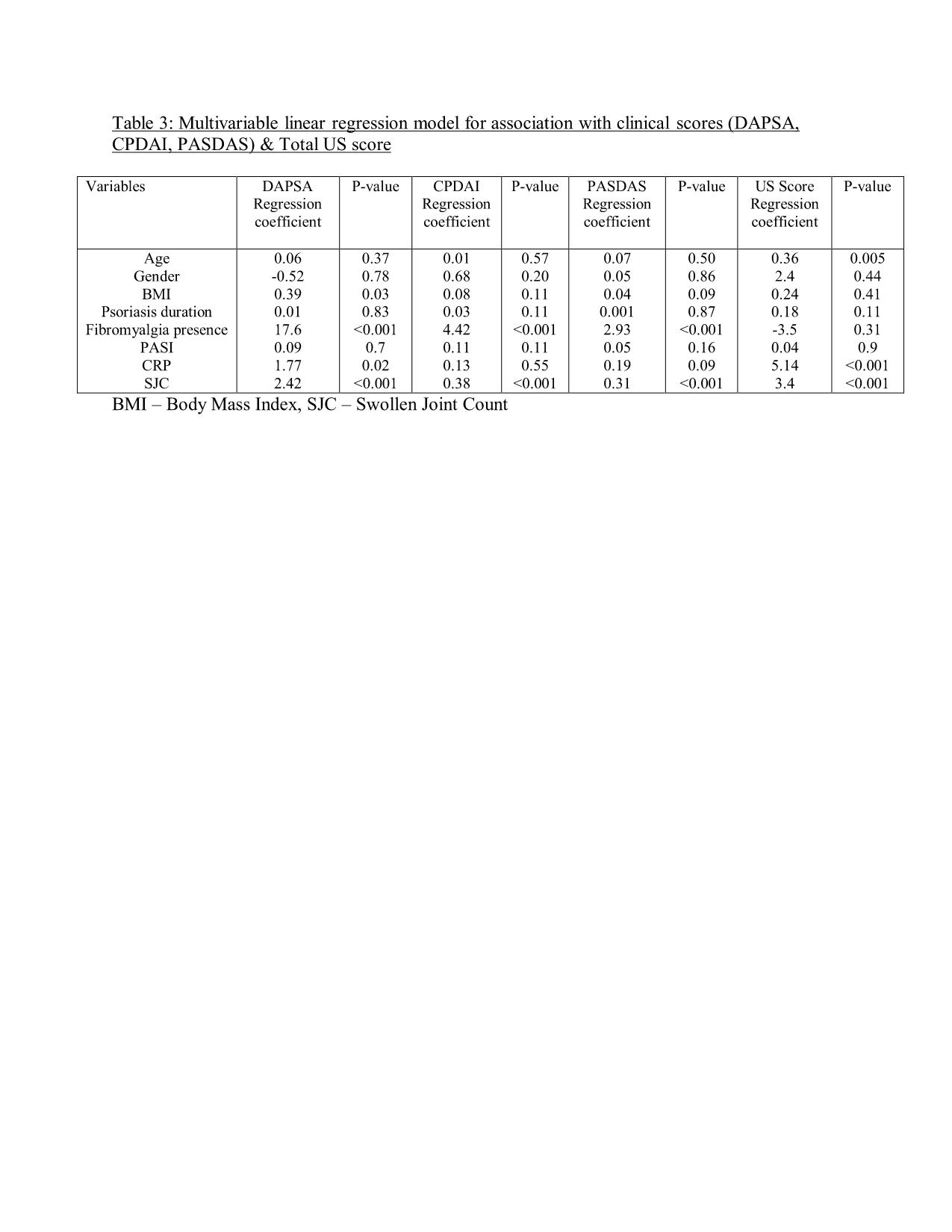 Table 3: Multivariable linear regression model for association with clinical scores (DAPSA, CPDAI, PASDAS) & Total US score
---
Disclosure: A. Polachek, None; V. Furer, None; M. Zureik, None; S. Nevo, None; L. Mendel, None; D. Levartovsky, None; J. Wollman, None; V. Aloush, None; M. Berman, None; I. Kaufman, None; R. Tzemach, None; M. Anouk, None; O. Elalouf, None; H. Padova, None; O. Carmi, None; T. Eviatar, None; Y. Lahat goldstein, None; H. Sarbagil-Maman, None; S. Borok Lev-Ran, None; A. Broide, None; L. Eder, None; D. Paran, None; O. Elkayam, None.
To cite this abstract in AMA style:
Polachek A, Furer V, Zureik M, Nevo S, Mendel L, Levartovsky D, Wollman J, Aloush V, Berman M, Kaufman I, Tzemach R, Anouk M, Elalouf O, Padova H, Carmi O, Eviatar T, Lahat goldstein Y, Sarbagil-Maman H, Borok Lev-Ran S, Broide A, Eder L, Paran D, Elkayam O. The Role of Ultrasound for the Assessment of Psoriatic Arthritis Patients with Fibromyalgia [abstract].
Arthritis Rheumatol.
2020; 72 (suppl 10). https://acrabstracts.org/abstract/the-role-of-ultrasound-for-the-assessment-of-psoriatic-arthritis-patients-with-fibromyalgia/. Accessed January 27, 2023.
« Back to ACR Convergence 2020
ACR Meeting Abstracts - https://acrabstracts.org/abstract/the-role-of-ultrasound-for-the-assessment-of-psoriatic-arthritis-patients-with-fibromyalgia/