Session Information
Session Type: Abstract Submissions (ACR)
Background/Purpose: Rheumatology quality improvement efforts and clinical research are often challenged by the need to access and integrate data across diverse patient populations and disparate information systems.  We report on our use of a service-oriented architecture (SOA) to link disparate clinical data resources across multiple clinical sites and systems in support of rheumatology practice and research.  The central aim of this technology is to provide a reliable and cost-effective means of connecting data from multiple EHR systems, and using these data for quality improvement and research querying for the rheumatology community.
Methods: The design and execution of effective quality improvement projects and clinical studies requires access to high quality, longitudinal data.  In most instances, such data are collected, formalized, stored and retrieved using project- or organization-specific disease registries or data warehouses.  It is increasingly desirable to access data across multiple clinical sites for quality improvement and clinical research purposes, but disparate EHR systems remain difficult to connect for data interchange.  Furthermore, in these types of settings, organizational and policy barriers often preclude the use of centralized repositories.  To address this need, we developed a lightweight, SOA-based approach to create a network of clinical sites that could serve as a federated data repository. The ACR is piloting this system – called the Rheumatology Informatics System for Effectiveness (RISE) – to enhance registry efforts to benefit rheumatic disease research and quality reporting efforts. Because RISE will collect data directly from EHR systems, it will eliminate the need for manual and redundant data entry into the registry.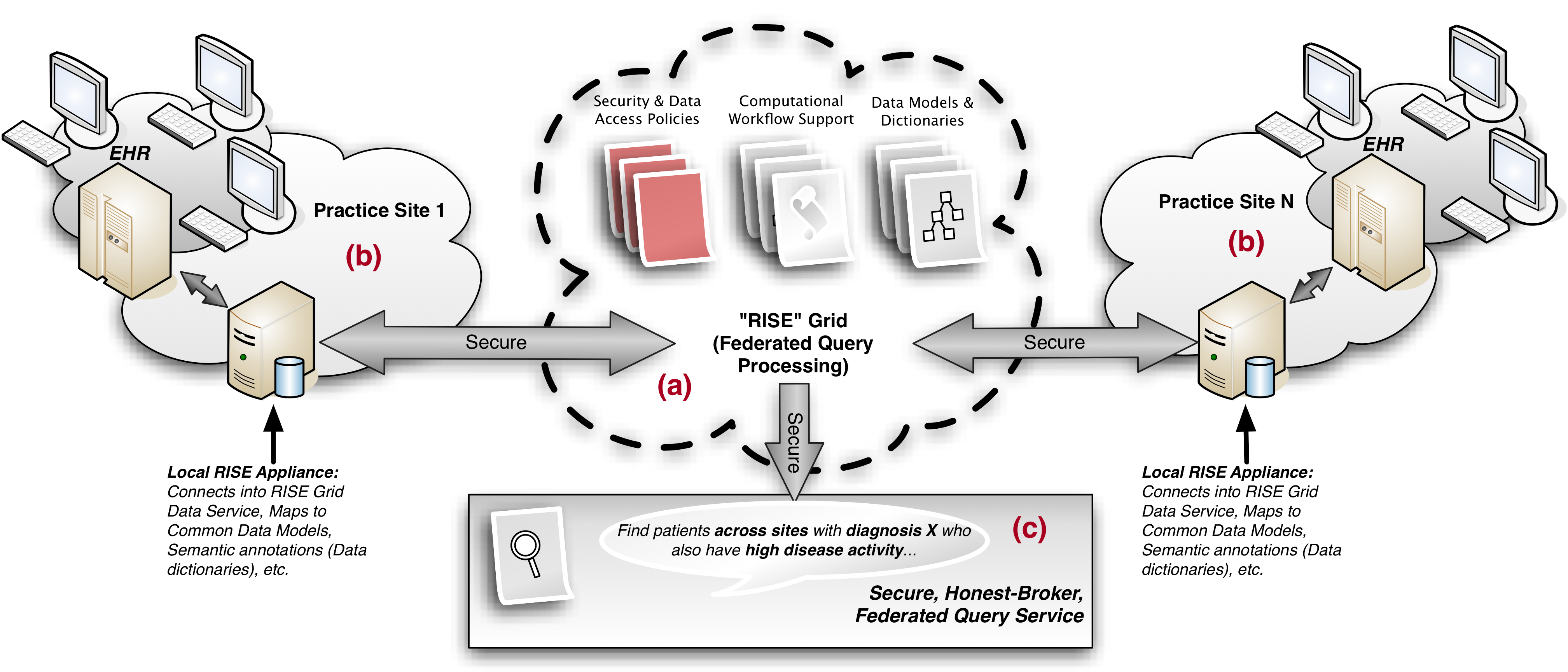 Results: The model employed by RISE uses an approach to enable the federated query of geographically distributed data sources in order to create a virtual data repository. This platform uses the TRIAD middleware (1), and is currently being implemented at two pilot sites in the US, with more planned in the near future.  A novel feature is the use of TRIAD-enabled data sharing "virtual appliances" (Figure 1). The systems was designed to reduce the overhead of deploying a data sharing service, while simultaneously allowing sites to maintain full control of the type and nature of data being shared. Through deployment of a simple, menu-driven query construction and data discovery portal, RISE allows end-users with appropriate privileges to quickly and easily discover and query distributed data sets.
Conclusion: The design, deployment and initial use of the RISE Network addresses the need for data access across disparate sites using otherwise non-interoperable information systems.  We believe that such an approach to distributed data sharing in rheumatology will help advance science and improve clinical practice.
---
Disclosure:
P. J. Embi,
None;
I. Barnes,
None;
R. Myslinski,
None;
D. Ervin,
None;
W. Stevens,
None;
T. Borlawsky,
None;
P. R. O. Payne,
None.
« Back to 2012 ACR/ARHP Annual Meeting
ACR Meeting Abstracts - https://acrabstracts.org/abstract/the-rheumatology-informatics-system-for-effectiveness-rise-enabling-data-access-across-disparate-sites-for-quality-improvement-and-research/