Session Information
Session Type: ACR Abstract Session
Session Time: 2:30PM-4:00PM
Background/Purpose: Up to 30% of patients may have persistent pain post-total knee arthroplasty (TKA). One possible approach to improve these outcomes is to optimize muscle strength, physical condition, and mental preparation before surgery. Our purpose was to elicit patients' experiences with TKA with the goal of understanding the utility and logistics of implementing a pre-habilitation program delivered by peer coaches (i.e. a patient who has already undergone a TKA and has been trained to provide personalized pre-TKA support).
Methods: Qualitative study guided by Social Cognitive Theory (SCT). SCT posits that direct personal agency (self-efficacy), proxy agency (peer or social support); sociocultural factors, and outcome expectations influence goals and outcomes. Patients were > 65 years old from Hospital for Special Surgery and have had primary TKA with  good clinical outcome, defined as a  Knee Injury and Osteoarthritis Outcome Score (KOOS) score >65 one year post-operatively. We asked patients about their challenges before and after TKA, potential barriers to accessing a pre-habilitation program and perspectives on what it might be like working with a peer coach to encourage regular exercise prior TKA. We analyzed the data thematically using a priori coding that corresponded to SCT constructs.
Results: We conducted four focus groups and two individual interviews (N = 31). Mean age was 75 years (6.85 SD); age range 65-89 years of age. Forty-eight percent had previously had a primary TKA on their contralateral knee. Overall, 61% (N = 19) were women and 90% (N= 28) were white. Table 1 shows the major themes that emerged, grouped by SCT constructs supported patient quotes. Patients with high outcome expectations who were undergoing their contralateral primary TKA learned from their first experience and reported feeling motivated to engage in physical activity before their contralateral TKA (Theme 1). Patients expressed that they did not know what type of exercises were good for them once they decided to have a TKA (Theme 2). Patients, for whom this was their first TKA, stated that connecting with another patient who already had a TKA was important in their decision making to choose TKA, also in how to prepare for TKA (Theme 3). These participants articulated they had gained knowledge from the experience of having a previous primary TKA, and were able to identify factors they felt were important to have a good outcome after TKA (Theme 4). They expressed that working with a peer coach would be beneficial for both preparation and recovery from TKA (Theme 5).
Conclusion: Preparation and expectations for TKA were influenced by patients' own prior experience with TKA and the experience of other patients who already had TKA. Patients expressed that their own experiences with TKA made them more informed, self-efficacious, and physically active to prepare for their contralateral primary TKA. These data suggest that a formal peer-to-peer intervention that prepares patients for their first TKA by interacting with an experienced post-TKA patient about the mental and physical preparation to undergo TKA was of interest to patients and could help improve TKA outcomes.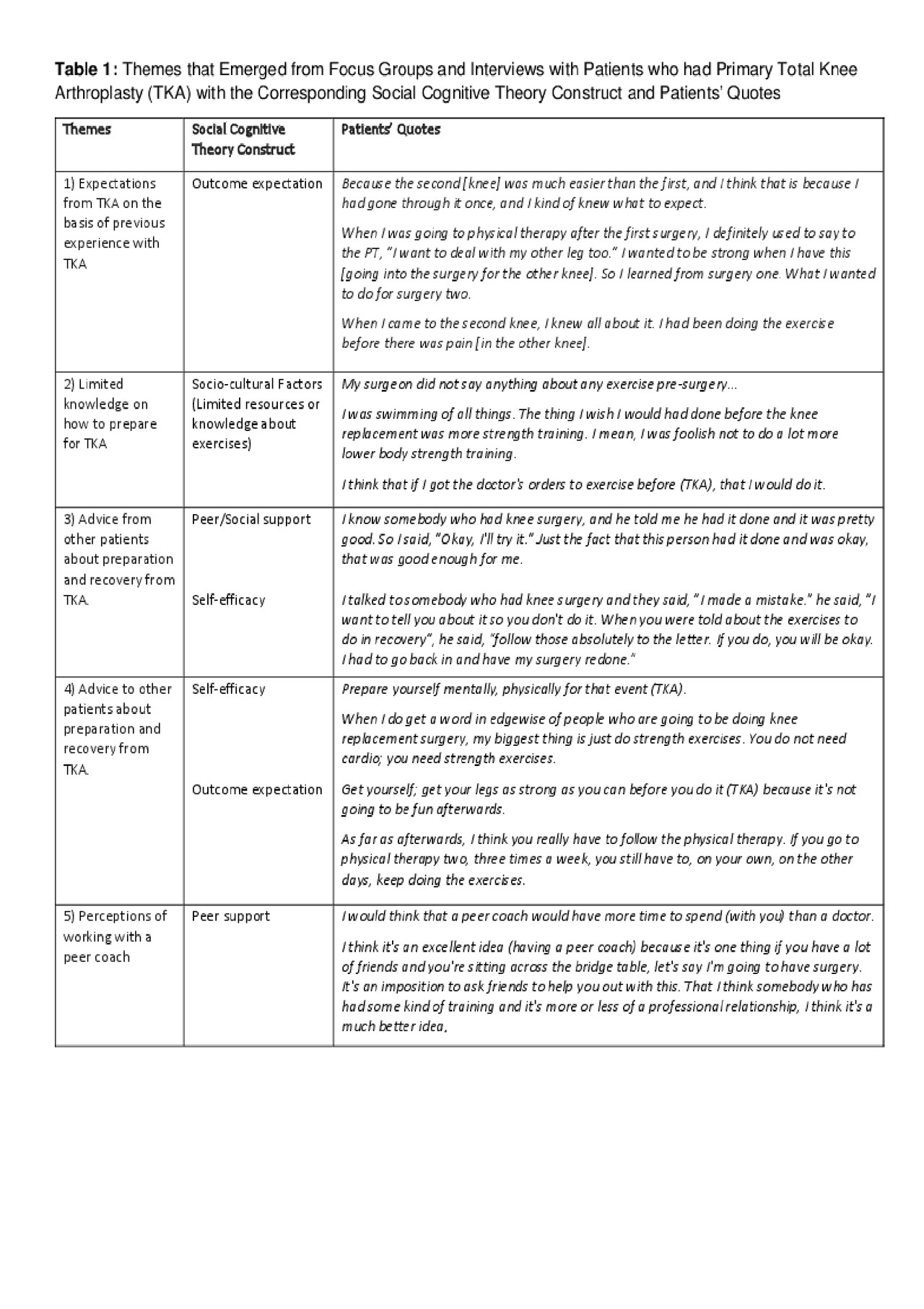 Pre-hab_FG_ACR_2019_Table
---
Disclosure: I. Navarro-Millan, None; S. Young, None; G. Lui, None; M. Frey, None; J. Peterson, None; S. Goodman, BMC Rheumatology, 5, 6, Calgene, 5, Celgene, 5, Current Rheumatology reports, 5, Current Rheumatology Reports, 6, Horizon, 2, 5, horizon, 2, Novartis, 2, 5, NYU College of Medicine, 3, NYU Langone College of Medicine, 3, Pfizer, 2, 5, Regenosine, 4, 9, Roche, 2, UCB, 5; M. Safford, Amgen, 2, 9; L. Mandl, Annals of Internal Medicine, 3, Annals of Internal Medicine- Associate Editor, 3, UpToDate, 7, Wolters Kluwer - Author at UptoDate, 7, Wolters Kluwer - Author at UpToDate, 7, Wolters Kluwer- Author at UpToDate, 7.
To cite this abstract in AMA style:
Navarro-Millan I, Young S, Lui G, Frey M, Peterson J, Goodman S, Safford M, Mandl L. The Preparation and Recovery Experience from Total Knee Replacement of Patients with Osteoarthritis: A Qualitative Study [abstract].
Arthritis Rheumatol.
2019; 71 (suppl 10). https://acrabstracts.org/abstract/the-preparation-and-recovery-experience-from-total-knee-replacement-of-patients-with-osteoarthritis-a-qualitative-study/. Accessed November 24, 2020.
« Back to 2019 ACR/ARP Annual Meeting
ACR Meeting Abstracts - https://acrabstracts.org/abstract/the-preparation-and-recovery-experience-from-total-knee-replacement-of-patients-with-osteoarthritis-a-qualitative-study/