Session Information
Session Type: ACR Poster Session B
Session Time: 9:00AM-11:00AM
Background/Purpose: Entheses are exposed to biomechanical stress throughout life and sonographic entheseal abnormalities may not reflect an underlying inflammatory arthritis in all cases. In this study, we aimed to determine the prevalence of entheseal abnormalities in healthy subjects and explore factors that are contributing for the occurrence and severity of these findings.
Methods: Eighty healthy subjects who had no joint pain, recent joint trauma or surgery had ultrasound (US) scans for the insertions of the triceps, quadriceps, Achilles tendons and plantar fascia and the origins and insertions of the patellar tendons. The enthesis were scored for hypoechogenicity, thickening, Doppler signals, enthesophytes, erosions and calcifications, semi quantitatively between 0-3, calculating the total enthesitis scores. The correlation between the total enthesitis score and various demographic and lifestyle factors was evaluated. A multiple linear regression was calculated to predict total US score based on age, sex, smoking status, BMI, and physical activity.
Results: Doppler signals and erosions were detected in 10% and 6.25% of the participants, respectively.  Thickening was the most frequent sonographic entheseal lesion that could also be seen in the absence of hypoechogenicity (70% of the proximal patellar tendon origin). Enthesophytes were common at the Achilles tendon insertion seen in 78.7% of the participants.
The total US scores correlated with age (r:0.561, p<0.001) and body mass index (r:0.344, p:0.022). Smokers had higher scores (14.0 ± 10.6 vs 9.02 ± 9.6, p:0.010), similar to participants who were exercising more (13.53 ± 11.1 vs7.94 ± 8.4, p:0.005). In addition, men had higher scores than women (15.73 ± 11.6 vs 8.06 ± 8.2, p:0.001) (Figure 1). In linear regression model age, gender, BMI and physical activity independently predicted to total US score (Table 1).
Conclusion: There are physiological changes within the enthesis that are associated with older age, higher BMI and physical activity. The entheseal abnormalities observed in the healthy enthesis support the impact of biomechanical forces on the enthesis, not necessarily reflecting a pathology leading to any symptoms. Men and smokers, both of which are risk factors for radiographic severity in AS, have higher entheseal scores on ultrasound and the effect of these factors on the enthesis may be an explanation for the severe abnormal response on the spine in AS.
Table 1.  Linear regression results of the factors affecting total US score
| | | | |
| --- | --- | --- | --- |
| | Coefficients (B) | 95 % CI | P |
| Age | 0.358 | 0.253-0.463 | <0.001 |
| Gender | 5.053 | 1.820-8.287 | 0.003 |
| Smoking status | -0.146 | -3.461-3.168 | 0.930 |
| BMI | 0.613 | 0.248-0.978 | 0.001 |
| Physical activity | 4.418 | 1.253-7.583 | 0.007 |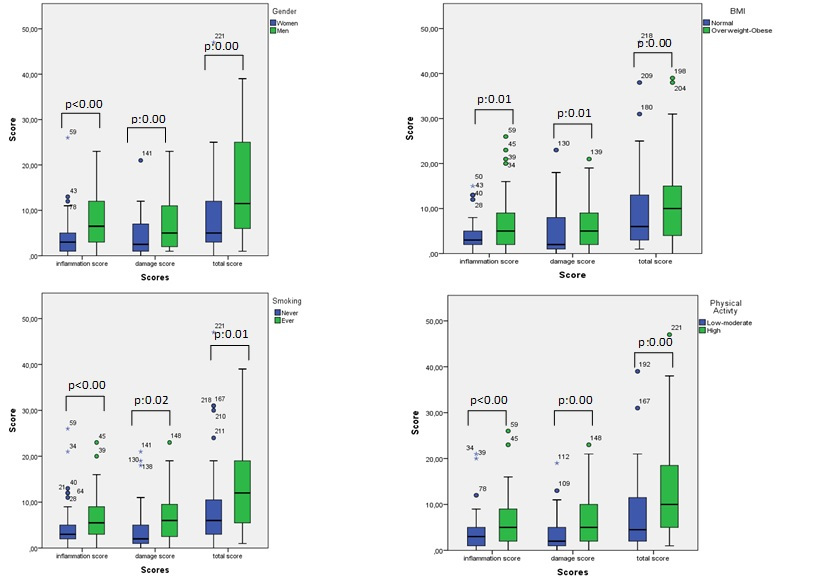 Figure 1: Differences within US scores and gender, BMI, smoking status and physical activity.
---
Disclosure: D. Solmaz, None; S. Bakirci, None; W. Stephenson, None; L. Eder, None; J. Roth, None; S. Z. Aydın, None.
To cite this abstract in AMA style:
Solmaz D, Bakirci S, Stephenson W, Eder L, Roth J, Aydın SZ. The Physiological Changes of the Enthesis in Response to Age, Body Mass Index and Physical Activity: An Ultrasound Study in Healthy People [abstract].
Arthritis Rheumatol.
2018; 70 (suppl 9). https://acrabstracts.org/abstract/the-physiological-changes-of-the-enthesis-in-response-to-age-body-mass-index-and-physical-activity-an-ultrasound-study-in-healthy-people/. Accessed March 21, 2023.
« Back to 2018 ACR/ARHP Annual Meeting
ACR Meeting Abstracts - https://acrabstracts.org/abstract/the-physiological-changes-of-the-enthesis-in-response-to-age-body-mass-index-and-physical-activity-an-ultrasound-study-in-healthy-people/