Session Information
Session Type: Poster Session A
Session Time: 9:00AM-11:00AM
Background/Purpose: SLE is characterized by different patterns of disease activity throughout its course. Overall, a higher disease activity is an important predictor of mortality and damage accrual.
Recently, a new set of classification criteria for SLE using an additive point system has been introduced, the 2019 EULAR/ACR classification criteria (EULAR/ACR) which have proven to be sensitive and specific. Furthermore, these criteria have correlated with SLEDAI and SLAM-R scores at diagnosis. In a different cohort, higher EULAR/ACR scores were associated with higher rates of organ damage.
We aimed to determine the ominosity of the EULAR/ACR by determining their potential predictive role for disease severity in the first 5 years of disease course.
Methods: Inception SLE patients (recruited in the first 12 months after diagnosis) were included.
For each patient a score of the EULAR/ACR was calculated based on the baseline clinical and laboratory information. The baseline information was obtained from the first 2 visits as some of the data and therapies ordered at the first visit were recorded only at the second visit.
To determine the ominosity of the EULAR/ACR, we used outcomes to establish disease severity over the first 5 years after diagnosis including Adjusted mean SLEDAI-2K (AMS), flares, remission and use of immunosuppressive treatment. 
Results: A total of 867 inception patients were included, 87.5% were woman, with a mean age of 36.2 years at baseline. Most patients were Caucasians (66.7%), followed by Blacks (14.2%).
The mean disease duration (time between diagnosis and first visit) was 0.2 years, the median time between the first visit and the second visit was 3.3 months.
The median EULAR/ACR score was 20. We used this score as a threshold to compare demographic, clinical characteristics and outcomes between groups. Fig 1.
Blacks more frequently presented with a score ≥ 20 compared to Caucasians. At baseline patients with a score ≥ 20 were younger, had higher SLEDAI-2K scores and were more likely to receive immunosuppressive therapy. Table 1.  
In the first 5 years of disease course, patients with a score ≥ 20 had higher AMS scores. Every increase of 10 points in the score increased the AMS by 2.2 units (Univariate Linear regression, beta = 0.22, p< .0001). Likewise, patients with a higher score were more likely to ever present with a flare and more frequently experienced ≥2 flares. Every 10 points increase in the score increased the risk of a flare by 32% (RR: 1.32 95%CI: 1.173, 1.485, p < .0001) Table 1. Looking at specific organ flares this group presented more renal (31.6% vs 12.8%, ≥20 vs < 20, p=< 0.001) and hematologic (8% vs 2.2%, ≥20 vs < 20, p=0.007) flares.
In addition, these patients were less likely to achieve remission, Fig. 2 and had higher requirements for immunosuppressive therapy. Table 1.
Conclusion: Overall, EULAR/ACR score ≥20 is an indicator of ominosity in the SLE disease course. SLE patients with a score ≥20 were characterized by higher disease activity throughout the first 5 years after diagnosis. Thus, the new classification criteria could be helpful not only in classifying SLE cases but could also provide prognostic information regarding the disease course in the first 5 years following diagnosis.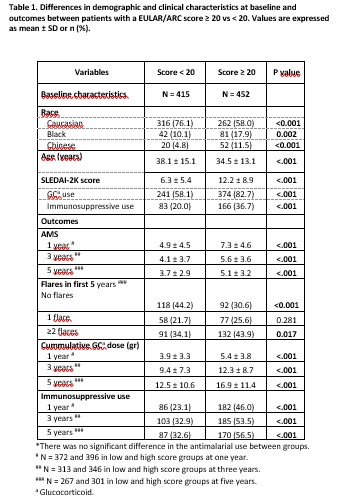 ---
Disclosure: L. Whittall-Garcia, None; D. Gladman, AbbVie, 2, 5, Amgen, 2, 5, Janssen, 2, 5, Novartis, 2, 5, Pfizer, 2, 5, UCB, 2, 5, Bristol-Myers Squibb, 5, Gilead, 5, Galapagos, 5, Celgene, 2, 5, Eli Lilly, 2, 5; M. Urowitz, None; J. Su, None; S. Johnson, None.
To cite this abstract in AMA style:
Whittall-Garcia L, Gladman D, Urowitz M, Su J, Johnson S. The New EULAR/ ACR 2019 SLE Classification Criteria: Defining Ominosity in SLE [abstract].
Arthritis Rheumatol.
2020; 72 (suppl 10). https://acrabstracts.org/abstract/the-new-eular-acr-2019-sle-classification-criteria-defining-ominosity-in-sle/. Accessed September 19, 2021.
« Back to ACR Convergence 2020
ACR Meeting Abstracts - https://acrabstracts.org/abstract/the-new-eular-acr-2019-sle-classification-criteria-defining-ominosity-in-sle/