Session Information
Session Type: Poster Session D
Session Time: 9:00AM-11:00AM
Background/Purpose: Given the clinical importance of the pre-conception period in lupus pregnancy management and because pregnancy planning can be potentially improved, this study explores the role of planning on lupus pregnancy outcomes. We hypothesize that women with lupus with planned pregnancies will have fewer pregnancy complications.
Methods: The Maternal Autoimmune Disease Research Alliance (MADRA) was reviewed for lupus pregnancies (1/1/2018 to 4/1/2020) and SLE diagnosis was confirmed by Systemic Lupus Collaborating Clinics (SLICC) criteria. The London Measure of Unplanned Pregnancy (LMUP) classified lupus pregnancies as Planned or Not Planned (Ambivalent or Unplanned), and the Physician's Global Assessment (PGA) quantified disease activity. Adverse outcomes were defined using the composite PROMISSE-APO SEVERE (neonatal death, fetal death > 12 weeks, preeclampsia and pre-term delivery < 34 weeks, or pre-term delivery < 30 weeks) and a composite severe neonatal outcomes variable (neonatal death, NICU stay > 1 week, APGAR < 7 at 5 minutes, or SGA < 5th percentile).
Results: This study included 43 lupus patients with 43 pregnancies (no twins). Average maternal age was 29.4 years with 42% identifying as Black or African American. Overall, 60% of pregnancies were Planned and 40% were Not Planned (37% Ambivalent, 2% Unplanned). Women with Not Planned pregnancies were more likely to be younger, have less than a college education, have an income less than $50,000 per year, and require Medicaid. Additionally, women with Not Planned pregnancies had higher pre-pregnancy SLE activity (Fig. 1). Of the 35 pregnancies with delivery outcomes, women with Not Planned pregnancies had increased PROMISSE-APO SEVERE and severe neonatal outcomes as compared to those with Planned pregnancies (Fig. 2). Pre-conception SLE activity, race, and socio-economic disadvantage were not independently associated with adverse maternal-fetal outcomes. Women with Not Planned pregnancies were more likely to discontinue all pregnancy-compatible SLE medications in the peri-conception period (23% vs 0%; p=0.03) and require addition of at least one SLE medication during pregnancy (100% vs 30%; p < 0.0001). They were also less likely to receive pre-conception counseling with a rheumatologist (19% vs 58%; p=0.02) and take prenatal vitamins (6% vs 77%; p< 0.0001). Overall, 76% of women with Not Planned pregnancies did not use contraception prior to pregnancy, while 24% reported using contraception sometimes.
Conclusion: Whether a woman with lupus had a planned pregnancy or not was the primary predictor of adverse outcomes in this cohort. Women with planned pregnancies had higher rates of pre-conception counseling, increased adherence to pregnancy compatible SLE medications, and were more likely to conceive when disease activity was quiescent or low, all of which can help improve outcomes. Avoiding conception when a woman with lupus is not medically prepared for pregnancy is a modifiable intervention that can decrease morbidity and mortality for mother and baby.
Figure 1: Demographics and Comorbidities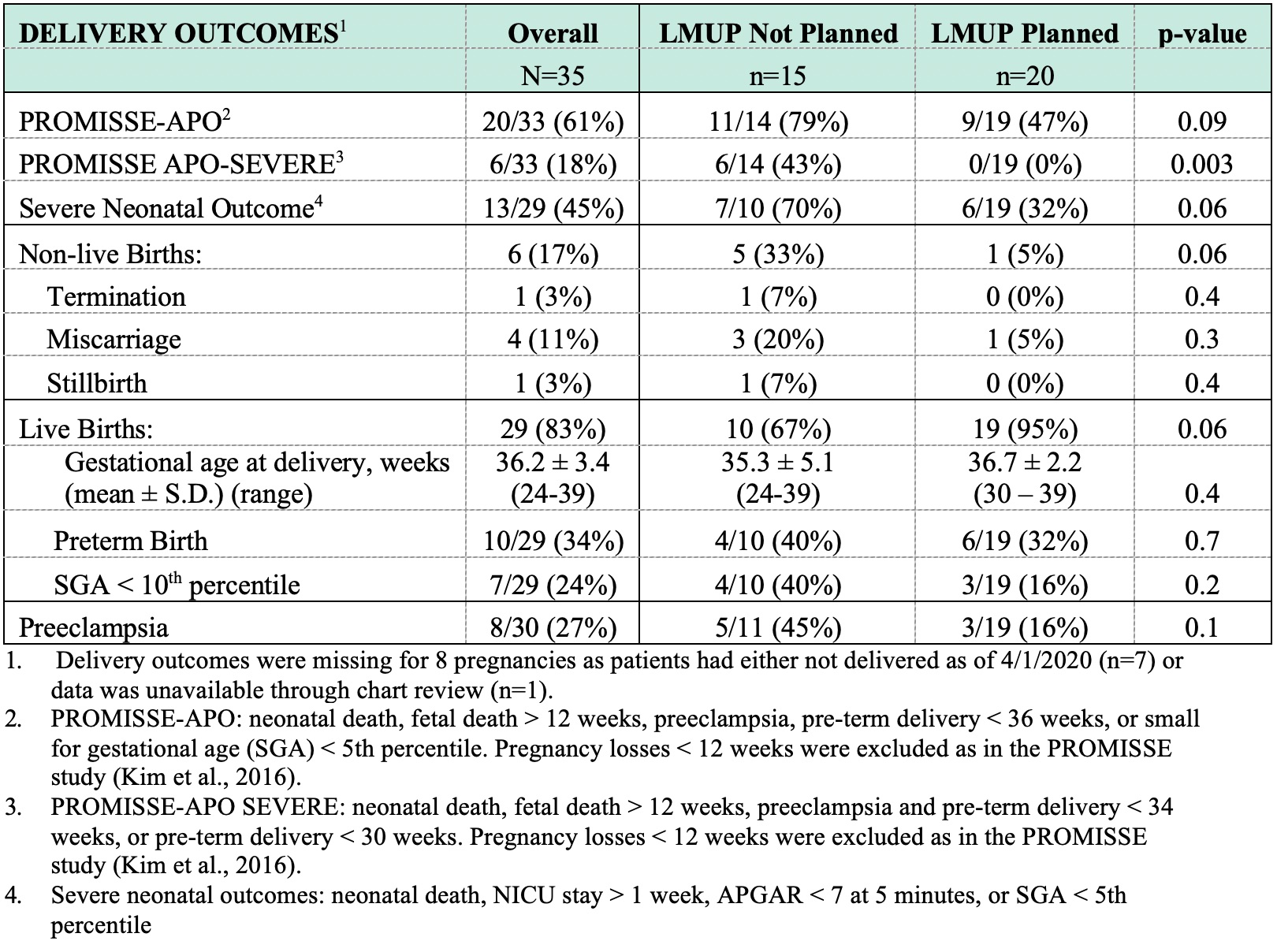 Figure 2: Delivery Outcomes
---
Disclosure: A. Rajendran, Rheumatology Foundation Medical Student Preceptorship Award, 2; A. Eudy, NIH NCATS Award Number 1KL2TR002554, 2, Pfizer, 2; S. Balevic, None; M. Clowse, UCB, 5, GSK, 2, 5, Astra Zeneca, 5, Pfizer, 2.
To cite this abstract in AMA style:
Rajendran A, Eudy A, Balevic S, Clowse M. The Importance of Pregnancy Planning in Lupus Pregnancies [abstract].
Arthritis Rheumatol.
2020; 72 (suppl 10). https://acrabstracts.org/abstract/the-importance-of-pregnancy-planning-in-lupus-pregnancies/. Accessed October 20, 2021.
« Back to ACR Convergence 2020
ACR Meeting Abstracts - https://acrabstracts.org/abstract/the-importance-of-pregnancy-planning-in-lupus-pregnancies/