Session Information
Session Type: Poster Session D
Session Time: 8:30AM-10:30AM
Background/Purpose: Behçet's syndrome (BS) is a multisystemic chronic vasculitic disease that has mucocutaneous and joint involvement in addition to vascular, neurological and gastrointestinal involvement (1).
Earlier studies. showed that Behcet's Syndorme patients have increased vein wall thickness (2-3) .
We aimed to show that vein wall thickness may be an indicator of vascular involvement in Behcet's syndrome patients.
Methods: We enrolled 30 mucocutaneous BS, 30 vascular BS, 30 ankylosing spondylitis (AS) and 30 healthy controls (HC). Bilateral lower extremity vein wall thickness evaluated by B-mode ultrasonography by a blinded radiologist. The thickest part of vein wall was measured in milimeters.
Patients were compared between groups by measuring vein wall thickness with lower extremity vein doppler ultrasound.
Results: The demographic characteristics of the patient groups and the healthy group included in the study are given in Table 1.
While there was no differences between the four groups in terms of vascular wall thickness in the common femoral vein (CFV) and popliteal vein. Venous wall thickness in the vena saphena parva and magna, which are the superficial vein, was found to be significantly higher in patients with vascular BS patients compared to the other groups (table 2).
In 12 BS patients with unilateral deep vein thrombosis (DVT), ipsilateral affected vein and non-affected controlateral vein wall thicknesses were compared. No significant difference was found between the affected vein and the non-affected vein wall thickness (table 3).
Conclusion: In a study by Alibaz-Öner et al., CFV wall thickness was found to be significantly higher in BS patients (2). In a study conducted by Seyahi et al. in 2019, the wall thickness of the superficial and deep veins in vascular BS patients was found to be higher than those of BS patients without vascular involvement and healthy controls.(3). In our study, significant difference was found in all superficial veins,but not all deep veins.
In a study conducted with non-inflammatory DVT patients, it was shown that the venous wall vessel thickness with DVT was higher than the healthy side (4). However, when we look vascular BS patients an increase in affected and nonaffected vessels wall thickness was observed in our study.
In this context, measurement of vessel wall thickness in healthy veins in patients with unkown origin DVT may perhaps guide us in the diagnosis of Behçet's syndrome. The fact that our number of patients is only 12 limits our interpretation in this case.
The slower blood flow in superficial veins than in deep veins may prolong the exposure time of these vessels to inflammatory cytokines. This may cause a more pronounced increase in the superficial vein wall thickness.
In this study, we wanted to investigate a method to predict vascular involvement in BS patientes. We found a marked increase in the superficial venous wall thickness in patients with vascular BS. Measurement of superficial vein wall vessel thickness may be an effective way to predict vascular involvement in BS patients.
The fact that there is no other patient group with thrombosis and that the ultrasonography is performed by a single radiologist are important limitations of our study.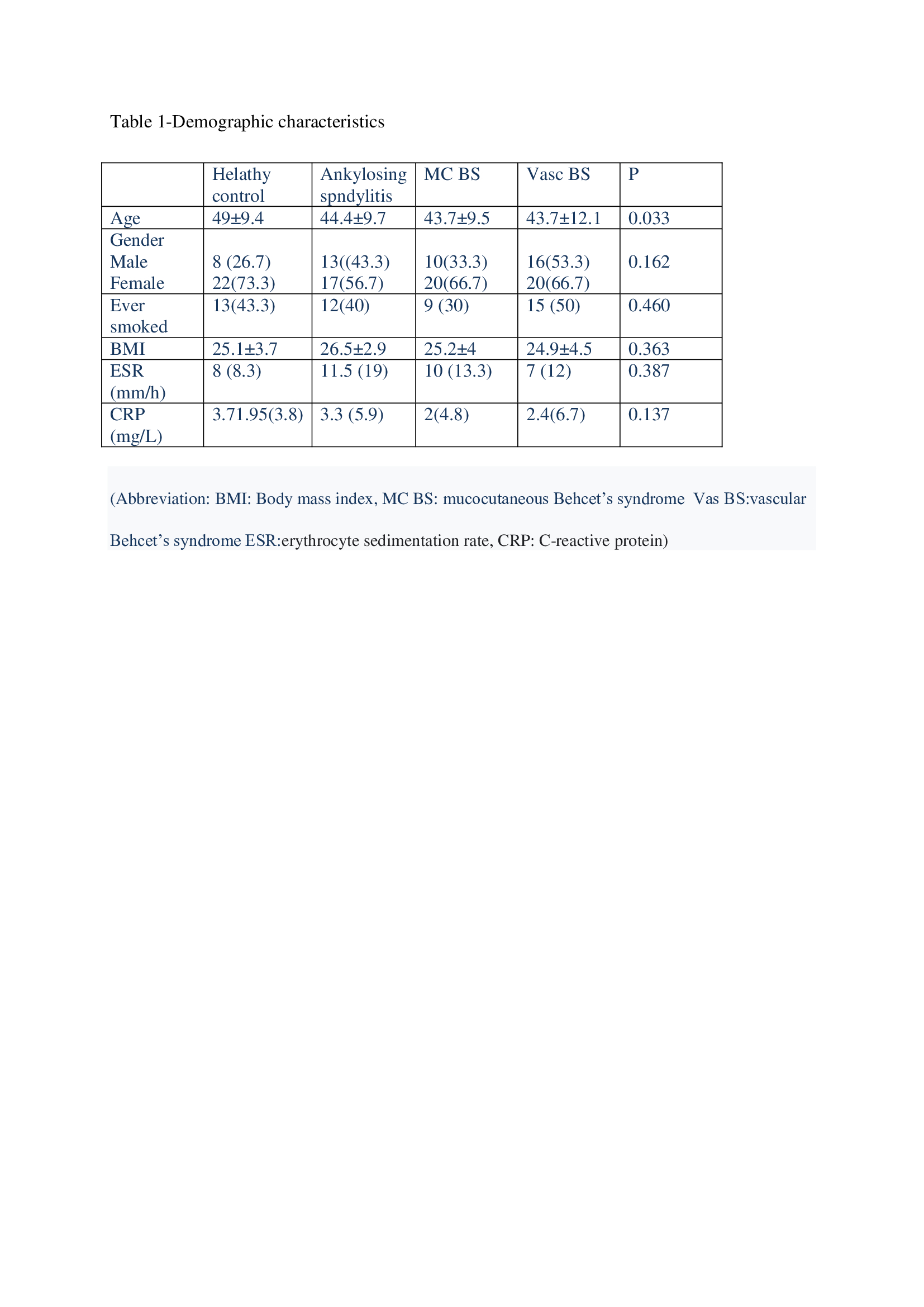 table_2.jpeg"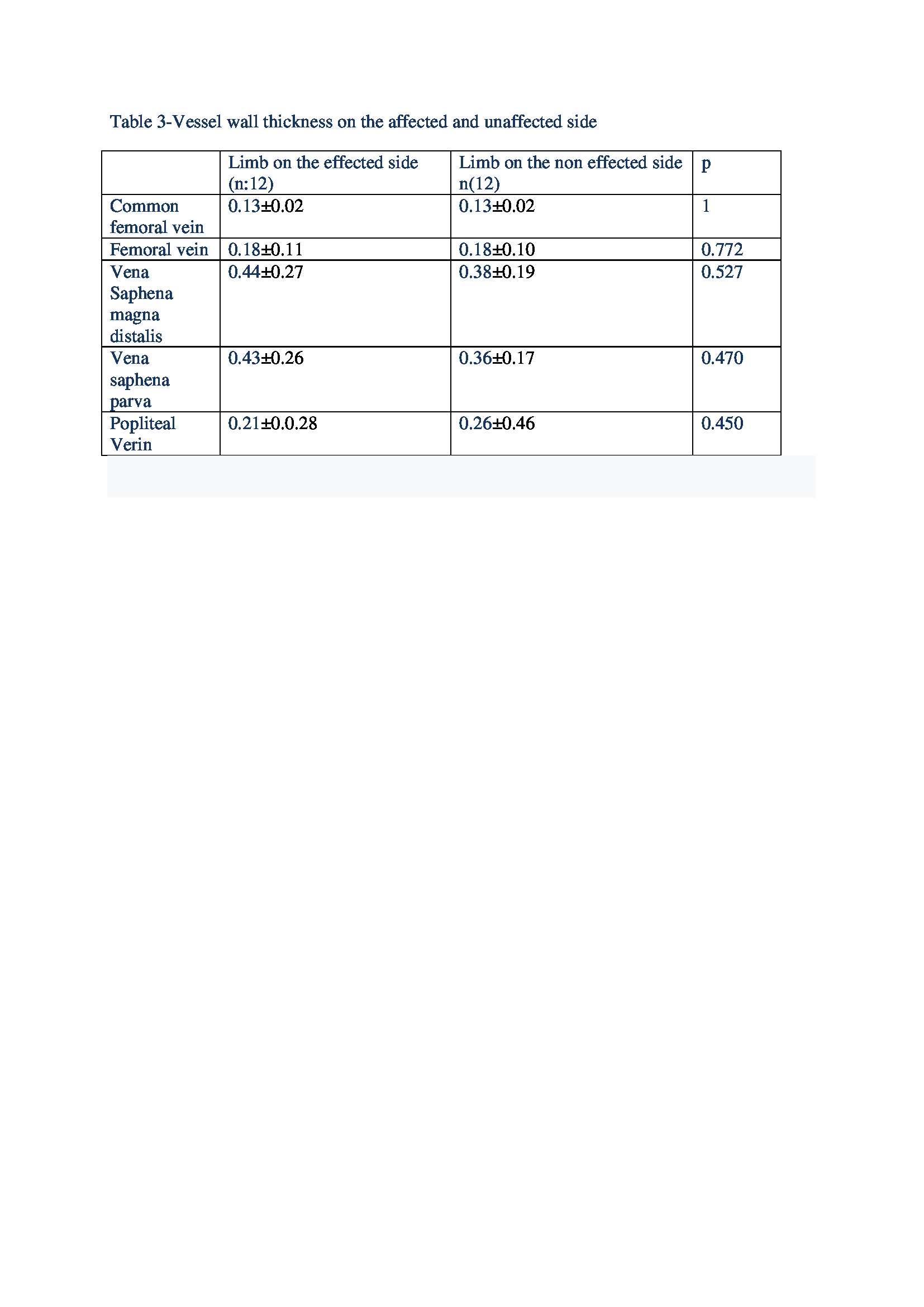 table_3.jpeg"
---
Disclosures: H. Kocabay, None; M. Yayla, None; E. Ustuner, None; E. Uslu yurteri, None; E. Aydemir Guloksuz, None; S. Sezer, None; K. Gulay, None; M. Turgay, None; A. Ates, None.
To cite this abstract in AMA style:
Kocabay H, Yayla M, Ustuner E, Uslu yurteri E, Aydemir Guloksuz E, Sezer S, Gulay K, Turgay M, Ates A. The Importance of Lower Extremity Vein Wall Thickness in Patients with Behcet's Syndrome [abstract].
Arthritis Rheumatol.
2021; 73 (suppl 9). https://acrabstracts.org/abstract/the-importance-of-lower-extremity-vein-wall-thickness-in-patients-with-behcets-syndrome/. Accessed June 1, 2023.
« Back to ACR Convergence 2021
ACR Meeting Abstracts - https://acrabstracts.org/abstract/the-importance-of-lower-extremity-vein-wall-thickness-in-patients-with-behcets-syndrome/