Session Information
Session Type: ACR Abstract Session
Session Time: 4:30PM-6:00PM
Background/Purpose: Acute gout is a severe debilitating type of arthritis that is treated in the acute phase with potent anti-inflammatory drugs. To date, prednisolone, colchicine and/or non-steroidal anti-inflammatory drugs are the standard of care despite serious side effects of chronic use, especially in the elderly population. In addition, interleukin (IL)-1 biologics (e.g., canakinumab/rilonacept/anakinra) have proven efficacy in RCTs, however, these biologics have not been broadly adopted due to barriers such as the requirement of parenteral administration, cost and risk of infection. Therefore, there is an unmet need for a safe, oral, cost effective IL-1 inhibitor targeting the NLRP3 inflammasome pathway.
Dapansutrile™ (OLT1177™) was shown to inhibit the NLRP3 inflammasome and inhibit joint inflammation in murine models of acute arthritis. Dapansutrile's™ Phase 1 dose escalation clinical trial demonstrated safety at doses up to 1000 mg/day for 8 days.
Methods: A Phase 2a, dose ranging, proof-of-concept trial was conducted to demonstrate safety/tolerability, pharmacokinetics (PK), pharmacodynamics (PD) and the clinical effectiveness of Dapansutrile™ in treating the clinical signs and symptoms of acute gout over an 8-day treatment period. Four cohorts of 8 patients per cohort were included at doses of 100mg, 300mg, 1000mg or 2000mg daily (of which 29 were analyzed per protocol). Clinical effect was targeted to be greater than 50% pain reduction from baseline at approximately 72 hours after the first dose. VAS pain, general disability and walking disability scores were measured by daily diary and blood sampling was conducted on study days 0 (baseline), 3, 7 and 14 to assess PK and PD (including hsCRP, SAA and plasma cytokine levels). Safety was measured over the duration of the study with clinic visits on study days 0 (baseline), 3, 7, 14 and a follow-up telephonic visit on day 35.
Results: The ≥50% target joint pain reduction on a 0-100mm VAS scale at day 3 was met in the 300, 1000 and 2000mg DapansutrileTM cohorts; contrary the 100mg dose appeared inadequate. Investigator-assessed joint tenderness and swelling at day 3 showed a dose-dependent response. Treatment responses at day 7 were similar for all cohorts. As markers for systemic inflammation, hsCRP and SAA demonstrated a dose-dependent reduction in cohorts taking 2000mg, 1000mg and 300mg daily, but demonstrate no reduction in the cohort taking 100mg daily. Oral intake of DapansutrileTM resulted in adequate plasma concentrations for NLRP3 inflammasome inhibition, there were no metabolic, physiological or haematological changes and all doses were well tolerated.
Conclusion: DapansutrileTM was shown to have a significant positive clinical anti-inflammatory effect and clean safety profile in the treatment of monoarticular gout attacks. The oral NLRP3 inhibitor showed a broad therapeutic range dosed at a daily 300-1000-2000mg and holds promise for further clinical development in acute gout.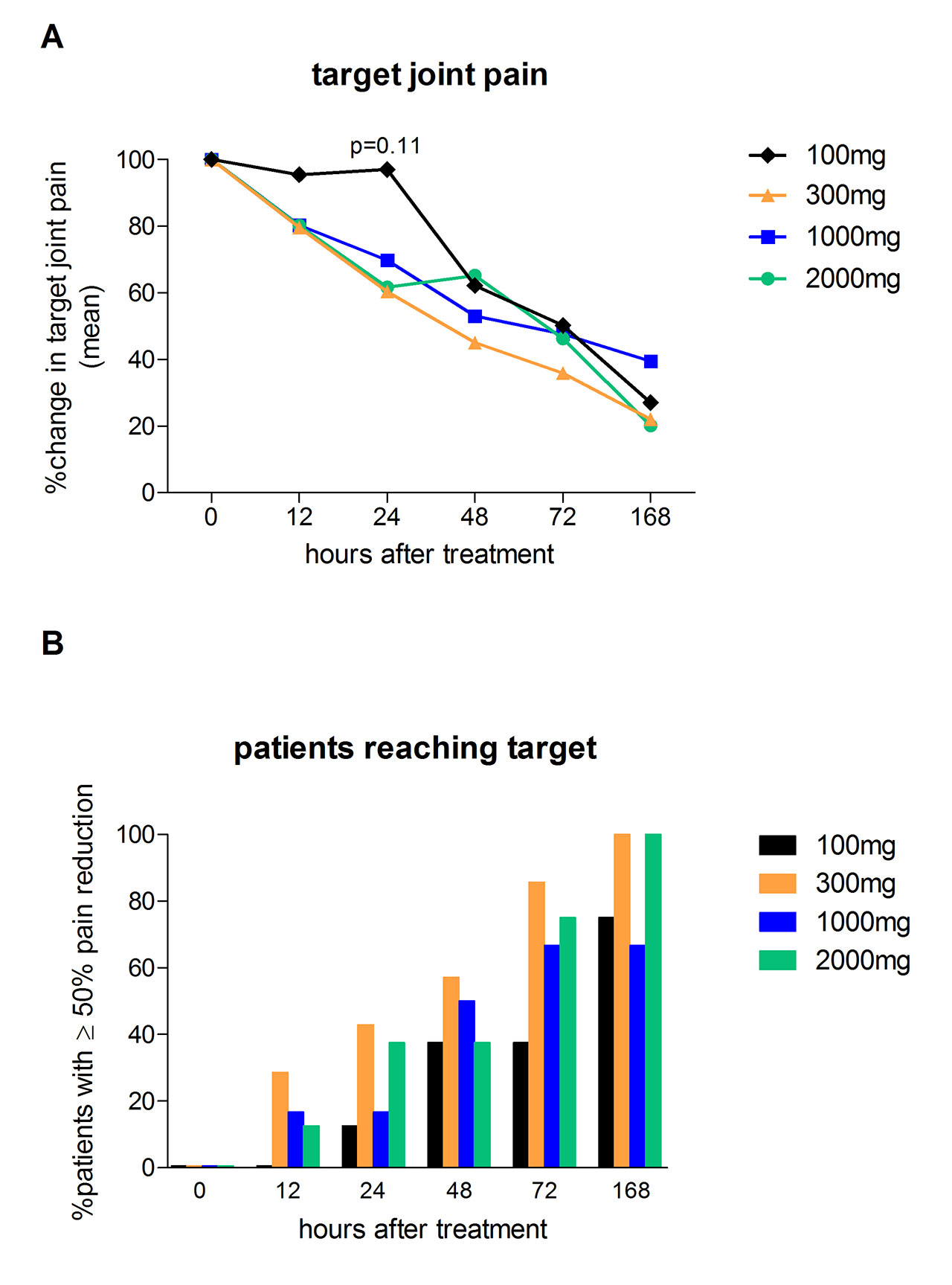 ---
Disclosure: T. Jansen, AbbVie, Celgene Corporation, 5, Grunenthal, Sobi, 8, Olatec, Grunenthal, 2; V. Kluck, None; M. Janssen, None; A. Comarniceanu, None; M. Efdé, None; C. Scribner, Olatec Therapeutics LLC, 3; D. Skouras, Olatec Therapeutics LLC; C. Dinarello, Olatec Therapeutics LLC; L. Joosten, Olatec Therapeutics LLC.
To cite this abstract in AMA style:
Jansen T, Kluck V, Janssen M, Comarniceanu A, Efdé M, Scribner C, Skouras D, Dinarello C, Joosten L. The First Phase 2a Proof-of-Concept Study of a Selective NLRP3 Inflammasome Inhibitor, Dapansutrile™ (OLT1177™), in Acute Gout [abstract].
Arthritis Rheumatol.
2019; 71 (suppl 10). https://acrabstracts.org/abstract/the-first-phase-2a-proof-of-concept-study-of-a-selective-nlrp3-inflammasome-inhibitor-dapansutrile-olt1177-in-acute-gout/. Accessed December 2, 2022.
« Back to 2019 ACR/ARP Annual Meeting
ACR Meeting Abstracts - https://acrabstracts.org/abstract/the-first-phase-2a-proof-of-concept-study-of-a-selective-nlrp3-inflammasome-inhibitor-dapansutrile-olt1177-in-acute-gout/