Session Information
Session Type: ACR Poster Session C
Session Time: 9:00AM-11:00AM
Background/Purpose: Biosimilar infliximab (CT-P13) has been used to treat patients with rheumatoid arthritis (RA), ankylosing spondylitis (AS) and psoriatic arthritis (PsA) in Turkey since 2013.The aim of this study was to examine its efficacy and drug survival and compare it to the original reference infliximab (inf) in patients with inflammatory rheumatic diseases based on the database from the Turkish TURKBIO registry.
Methods: All patients with RA, SpA, PsA, and other diseases receiving CT-P13 and original infliximab registered in the TURKBIO database between the dates of June 2013 and January 2017 were included in the study.Demographic information, laboratory parameters and disease indices were collected (at baseline, and months 6 and 12). We used Kaplan Meier survival curves to examine drug survival patterns.
Results: Data collected from a total number of 614 patients were analyzed (Table 1).The analysis of each treatment group was made according to gender, age, and diagnosis. In both groups most of the patients were diagnosed as having axial SpA, followed by RA, PsA and other diseases.CT-P13 group had female predominance. In patients with RA and PsA, baseline DAS28 scores were found to be higher in CT-P13 group. Baseline values of ASDAS-CRP in SpA patients and CRP in all patients were similar for both groups (Table 2). Mean CRP levels at month 6 and ASDAS scores at month 12 were found to be higher in inf group.The ratio of males was higher in axial SpA patients receiving inf, but did not statistically affect the 12th month ASDAS results.The results of the database analysis showed that the drug survival rate of CT P13(78,4%) is higher than inf(63,6%) at year 4 (Figure 1).At 4-year follow-up, drug withdrawal was observed in both groups due to ineffectiveness (CT P13;n=13 54,16% ,inf;n=89 41,58%) and side effects (CTP13; n=8 33,33%, inf;n=43 20,09%).In CT-P13 group, six patients had switched from inf to biosimilar and other 20 had used ≥1 previous biologicals. Of the 503 patients who used inf, 164 had used ≥1 biologicals previously.
Conclusion: The results of this study demonstrated long term higher drug survival rate of biosimilar CT-P13.The study also suggested that efficacy of CT-P13 on disease activity was similar to original infliximab in patients with inflammatory rheumatic diseases.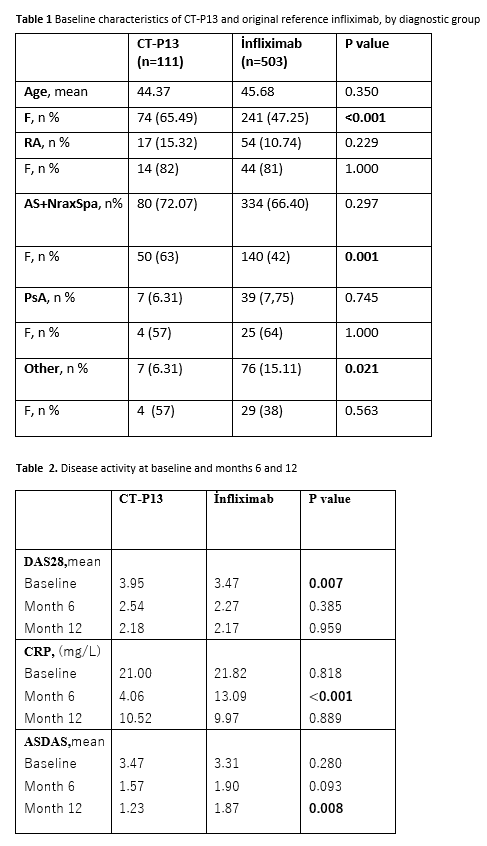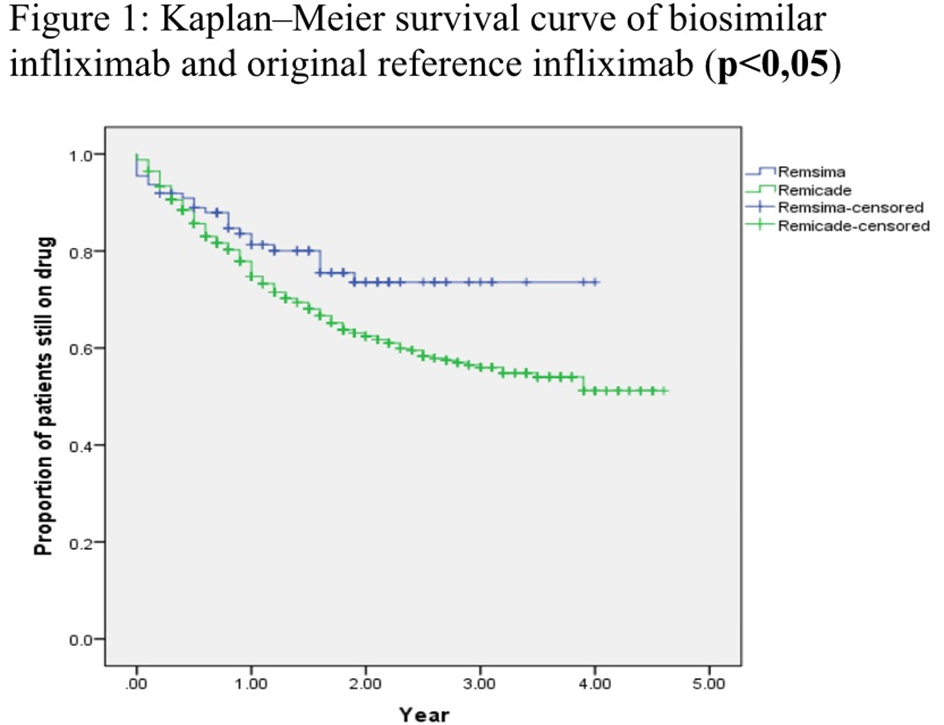 ---
Disclosure: S. Uslu, None; G. Can, None; S. Senel, None; E. Dalkiliç, None; N. Inanc, None; S. Akar, None; S. B. Kocaer, None; M. Birlik, None; S. Capar, None; N. Akkoc, None; F. Onen, None.
To cite this abstract in AMA style:
Uslu S, Can G, Senel S, Dalkiliç E, Inanc N, Akar S, Kocaer SB, Birlik M, Capar S, Akkoc N, Onen F. The Efficacy and Drug Survival of the Biosimilar Infliximab (CT–P13) Compared to the Original Reference Infliximab in Inflammatory Rheumatic Diseases; Results from the Turkbio Registry [abstract].
Arthritis Rheumatol.
2018; 70 (suppl 9). https://acrabstracts.org/abstract/the-efficacy-and-drug-survival-of-the-biosimilar-infliximab-ct-p13-compared-to-the-original-reference-infliximab-in-inflammatory-rheumatic-diseases-results-from-the-turkbio-registry/. Accessed March 27, 2023.
« Back to 2018 ACR/ARHP Annual Meeting
ACR Meeting Abstracts - https://acrabstracts.org/abstract/the-efficacy-and-drug-survival-of-the-biosimilar-infliximab-ct-p13-compared-to-the-original-reference-infliximab-in-inflammatory-rheumatic-diseases-results-from-the-turkbio-registry/