Session Information
Session Type: Abstract Submissions (ACR)
The comparison between IgG4-related retroperitoneal fibrosis and idiopathic retroperitoneal fibrosis
Background/Purpose: The purpose of our study was to identify the ratio of IgG4-related retroperitoneal fibrosis (RPF) which were diagnosed as idiopathic RPF and investigate histological and clinical characteristics of IgG4-related RPF.
Methods: We retrospectively reviewed the medical records of 41 RPF patients in a tertiary care medical center between January 2000 and January 2013. We identified 20 pathologies which were obtained from biopsy or surgery. Immunostaining of IgG4 and histopathologic examination was performed in all surgical pathologies according to 2012 consensus statement on the pathology of IgG4-related disease. Clinical characteristics were also compared between IgG4-related RPF and idiopathic RPF.
Results: In a total 20 RPF cases, more than 30 IgG4 positive plasma cells were identified in 10 cases with dense lymphoplasmacytic infiltrate, storiform fibrosis, or obliterative phlebitis (IgG4 related RPF), but a few (°Â5) IgG4 positive or IgG4 negative cases were also identified in 10 cases (idiopathic RPF). Among 10 IgG4-related RPF, highly suggestive and probable features of IgG4 related RPF in histology were shown in 8 cases and 2 cases, respectively. In comparison between IgG4 related and idiopathic RPF, recurrence rate of IgG4-related RPF (60%) was higher than that of idiopathic RPF (10%) (p=0.032) (figure 1). Initial and 3 month cumulative steroid dosages were not different between two groups.
Conclusion:  We found that IgG4 related RPF according to 2012 consensus statement on the pathology of IgG4-related disease was 50% of the patients who had been diagnosed as idiopathic RPF in the past. We suggested that more aggressive therapy might be considered in IgG4-related RPF to reduce recurrence rate initially.
Figure 1. The recurrence-free rate of IgG4-related and idiopathic retroperitoneal fibrosis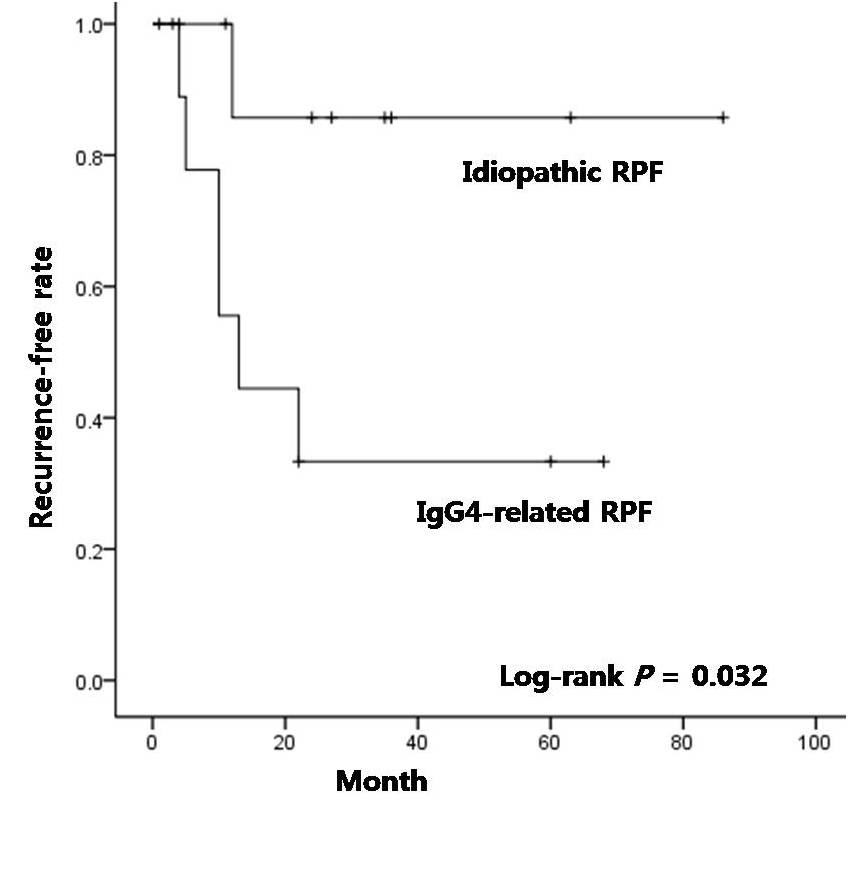 ---
Disclosure:
B. S. Koo,
None;
B. Yoo,
None;
C. K. Lee,
None;
Y. G. Kim,
None;
Y. J. Kim,
None;
S. Hong,
None;
W. J. Seo,
None;
K. J. Ahn,
None.
« Back to 2013 ACR/ARHP Annual Meeting
ACR Meeting Abstracts - https://acrabstracts.org/abstract/the-comparison-between-igg4-related-retroperitoneal-fibrosis-and-idiopathic-retroperitoneal-fibrosis/