Session Information
Session Type: ACR Poster Session B
Session Time: 9:00AM-11:00AM
Background/Purpose: Anti-inflammatory biologic agents have been shown to provide significant benefit in controlling disease activity in psoriatic arthritis (PsA) and inhibiting progression of joint damage. Due to their unique protein structures, biologics have varying capacities to generate anti-drug antibodies (ADAbs), which may affect clinical outcomes. A systematic literature review was conducted to explore the immunogenicity of biologics in PsA, with a focus on the frequency of ADAb formation, the potential effects on safety and efficacy, and predictive factors.
Methods: MEDLINE, EMBASE, and Cochrane databases, conference proceedings and review articles were searched for randomized controlled trials (RCTs) and observational studies in PsA published before 4 September 2015 of abatacept (ABA), adalimumab (ADA), certolizumab pegol (CZP), etanercept (ETN), golimumab (GLM), infliximab (INF), rituximab (RTX), secukinumab (SEC), tocilizumab (TCZ), ustekinumab (UST), and CT-P13.
Results: Of 21,889 publications screened, 14 studies in PsA were retained (randomized controlled trials, n=8; prospective cohort studies, n=6). No published studies with immunogenicity data for ABA, CZP, CT-P13, RTX, or TCZ in PsA were identified. ADAb rates varied widely among studies of other biologics in PsA studies, with the highest frequency in studies of ADA (7–54%) and INF (15–33%) and the lowest in studies of ETN (0%) and SEC (0–0.2%) (table).1-14 Concomitant use of methotrexate was associated with lower rates of ADAbs against ADA,5 GLM,7 INF,5,8 and UST.13 Patients with ADAbs against ADA,1-5 INF,5,8,9 and UST13 had lower serum drug levels and poorer efficacy outcomes than those without antibodies. ADAbs against ADA2 and INF8,9 were also associated with increased rates of adverse events.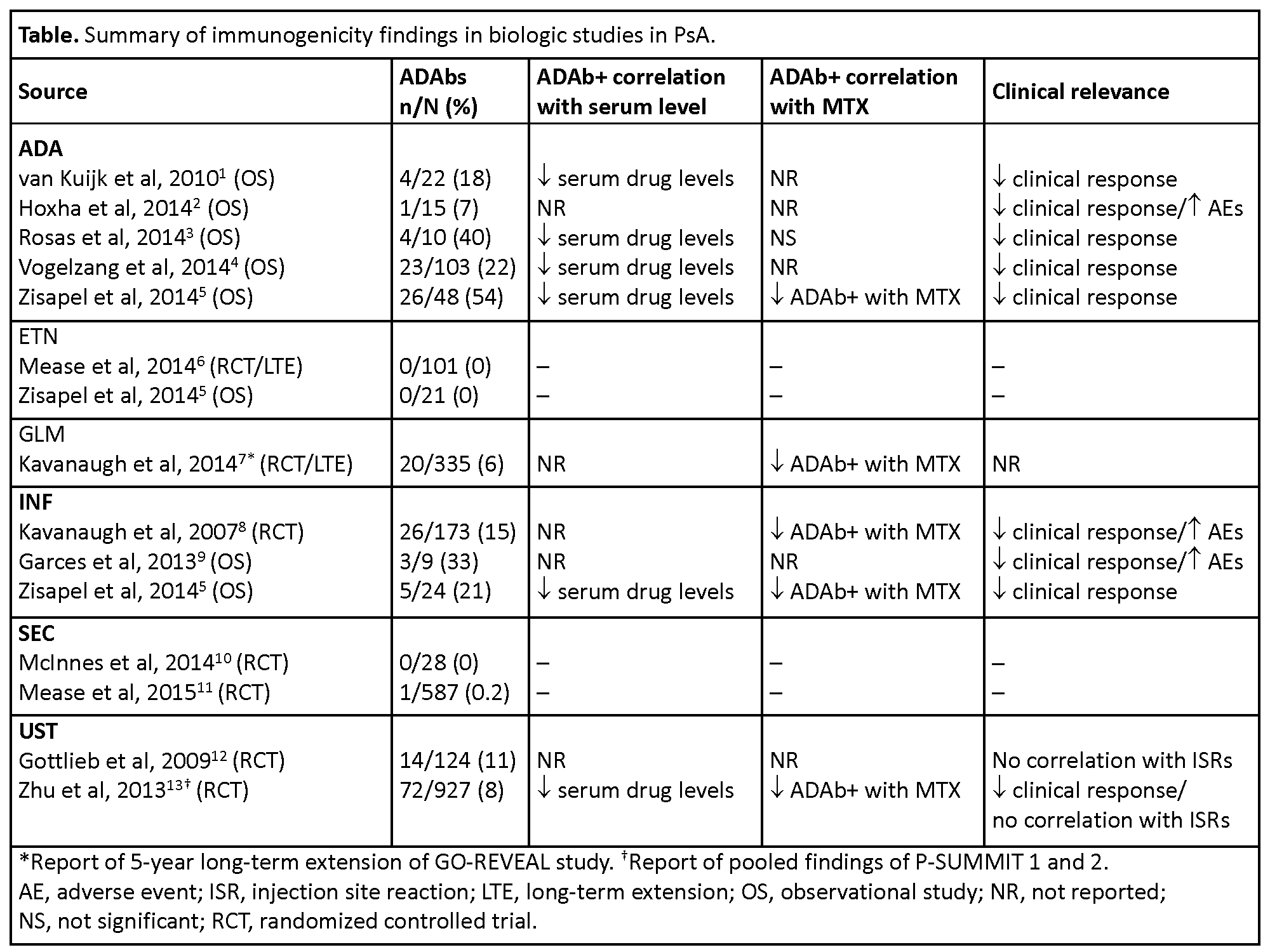 Conclusion: Based on this literature review, the prevalence of ADAbs was higher with ADA and INF than with other biologics in PsA, with potentially clinically relevant consequences; ADAbs were not reported with etanercept and their prevalence was low with GLM, SEC, and UST. The immunogenicity of these agents is an important (albeit not the only) consideration when selecting therapy, dose and dosing regimen, and use of background anti-proliferative agents. References: 1. Ann Rheum Dis 2010;69:624. 2. Ann Rheum Dis 2014;73:927. 3. Arthritis Rheum 2014b;66:S674. 4. Ann Rheum Dis 2014:73:2178. 5. J Rheumatol 2015;42:73. 6. Arthritis Rheum 2004;50:2264. 7. Ann Rheum Dis 2014;73:1689. 8. Ann Rheum Dis 2007;66:498. 9. Ann Rheum Dis 2013;72(Suppl2):436. 10. Ann Rheum Dis 2014;73:349. 11. N Engl J Med 2015;373:1329. 12. Lancet 2009;373:633. 13. Clin Pharmacol Drug Dev 2013;2:32.
---
Disclosure: A. Balsa, Pfizer, UCB, Roche, AbbVie, MSD, 2,Pfizer, UCB, AbbVie, Janssen, Novartis, BMS, 5; S. Lula, Pfizer Inc, 5; L. Marshall, Pfizer Inc, 1,Pfizer Inc, 3; P. Szczypa, Pfizer Inc, 1,Pfizer Inc, 3; L. Aikman, Pfizer Inc, 1,Pfizer Inc, 3.
To cite this abstract in AMA style:
Balsa A, Lula S, Marshall L, Szczypa P, Aikman L. The Comparative Immunogenicity of Biologic Therapy and Its Clinical Relevance in Psoriatic Arthritis: A Systematic Review of the Literature [abstract].
Arthritis Rheumatol.
2016; 68 (suppl 10). https://acrabstracts.org/abstract/the-comparative-immunogenicity-of-biologic-therapy-and-its-clinical-relevance-in-psoriatic-arthritis-a-systematic-review-of-the-literature/. Accessed February 2, 2023.
« Back to 2016 ACR/ARHP Annual Meeting
ACR Meeting Abstracts - https://acrabstracts.org/abstract/the-comparative-immunogenicity-of-biologic-therapy-and-its-clinical-relevance-in-psoriatic-arthritis-a-systematic-review-of-the-literature/