Session Information
Session Type: Abstract Submissions (ACR)
Background/Purpose: To determine the comparative effectiveness of subcutaneous (sc) versus oral methotrexate (MTX) as initial therapy for patients with early rheumatoid arthritis (ERA) in routine clinical care.

Methods: Patients with early inflammatory arthritis initiating methotrexate therapy were included from the Canadian Early Arthritis Cohort (CATCH), a multicenter, prospective cohort study of patients with ERA. In CATCH patients are treated at the discretion of the rheumatologist and followed every 3 months over the first year according to a standardized protocol. For this study, all patients had an age >16 years, a diagnosis of RA by 2010 criteria, symptom duration < 1 year, used MTX within 3 months of study entry and were MTX-na•ve or minimally exposed to MTX. The exposure was route of MTX (oral vs. sc) and the outcome was DAS-28 over the first year (3, 6, 9, 12 months). A multilevel random-effects linear regression model was used to account for repeated measures within patients while adjusting for potential confounders: age, gender, comorbidities, smoking, education, symptom duration, serological status, erosions, baseline DAS-28, functional status (HAQ-DI), and other concurrent DMARDs or corticosteroids. The analysis was performed with and without adjusting for the starting dose of MTX and clustering of patients by treatment center.

Results: 653 patients were included (442 oral MTX, 211 sc MTX); mean age 54 (SD 14), 72% female, mean symptom duration 5.3 (SD 2.7) months, mean baseline DAS-28 4.6 (SD 1.2). Patients treated with sc MTX were more likely to have erosions at baseline (35% vs. 25%, p=0.01), were less likely to receive other DMARDs (38% vs. 58%, p<0.01), and had a higher median starting dose of MTX (25 mg vs. 15 mg, p<0.01). Other characteristics were similar between groups. In the repeated measures model, after adjusting for all potential confounders except starting dose of MTX, sc MTX was associated with a reduction in the average DAS-28 score over the first year of 0.23 [(95%CI:0.08, 0.38), p<0.01]. After adjusting for starting dose, the route of MTX (oral/sc) was no longer significant (p=0.22), but for each additional mg of MTX, the average DAS-28 decreased by 0.02 [(95%CI:0.004, 0.03), p=0.02]. After controlling for treatment center, neither route nor starting dose was significantly associated with DAS28 at follow-up. Conclusion: Sc MTX was associated with lower DAS28 scores over the first year of treatment, which may be mediated through the higher starting dose used in clinical practice. There was no relationship after adjusting for treatment center, suggesting caution in generalizing the results and highlighting the importance of considering a treatment center effect when reporting comparative effectiveness research from observational studies.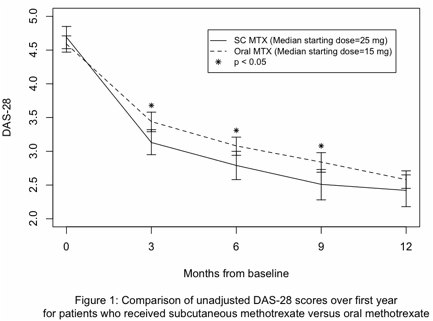 ---
Disclosure:
G. S. Hazlewood,
None;
J. C. Thorne,
None;
J. E. Pope,
None;
G. Boire,
None;
B. Haraoui,
None;
C. A. Hitchon,
None;
E. Keystone,
None;
D. Tin,
None;
CATCH Investigators,
None;
V. P. Bykerk,
Amgen, Pfizer, Roche, BMS, UCB, Janssen Biotech and Abbott,
2.
« Back to 2012 ACR/ARHP Annual Meeting
ACR Meeting Abstracts - https://acrabstracts.org/abstract/the-comparative-effectiveness-of-oral-methotrexate-versus-subcutaneous-methotrexate-for-the-treatment-of-early-rheumatoid-arthritis/