Session Information
Session Type: Poster Session B
Session Time: 9:00AM-11:00AM
Background/Purpose: Patients with oligoarticular psoriatic arthritis (oligo PsA), defined as four or less joints involved, often do not meet criteria for entry in trials of targeted treatments. However, clinical data suggest oligo PsA impacts the patient equally as polyarticular (poly) PsA ( > 4 joints) (Gladman D, et al. J Rheumatol. 2021;48:1824-1829). Limited information exists on oligo PsA burden in the United States (US). This study aimed to describe the demographic and clinical characteristics of oligo PsA patients and compare quality of life (QoL) and economic impact of this disease relative to the general population.
Methods: Retrospective, cross-sectional data from the 2019 National Health and Wellness Survey (Cerner Enviza) conducted in the US were utilized to identify adult respondents who self-reported a diagnosis of PsA and those who did not (ie, no psoriasis or PsA), representing the general US population (non psoriasis [Pso]/PsA). Within the PsA population, the oligo PsA cohort was selected if self-reported ≤ 4 affected joints and the remainder constituted the poly PsA cohort. Prevalence estimates were weighted to the US population using US census weights. Demographic and health characteristics were compared across cohorts. Additional outcomes assessed included: PsA characteristics (joints affected, prescribing/diagnosing physician), health-related QoL (HRQoL), healthcare resource utilization in the prior 6 months, and work productivity and activity impairment (WPAI).
Results: A total of 374 respondents were classified as having oligo PsA (weighted count: 1.3 million); 72,431 were classified as non Pso/PsA (weighted count: 241.8 million).Individuals with oligo PsA were more likely to be younger, male, employed, smoke or consume alcohol, to have a higher annual income and to have graduated college relative to non Pso/PsA (Table 1). About 44.4% of oligo PsA patients were diagnosed by their primary care physician with 52.7% prescribed treatment (Table 2). Although the most frequently affected joints (knees, fingers, hands and feet) were similar in both oligo and poly PsA (n=305), a larger proportion of oligo PsA patients were untreated (23.3% vs. 16.7%) and a smaller proportion diagnosed by rheumatologists (23% vs. 40.7%). Respondents with oligo PsA reported higher co-morbidities, lower HRQoL, lower mental and physical functioning, higher health care provider visits and higher WPAI relative to non Pso/PsA. Additionally, while a higher proportion of individuals with oligo PsA were employed relative to poly PsA, individuals with oligo PsA reported greater work productivity losses (Table 3).
Conclusion: The oligo PsA population was active in the workforce but had significantly higher comorbidity burden and impairments in both QoL and work productivity than the general population. Furthermore, despite the perception of poly PsA as a more severe disease, the oligo PsA population had a similar QoL burden (EQ-5D) and reported greater work productivity losses than those with poly PsA. These findings suggest that the burden of oligo PsA is high in the United States and warrants further research and clinical attention.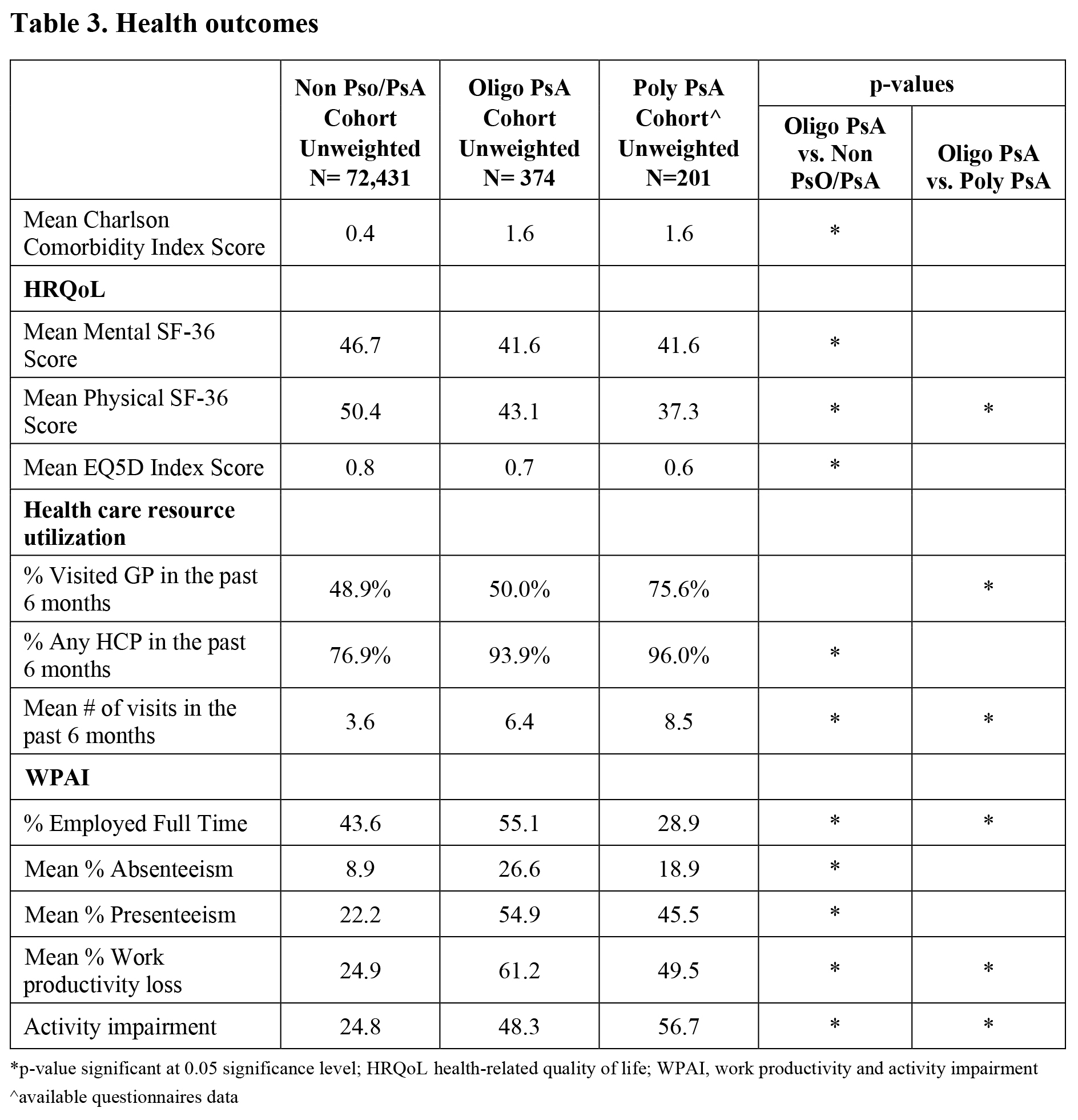 ---
Disclosures: A. Olopoenia: Amgen, 2; A. Martin: Amgen, 2; K. Orroth: Amgen, 3, 11; C. Deignan: Amgen, 3, 11; M. Cordey: Amgen, 3, 11; D. Gladman: AbbVie, 2, 5, Amgen, 2, 5, Bristol Myers Squibb, 2, Celgene, 2, 5, Eli Lilly, 2, 5, Galapagos, 2, Gilead Sciences, 2, Janssen, 2, 5, Novartis, 2, 5, Pfizer Inc, 2, 5, UCB, 2, 5.
To cite this abstract in AMA style:
Olopoenia A, Martin A, Orroth K, Deignan C, Cordey M, Gladman D. The Burden of Oligoarticular Psoriatic Arthritis in the United States [abstract].
Arthritis Rheumatol.
2023; 75 (suppl 9). https://acrabstracts.org/abstract/the-burden-of-oligoarticular-psoriatic-arthritis-in-the-united-states/. Accessed .
« Back to ACR Convergence 2023
ACR Meeting Abstracts - https://acrabstracts.org/abstract/the-burden-of-oligoarticular-psoriatic-arthritis-in-the-united-states/