Session Information
Session Type: ACR Abstract Session
Session Time: 4:30PM-6:00PM
Background/Purpose: Rheumatologists commonly use synovial fluid analysis and, more recently, US to establish a diagnosis in patients with joint effusions.  Although tenosynovial (TS) effusions are common in rheumatic conditions, there is no guide on how to interpret the cell count of the fluid aspirated from tendon sheaths or how they correlate with US Doppler signal (DS). A multi-center collaboration was organized to prospectively analyze and correlate TS aspirate findings with US DS.  
Methods: Patients with TS aspiration planned as part of routine care were enrolled. Tendon location, clinical diagnosis, synovial fluid analysis and Doppler US images were recorded. Doppler settings were standardized across sites and DS grading was performed blindly by 3 expert rheumatologists based on previously published methodology on a 0-3 semiquantitative scale. Clinical diagnoses were categorized as non-inflammatory (group 1), inflammatory (group 2), or crystal/infection (group 3) related conditions. Inter-rater reliability was assessed using weighted kappa. Spearman's correlations of median DS with white blood cell (WBC) counts were determined. WBC counts and DS were compared between diagnostic groups using Kruskal-Wallis tests and logistic regression. Sensitivity and specificity calculations were used to discriminate between inflammatory and non-inflammatory conditions by WBC count or DS.
Results: 100 subjects with successful aspirations were enrolled at 14 participating sites. Subjects were primarily female (65%) and middle aged (mean 62 years). DS inter-rater reliability was substantial (kappa 0.74, 95% confidence interval 0.65-0.83). Fluid WBC count and DS correlated weakly (Figure 1A), and WBC counts were higher among diagnostic groups 2 and 3 (Figure 1B). There was substantial variability of TS WBC counts within diagnostic groups (ranges for groups 1, 2, and 3 were 4-7,734; 78-147,560; and 130-50,000 cells/μL respectively). Neither group 2 or 3 were significantly associated with higher DS, but notably, group 2 had only 3 (6%) subjects with a DS of 0. A DS of >1 had a sensitivity of 93.8% and specificity of 31.3% and a WBC count of >2000 cells/μL had a sensitivity of 58.3% and specificity of 87.5% for discriminating group 2 vs. group 1. TS fluid WBC counts < 2000 cells/μL were observed in 41.7% of subjects with an inflammatory condition diagnosis (group 2). Crystals were observed in 22% of TS aspirates (CPPD 16% and monosodium urate 6 %).
Conclusion: DS and TS fluid WBC counts provide complementary information when evaluating TS effusions. DS may improve the sensitivity of detecting inflammatory tenosynovitis because TS fluid WBC counts from inflammatory arthritis are frequently in the range that would be considered non-inflammatory based on synovial fluid criteria for joints. While a negative DS strongly predicts a non-inflammatory condition, a positive DS is non-specific and should prompt aspiration for fluid analysis when possible. A TS fluid WBC count >2,000 cells/μL is highly specific for an inflammatory cause. TS fluid can also be used to identify crystal arthropathies.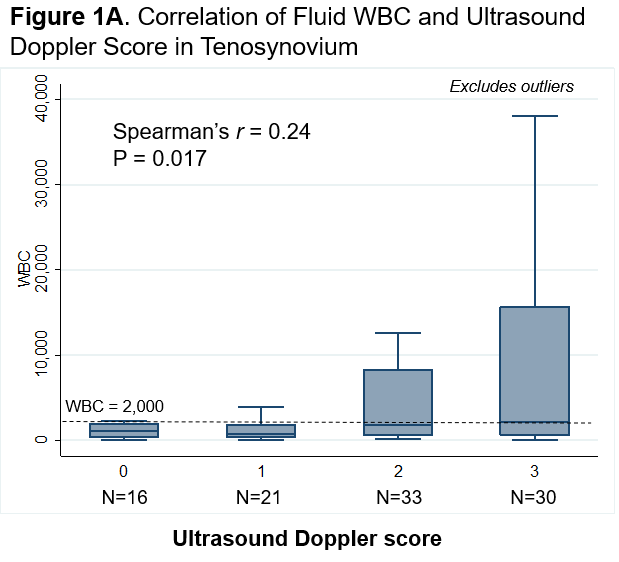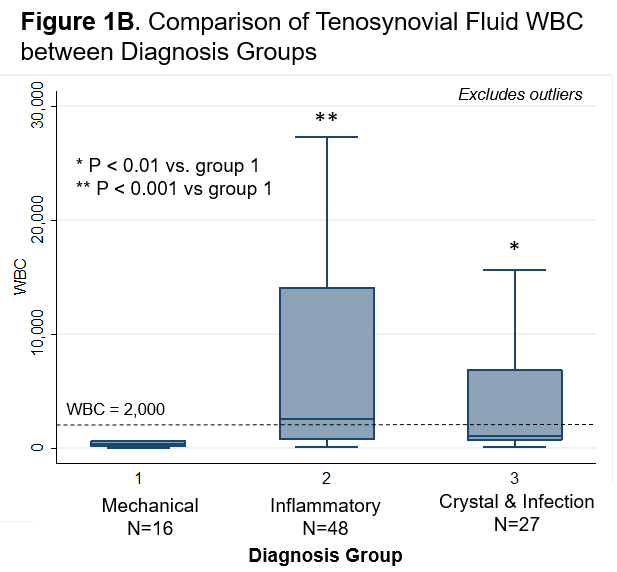 ---
Disclosure: F. Aslam, None; B. England, None; A. Cannella, None; V. Sharp, None; L. Kao, None; J. Arnason, None; J. Albayda, None; C. Bakewell, AbbVie Inc. Regeneron. Novartis; S. Sanghvi, AbbVie Inc.; R. Fairchild, None; K. Torralba, None; A. Evangelisto, None; P. DeMarco, None; N. Bethina, None; E. Kissin, None.
To cite this abstract in AMA style:
Aslam F, England B, Cannella A, Sharp V, Kao L, Arnason J, Albayda J, Bakewell C, Sanghvi S, Fairchild R, Torralba K, Evangelisto A, DeMarco P, Bethina N, Kissin E. Tenosynovial Aspiration by Ultrasound Guidance: Correlation and Diagnostic Implications of Tenosynovial Analysis and Ultrasound Doppler Signal [abstract].
Arthritis Rheumatol.
2019; 71 (suppl 10). https://acrabstracts.org/abstract/tenosynovial-aspiration-by-ultrasound-guidance-correlation-and-diagnostic-implications-of-tenosynovial-analysis-and-ultrasound-doppler-signal/. Accessed January 20, 2021.
« Back to 2019 ACR/ARP Annual Meeting
ACR Meeting Abstracts - https://acrabstracts.org/abstract/tenosynovial-aspiration-by-ultrasound-guidance-correlation-and-diagnostic-implications-of-tenosynovial-analysis-and-ultrasound-doppler-signal/