Session Information
Session Type: Abstract Submissions (ACR)
Background/Purpose: Arthritis treatment in New Hampshire (NH) is complicated by the fact that a large proportion of the population lives in rural areas (60%) with limited resources and access to care. Tele-rheumatology services developed at Dartmouth-Hitchcock Medical Center (DHMC) in partnership with Weeks Memorial Hospital (Critical Access Hospital in Northern NH) bring arthritis care to these rural regions, thus improving access. In addition to the providers and patients tele-medicine utilizes a "presenter," an individual who sits with patients at the remote site (medical assistant, nurse, etc.) to facilitate the visit. We sought to learn what challenges and accomplishments our early tele-medicine program has encountered since inception.
Methods: As part of a quality improvement initiative we performed an IRB-exempt retrospective review of the charts for patients seen in the tele-rheumatology clinic at DHMC from October 2011 to January 2013. We also interviewed the participants: including providers, presenters and patients regarding their experience of care. We used descriptive statistics to summarize our findings.
Results: In our cohort of 22 patients there were 63 encounters (18 initial consults and 45 follow-up visits) with either of the two participating rheumatologists. 27% (n=6) of the patients seen initially by tele-rheumatology needed to be seen in-person for clarification of the joint exam. 83% (n=5) of the patients seen in-person had findings of synovitis not seen via telemedicine. The average time from initial consult to in-person evaluation was 81 days. These patients went without aggressive anti-inflammatory therapy for longer than the recommended 42 days (6 weeks) according to current guidelines. Providers expressed concern about not being able to lay hands on patients, and the inability of the "presenter" to perform and convey the findings of the joint exam which may have contributed to the delay in care. The top two diagnosis that patients presented with during the tele-rheumatology visits were inflammatory arthritis (n=10) and fibromyalgia (n=9). 40% of the patients seen by tele-rheumatology were ultimately started on high risk medications such as high dose steroids (prednisone>20mg/daily), biologics, and DMARDs (Table 1).
Conclusion: The use of tele-rheumatology has successfully increased access to arthritis care in rural regions of NH allowing for shorter travel and intense anti-inflammatory therapy. The lack of musculoskeletal training for the presenter and inability of providers to lay hands on patients could lead to increased delay in initiation of this therapy for inflammatory arthritis. Initial strategies are being developed to improve the training of the presenters and to shorten this interval to meet current guidelines.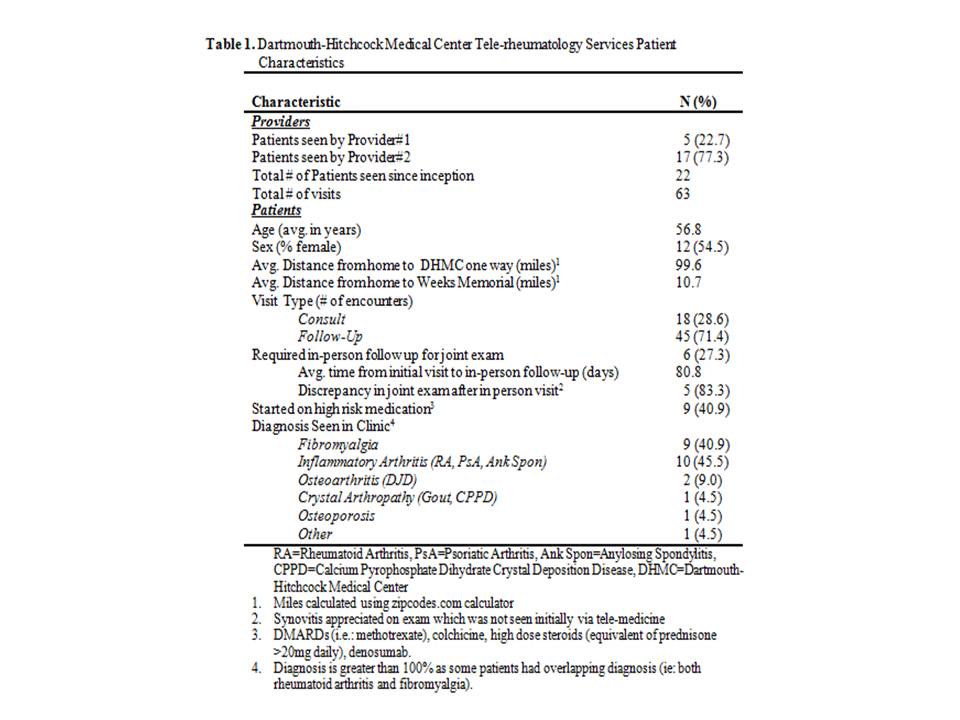 ---
Disclosure:
Z. Kulcsar,
None;
D. A. Albert,
None;
K. Merrihew,
None;
J. Mecchella,
None.
« Back to 2014 ACR/ARHP Annual Meeting
ACR Meeting Abstracts - https://acrabstracts.org/abstract/tele-rheumatology-despite-improved-access-could-there-be-a-potential-delay-in-care-without-a-skilled-presenter/