Session Information
Session Type: Poster Session (Tuesday)
Session Time: 9:00AM-11:00AM
Background/Purpose: Juvenile idiopathic arthritis-associated uveitis (JIA-U) is the most common extra-articular manifestation of JIA, leading to ocular complications and blindness when not adequately treated. First line treatment includes topical glucocorticoids followed by methotrexate (MTX). While monoclonal TNF-α inhibitors (TNFi) such as adalimumab (ADA) and infliximab (IFX) are widely accepted as treatment escalation for refractory uveitis or initial therapy in complicated disease, evidence is lacking on the selection of the next optimal agent if MTX and traditional TNFi are ineffective. Our objective is to describe use of immunosuppressive agents for refractory JIA-U immediately following MTX and traditional TNFi treatment failure.
Methods: We retrospectively reviewed medical records for 48 JIA-U children enrolled in a prospective JIA/uveitis study conducted at a tertiary pediatric center since February 2017. All children were treated with systemic immunosuppressive therapy for either 1) uveitis only or 2) uveitis and arthritis. Treatment failure was defined as the escalation of treatment to another biologic indicated for uveitis. Treatment discontinuation was defined as the provider's decision to either 1) permanently discontinue medication or 2) not re-initiate use of medication following patient nonadherence. Traditional TNFi refers to the use of ADA or IFX either concurrently with or following the discontinuation of MTX.
Children were first stratified into 2 groups by treatment response to MTX monotherapy. Those who failed MTX monotherapy and started traditional TNFi were further stratified into 2 groups based on the addition of a third biologic (Figure 1). Additional information (i.e. treatment indication, duration of treatment and reason for discontinuation) were collected for all qualifying systemic medications.
Results: Of the 48 JIA-U children, 16 remained on MTX monotherapy (26%), 22 escalated treatment to traditional TNFi only (46%) and 10 escalated treatment to a third biologic beyond traditional TNFi (21%).
Of the 22 children treated with traditional TNFi only, 18 began on ADA (82%) and 11 began on IFX (50%). Overall, 7 were treated with both ADA and IFX (32%) (Table 1).
Of the 10 children treated with a third biologic beyond traditional TNFi, 5 began on tocilizumab (50%), 3 golimumab (30%) and 2 abatacept (20%). Prior treatment included ADA (60%) or ADA and IFX (40%). Treatment discontinuation occurred only on abatacept (2/2) due to disease activity (Table 2).
Conclusion: 21% of children with JIA-U in our cohort needed treatment beyond MTX and traditional TNFi. Studies report that 50-60% of children with uveitis will fail MTX. Tocilizumab was most commonly used in children requiring treatment beyond traditional TNFi. Both tocilizumab and golimumab were able to control uveitis, suggesting they both are potential treatment options for uveitis. Because evidence is lacking on the long term efficacy of these biologics in treating JIA-U, further research should include factors associated with treatment response (i.e. dosing, disease characteristics) to optimize treatment for refractory uveitis.

Figure 1

Table 1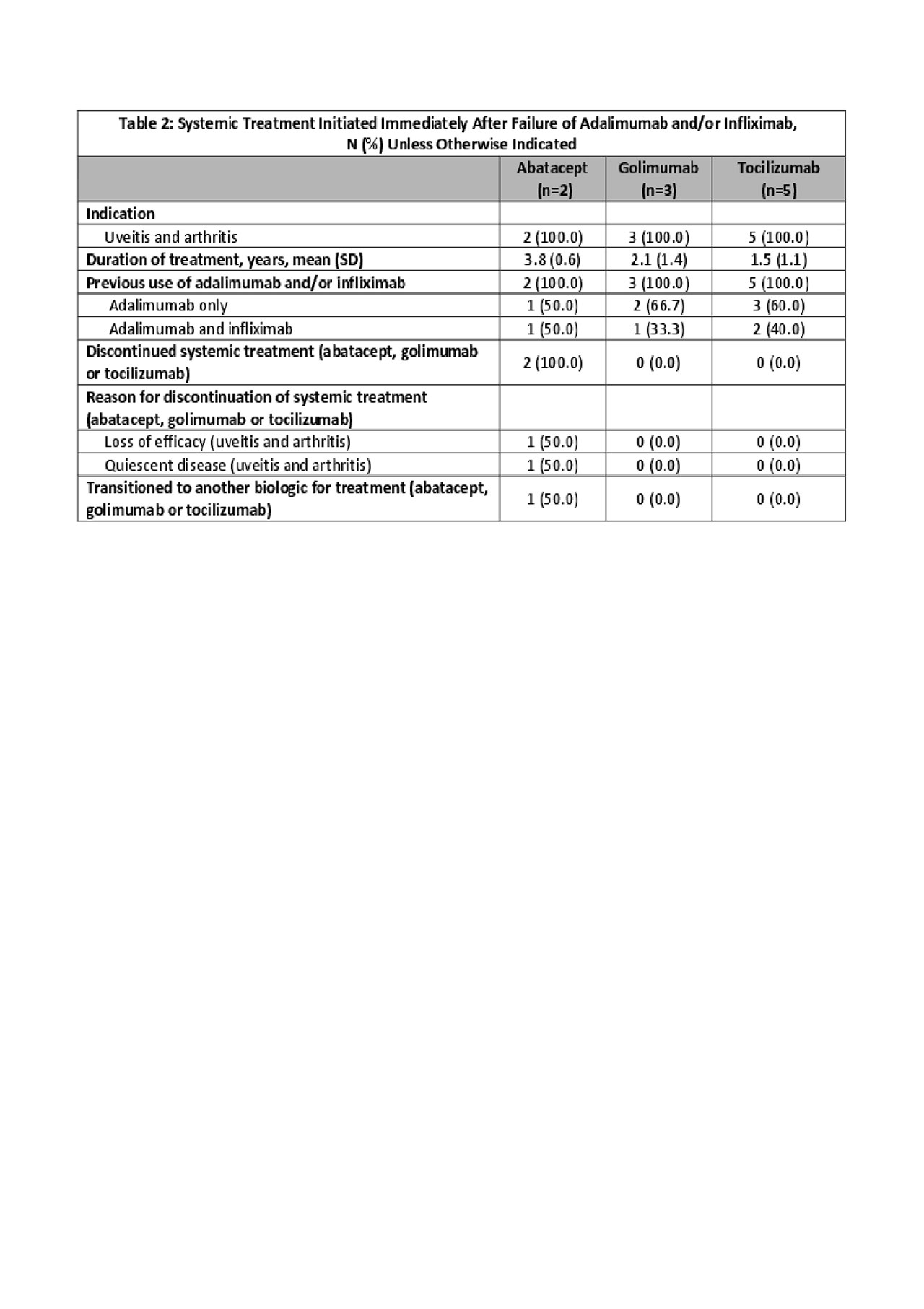 Table 2
---
Disclosure: N. Mwase, None; T. Hennard, None; J. McDonald, None; A. Cassedy, None; O. Harry, None; S. Angeles-Han, None.
To cite this abstract in AMA style:
Mwase N, Hennard T, McDonald J, Cassedy A, Harry O, Angeles-Han S. Systemic Therapy in Children with Juvenile Idiopathic Arthritis-Associated Uveitis Immediately Following Failure of Methotrexate, Adalimumab and Infliximab [abstract].
Arthritis Rheumatol.
2019; 71 (suppl 10). https://acrabstracts.org/abstract/systemic-therapy-in-children-with-juvenile-idiopathic-arthritis-associated-uveitis-immediately-following-failure-of-methotrexate-adalimumab-and-infliximab/. Accessed February 2, 2023.
« Back to 2019 ACR/ARP Annual Meeting
ACR Meeting Abstracts - https://acrabstracts.org/abstract/systemic-therapy-in-children-with-juvenile-idiopathic-arthritis-associated-uveitis-immediately-following-failure-of-methotrexate-adalimumab-and-infliximab/