Session Information
Session Type: Abstract Submissions (ACR)
Background/Purpose
Patients with rheumatoid arthritis (RA) are at increased risk of infection compared to the general population. The increased risk is attributable to factors relating to the underlying disease as well as the use of immunosuppression as the mainstay of management. Minimizing infection is an important challenge facing rheumatologists. Vaccination represents a unique opportunity to achieve this.
Current UK and European guidelines recommend annual influenza and one-off pneumococcal vaccination, however uptake of these vaccinations is poor. There is a paucity of data regarding vaccine immunogenicity in the context of rheumatic disease, and the evidence base for proving whether vaccinations reduce infections and associated mortality in RA is limited.
We conducted a systematic review of vaccination immunogenicity in the setting of anti-rheumatic therapy.
Methods
Studies evaluating the immunogenicity of either pneumococcal or influenza vaccinations in the setting of rheumatoid arthritis were identified using Pubmed, (Ovid, EMBASE). Search terms included (inflammatory arthritis OR rheumatoid arthritis) AND (immunization OR vaccination OR vaccine OR pneumovax OR prevenar).
This identified 3670 results, and1853 after limiting to humans. Abstracts were then manually reviewed by two authors (JG and MW) to identify articles reporting immunogenicity data for the vaccines of interest in adult patients with RA. The final selection identified 24 articles.
Results
The immunogenicity of vaccinations is influenced by factors including age, vaccine type, vaccine strain, disease and drugs. Concomitant drug therapy has the greatest effect on vaccine immunogenicity.
Two types of pneumococcal vaccines are currently licensed for use in the adult population, subunit polysaccharide (Pneumovax) and conjugate (Prevenar). Direct comparison between these vaccines demonstrated similar antibody responses.
Methotrexate, Rituximab and Abatacept are associated with decreased immunogenicity to both influenza and pneumococcal vaccination.  Anti-TNF biologics, Tocilizumab and Sulphasalzine do not appear to have a negative effect on immunogenicity, although data is limited for the latter two.
Of the studies reporting the effect of vaccination on disease activity, none reported a significant change following vaccination.
Picture false f 0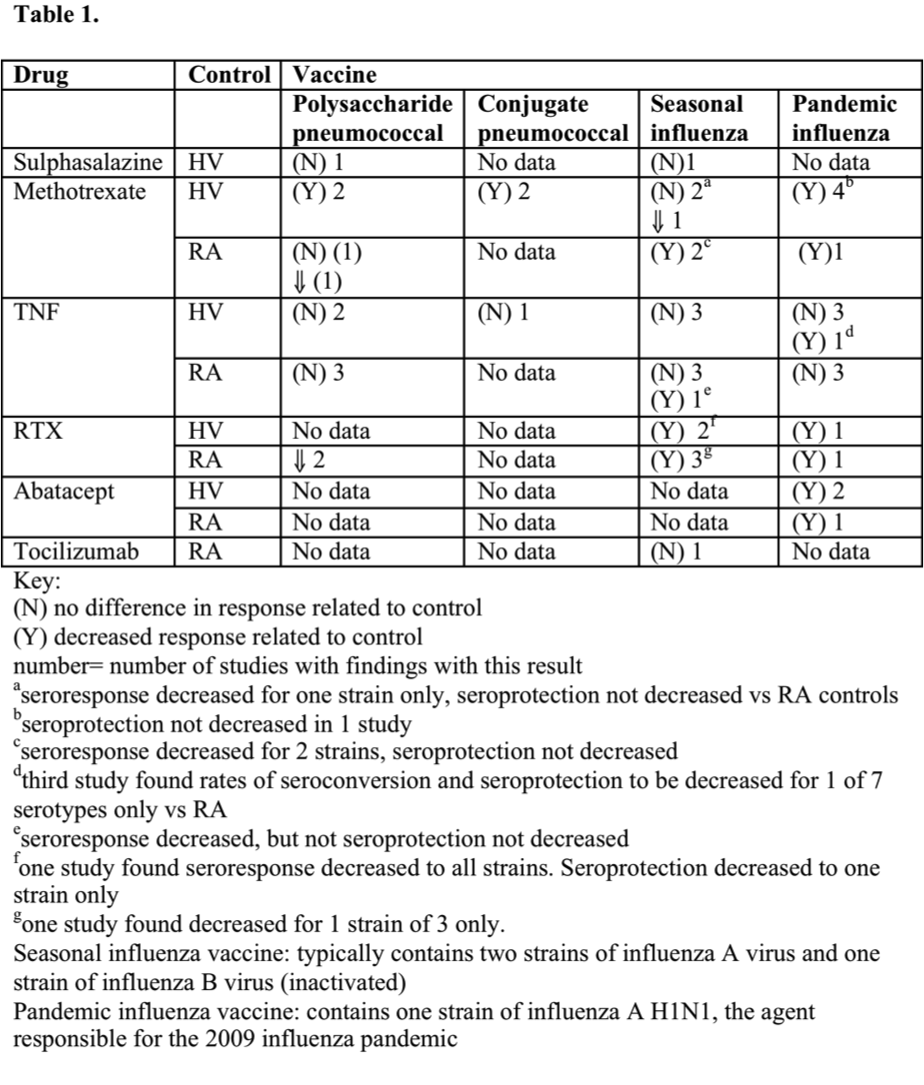 Conclusion
Although the humoral response to vaccination may be reduced by immunosuppressive agents, protective post vaccination titres are frequently achieved and accordingly vaccination is not precluded in this 'at-risk' population. Pneumococcal and influenza vaccination is safe in rheumatic disease and should be encouraged as part of the holistic management of RA patients. Challenges lie in determining the real world effectiveness of vaccination in RA, as well as how to maximise vaccine uptake through collaborative initiatives between primary and secondary care
---
Disclosure:
M. Whittaker,
None;
J. Galloway,
None;
S. Subesinghe,
None.
« Back to 2014 ACR/ARHP Annual Meeting
ACR Meeting Abstracts - https://acrabstracts.org/abstract/systematic-review-of-the-effect-of-anti-rheumatic-therapies-upon-vaccine-immunogenicity/