Session Information
Session Type: Abstract Submissions (ACR)
Background/Purpose: Autoinflammatory diseases (AIDs) are uncommon disorders characterized by recurrent episodes of systemic and organ-specific inflammation.  Because of their rarity, finding large numbers of patients to study has been challenging.  This project will compare the results of a retrospective chart review of patients with AIDs at a single academic medical center, with those of participants within the Childhood Arthritis and Rheumatology Research Alliance (CARRA) Registry, a multicenter observational pediatric rheumatic disease registry in North America.
Methods: Patients with a clinical or genetic diagnosis of AID were included in this study.  A retrospective chart review was conducted at Boston Children's Hospital (BCH) from 2002-2012.  Charts were identified by keywords and billing codes related to AIDs and recurrent fevers.  We also conducted a cross-sectional study of children with AIDs enrolled in the CARRA registry from May 2011 to December 2013.
Results: At BCH,173 subjects with AIDs were identified.  In the CARRA registry, of 9,523 subjects enrolled, 87 patients were classified as having AIDs.  The frequency of diagnoses are found in Figure 1.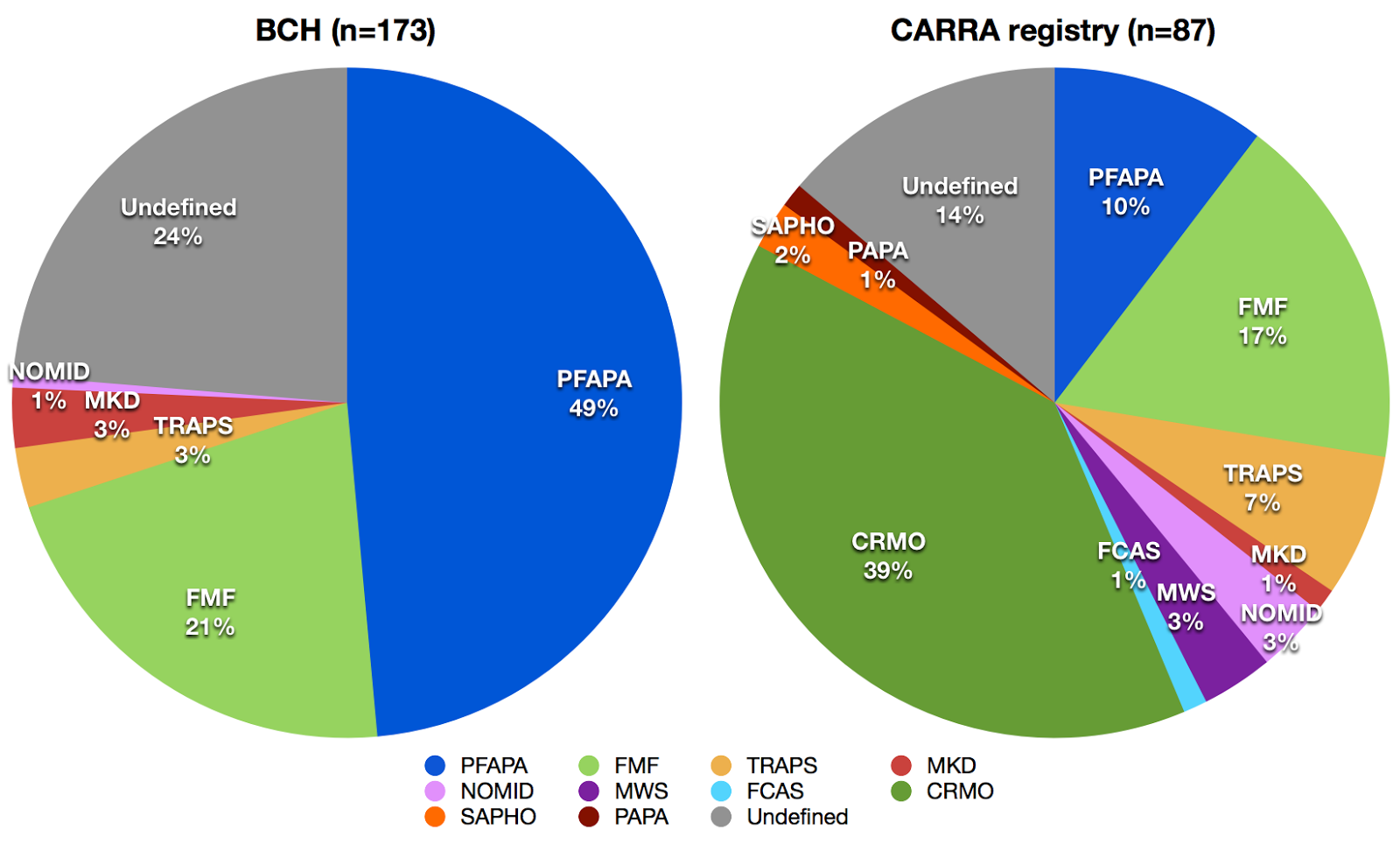 Conclusion: Using the traditional methodology of a single-center retrospective chart review, we described the patients with AIDs seen at BCH, and estimated the frequency of various AIDs within this population.  This research required little cost and relatively little time.  Limitations included incomplete documentation in some cases, and the variety of AIDs identified was limited.  
The CARRA registry, on the other hand, was a modern, multicenter effort that allowed enrollment of patients from multiple sites at a faster rate, and with a greater variety of diagnoses. However, this registry required significant financial investments in technology and operational costs.  The fact that PFAPA, the most common pediatric AID, represented a minority of subjects within the CARRA registry suggests that physicians enrolled a select number of patients, possibly due to the time required for the consent, enrollment, and data-uploading processes.
Integration of registries into the patient's electronic health records will potentially minimize the current barriers to research.  In addition, we believe that online patient communities can also contribute valuable information. In future studies, we plan to empower and engage patients with AIDs through social media to collaborate in the design and implementation of research studies. Our efforts could exponentially expand the number of patients available to participate in research, and help our understanding of these complex disorders.
---
Disclosure:
J. S. Hausmann,
None;
C. Biggs,
None;
D. P. Goldsmith,
None;
F. Dedeoglu,
None.
« Back to 2014 ACR/ARHP Annual Meeting
ACR Meeting Abstracts - https://acrabstracts.org/abstract/studying-patients-with-autoinflammatory-diseases-the-past-present-and-a-perspective-for-the-future/