Session Information
Session Type: ACR Concurrent Abstract Session
Session Time: 11:00AM-12:30PM
Background/Purpose: Clinicians rely on time-efficient, validated disease activity assessments to help accurately predict disease progression in patients with RA. The utility of the Routine Assessment of Patient Index Data 3 (RAPID3)1 in predicting structural damage progression is largely unknown, while that of DAS28 (CRP)2 and modified (M-)DAS28 have been previously reported.3 This post hoc analysis using data from the AVERT (NCT01142726) study investigated the value of baseline clinical measures for predicting structural damage progression with MRI as a measure of progression. Methods: AVERT was a 24-month, active-controlled trial with a 12-month, double-blind treatment period, during which MTX-naïve, ACPA-positive patients with early active RA were randomized (1:1:1) to abatacept 125 mg weekly plus MTX or abatacept or MTX monotherapy, followed by a 12-month withdrawal period, during which all treatment was stopped.4 Logistic regression analysis, corrected for age, sex and corticosteroid use at baseline, was used to assess the correlation between baseline measures of disease activity (DAS28 [CRP], SDAI, CDAI, M-DAS28 and RAPID3) and the degree of structural joint damage, as assessed by MRI at 6 and 12 months. MRI erosion progression was defined as change from baseline greater than the smallest detectable change, which was calculated as SD/square root (2) x 1.96 (where SD is standard deviation of paired differences of change from baseline in total score between two readers). Results: Logistic regression analysis was carried out for all randomized and treated patients who received abatacept + MTX (n=119) or MTX monotherapy (n=116). For these patients, DAS28 (CRP), M-DAS28 and RAPID3 at baseline were significant predictors of radiographic progression at Months 6 and 12 (Figure). Baseline SDAI was a significant predictor at Month 12 but not Month 6, and baseline CDAI was not a significant predictor at either time point (Figure). At Months 6 and 12, receiver operating characteristic curves showed that RAPID3 had the highest predictive value (area under the curve) for MRI progression (Table).

Conclusion: In this post hoc analysis of MTX-naïve, ACPA-positive patients with early RA, DAS28 (CRP), M-DAS28 and RAPID3 were significant predictors of structural damage progression at Months 6 and 12, as measured using MRI, with RAPID3 showing the highest predictive value for MRI progression. 1. Yazici Y, et al. J Rheumatol 2008;35:603–9. 2. Salaffi F, et al. BMC Musculoskelet Disord 2011;12:120. 3. Baker JF, et al. Arthritis Rheumatol 2014;66:794–802. 4. Emery P, et al. Ann Rheum Dis 2015;74:19–26.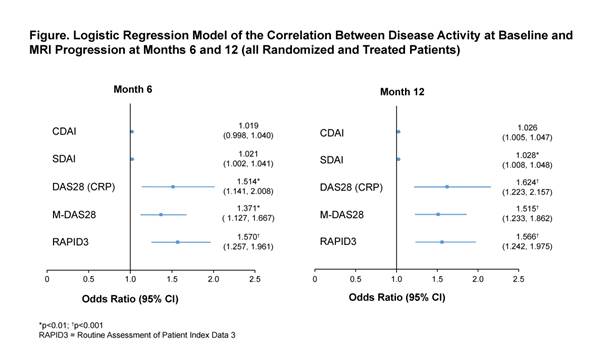 Table. Area Under ROC Curves for the Impact of Disease Activity at Baseline on MRI Progression at Months 6 and 12 (all Randomized and Treated Patients)
Disease activity measure*
AUC at Month 6
AUC at Month 12
DAS28 (CRP)
0.6322
0.6466
RAPID3
0.7181
0.7047
M-DAS28
0.6488
0.6823
CDAI
0.5666
0.5958
SDAI
0.6549
0.6647
*M-DAS28 was calculated based on a different statistical model (which also included DAS28 [CRP] and RAPID3) due to a different number of patients with non-missing values. In the other model, the AUC for DAS28(CRP) and RAPID3 at Month 6 were 0.6281 and 0.7157, respectively. At Month 12 the values were the same for both models AUC=area under the curve; M-DAS28=modified DAS28; ROC=receiver operating characteristic
---
Disclosure: E. C. Keystone, Abbott Laboratories, Amgen Inc., AstraZeneca Pharmaceuticals LP, Bristol-Myers Squibb, F. Hoffmann-La Roche Inc, Janssen Inc, Lilly Pharmaceuticals, Novartis Pharmaceuticals, Pfizer Pharmaceuticals, Sanofi-Aventis, UCB, 2,Abbott Laboratories, AstraZeneca Pharma, Biotest, Bristol-Myers Squibb Company, Crescendo Bioscience, F. Hoffmann-La Roche Inc, Genentech Inc, Janssen Inc, Lilly Pharmaceuticals, Merck, Pfizer Pharmaceuticals, UCB, 5,Amgen, Abbott Laboratories, Astrazeneca LP, Bristol-Myers Squibb Canada, F. Hoffmann-La Roche Inc., Janssen Inc., Pfizer Pharmaceuticals, Sanofi Genzyme UCB, 8; H. Ahmad, Bristol-Myers Squibb, 3,Bristol-Myers Squibb, 1, 9; Y. Yazici, Genentech, Celgene, BMS, 2,Celgene, 5; X. Liu, Bristol-Myers Squibb, 3; M. Bergman, Pfizer, JNJ, 1,Norvatis, AbbVie, Celgene, 8,AbbVie, BMS, Amgen, Celgene, Genentech, Pfizer, Janssen, GSK Horizon, 5.
To cite this abstract in AMA style:
Keystone EC, Ahmad H, Yazici Y, Liu X, Bergman M. Structural Damage in Patients with Very Early RA Is Predicted with Clinical Measures of Baseline Disease Activity: DAS28 (CRP), SDAI, M-DAS28 and RAPID3 but Not CDAI [abstract].
Arthritis Rheumatol.
2017; 69 (suppl 10). https://acrabstracts.org/abstract/structural-damage-in-patients-with-very-early-ra-is-predicted-with-clinical-measures-of-baseline-disease-activity-das28-crp-sdai-m-das28-and-rapid3-but-not-cdai/. Accessed October 27, 2020.
« Back to 2017 ACR/ARHP Annual Meeting
ACR Meeting Abstracts - https://acrabstracts.org/abstract/structural-damage-in-patients-with-very-early-ra-is-predicted-with-clinical-measures-of-baseline-disease-activity-das28-crp-sdai-m-das28-and-rapid3-but-not-cdai/