Session Information
The 2020 Pediatric Rheumatology Symposium, originally scheduled for April 29 – May 2, was postponed due to COVID-19; therefore, abstracts were not presented as scheduled.
Session Type: ACR Abstract Session
Session Time: 5:00PM-6:00PM
Background/Purpose: International registries have significantly enhanced the understanding of the genetics, phenotype, prognosis, and treatment of Systemic Autoinflammatory Diseases (SAIDs) that could be further augmented by including a genetically heterogeneous Northern American cohort. The objective is to explore the need for and value of developing a Childhood Arthritis and Rheumatology Research Alliance (CARRA) Autoinflammatory Disease Network to enhance quality of care and accelerate research in SAIDs.
Methods: A team within CARRA composed of pediatric rheumatologists, infectious disease physicians, immunologists, otolaryngologists, geneticists, parents/patients, and members of the Autoinflammatory Alliance met in person and via teleconferences to discuss the benefits of SAIDs networks from 2016 to the present. A literature search on the topic using keywords such as "EuroFever", "pharmacosurveillance", and "autoinflammatory registry" was reviewed to identify stakeholders and methods for establishing clinics. Physicians who were involved in establishing SAIDs programs shared their experiences. To explore the feasibility of and need for this network, 17 physicians from different sites approximated total patient numbers seen in their programs, as determined by ICD-10 codes when available.
Results: The workgroup participants agreed by consensus that a CARRA Autoinflammatory Disease Network would be instrumental to improve clinical care, enhance research, facilitate international collaboration, and improve patient and family involvement in research planning.  The literature search highlighted the benefits of this approach in rare diseases in preventing diagnostic delay, understanding the epigenetics of SAIDs, and providing an opportunity for pharmacosurveillance in a cohort of patients exposed to biologics in a real world setting. Data was collected from 17 sites in the US, Canada, Israel, and Ukraine, to assess the number of potential patients this network could reach. Collectively these sites (~10% of CARRA sites) care for 2493 SAID patients, including 1029 coded with periodic fever syndromes, 81 with CAPS, 786 with other defined SAIDs (including PFAPA), 160 with undefined SAIDs, and 437 with CNO/CRMO. We found significant variability in how ICD-10 codes were utilized among this small survey of US centers.  ICD-10 codes were not necessarily in concordance with the physicians' diagnosis, and across the majority of sites (82%), most visits were coded as periodic fever syndrome (M04.1).
Conclusion: CARRA physicians manage thousands of patients in North America with SAIDs, which emphasizes the need for a CARRA Autoinflammatory Disease Network to facilitate earlier diagnoses, education, and access to expert and multidisciplinary quality care. This network will also create an infrastructure for clinical and translational research. Future work will focus on more precisely characterizing the patients seen across CARRA Registry sites. Given the genetically diverse populations in North America, an autoinflammatory network built around the CARRA Registry would facilitate collaborations with international colleagues to benefit patients worldwide.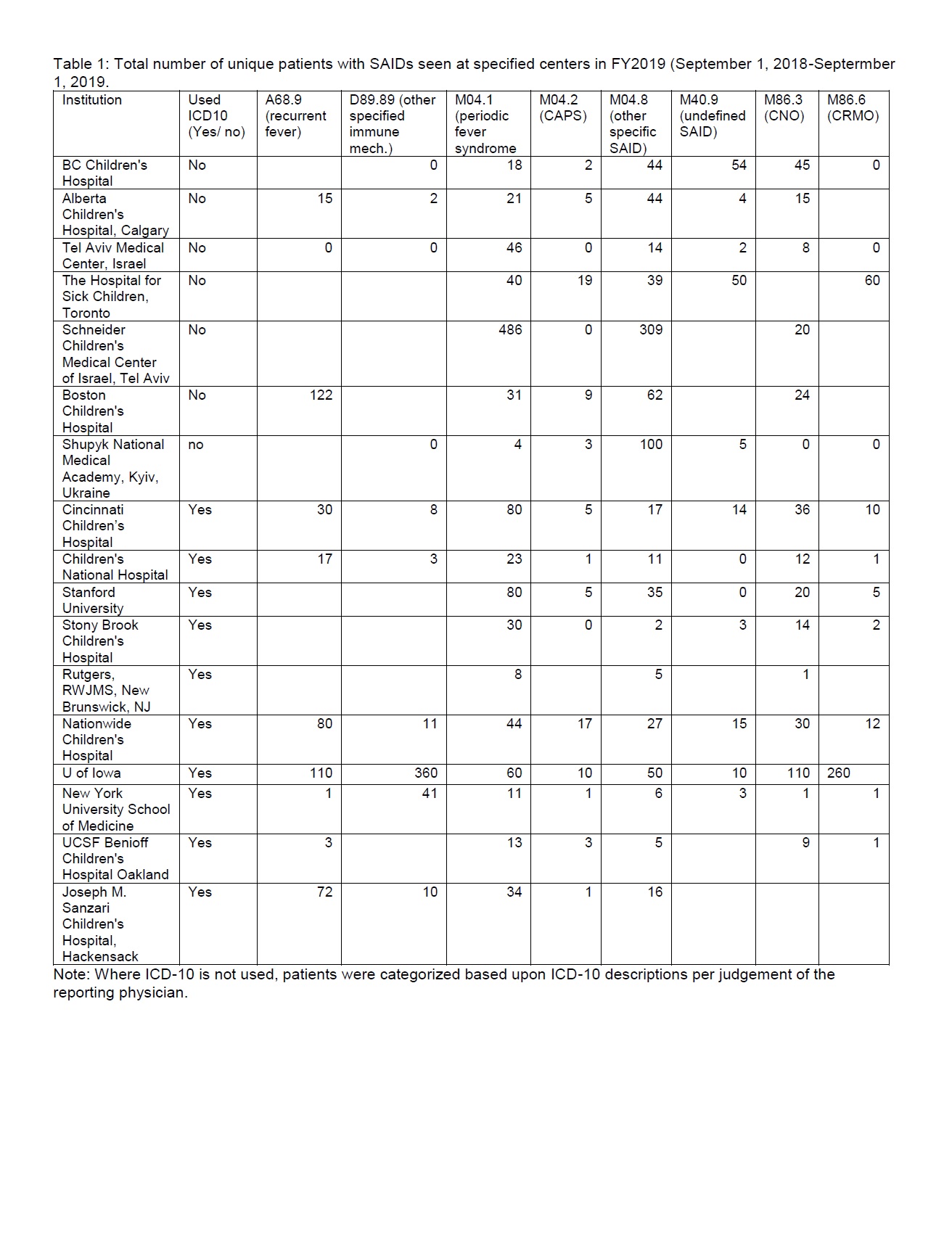 Table 1
---
Disclosure: G. Schulert, Novartis, 1, SOBI, 1; J. Cherian, None; T. Wampler Muskardin, None; M. Twilt, None; S. Akoghlanian, None; G. Amarilyo, None; D. Dissanayake, None; K. Durrant, None; P. Ferguson, None; M. Gutierrez, None; L. Harel, None; J. Hausmann, Novartis, 1; M. Heshin Bekenstein, None; R. Laxer, None; A. Lenert, None; S. Li, Merck, 1, 2; G. Licameli, None; G. Lionetti, None; I. Michelow, None; L. Moorthy, None; E. Propst, None; V. Saper, None; H. Srinivasalu, None; Y. Stepanovskiy, None; A. Thatayatikom, None; L. Tucker, None; P. Wright, None; C. Yildirim-Toruner, None; F. Dedeoglu, Novartis, 1, UptoDate, 1; S. Lapidus, None.
To cite this abstract in AMA style:
Schulert G, Cherian J, Wampler Muskardin T, Twilt M, Akoghlanian S, Amarilyo G, Dissanayake D, Durrant K, Ferguson P, Gutierrez M, Harel L, Hausmann J, Heshin Bekenstein M, Laxer R, Lenert A, Li S, Licameli G, Lionetti G, Michelow I, Moorthy L, Propst E, Saper V, Srinivasalu H, Stepanovskiy Y, Thatayatikom A, Tucker L, Wright P, Yildirim-Toruner C, Dedeoglu F, Lapidus S. Standardizing Care and Fostering Systemic Autoinflammatory Disease (SAID) Research Through the CARRA Autoinflammatory Disease Network [abstract].
Arthritis Rheumatol.
2020; 72 (suppl 4). https://acrabstracts.org/abstract/standardizing-care-and-fostering-systemic-autoinflammatory-disease-said-research-through-the-carra-autoinflammatory-disease-network/. Accessed September 30, 2022.
« Back to 2020 Pediatric Rheumatology Symposium
ACR Meeting Abstracts - https://acrabstracts.org/abstract/standardizing-care-and-fostering-systemic-autoinflammatory-disease-said-research-through-the-carra-autoinflammatory-disease-network/