Session Information
Session Type: Poster Session D
Session Time: 8:30AM-10:30AM
Background/Purpose: The BACK-OFF JSpA Study is a randomized pragmatic trial that will investigate different TNFi de-escalation strategies for children who have sustained asymptomatic disease. As part of the study design we aimed to identify the most important patient-reported outcomes (PRO) of interest to stakeholders that should be examined as part of the trial.
Methods: To identify the most important outcomes of interest to stakeholders we conducted a discrete choice experiment – a user-friendly, quantitative, choice-based approach to evaluate individuals' preferences regarding potential PROs (Sawtooth Software). With this software, stakeholders assessed a discrete list of 21 NIH Patient-Reported Outcome Measurement Information System (PROMIS) pediatric domains across four general categories of outcomes: physical health, mental health, social health and global health. PROMIS measures are self-reported instruments designed for use in the general population and chronic medical conditions. Rather than asking stakeholders to "rate" all items at once, only 3 domains were shown at a time. Within each set, stakeholders chose the outcomes they felt were "most" and "least" important to consider during TNFi therapy de-escalation. This process was repeated for 21 sets of unique outcome combinations, with each outcome being shown an equal number of times. Stakeholders were required to make choices instead of expressing the strength of a preference (as would be done with a Likert scale or Delphi rating process). Using this process left no opportunity for scale use bias, where respondents often rate the different attributes similarly.
Results: Fourteen caregivers, 12 patients (ages 9-22 years old), 16 rheumatologists and 3 payors completed the exercise, which took approximately 10 minutes. The discrete choice experiment resulted in an estimate of the relative importance of each outcome and rank (Table). All stakeholder groups agreed that the primary PRO should be "Pain Interference", a measure that evaluates the effect of pain on a child's everyday activities, including impact upon social, emotional, mental, and physical health. Patients and caregivers were mostly aligned in their top priorities, with patients valuing physical health domains (50% of top 10) whereas caregivers were more interested in mental health domains (60% of top 10). Rheumatologists and payors were most interested in physical health domains, which were ranked as 80% and 60% of their top 10 PROs, respectively. Overall, the patients had the most diverse set of domains, including at least one of each category in their top 10 rank order of importance. Patients were also the only stakeholders to prioritize an outcome from the "social" category.
Conclusion: The discrete choice experiment resulted in an estimate of the relative importance of each PRO and rank. Patients and caregivers were mostly aligned in their top priorities. The rank-order list directly informed the primary and secondary PROs for our upcoming trial.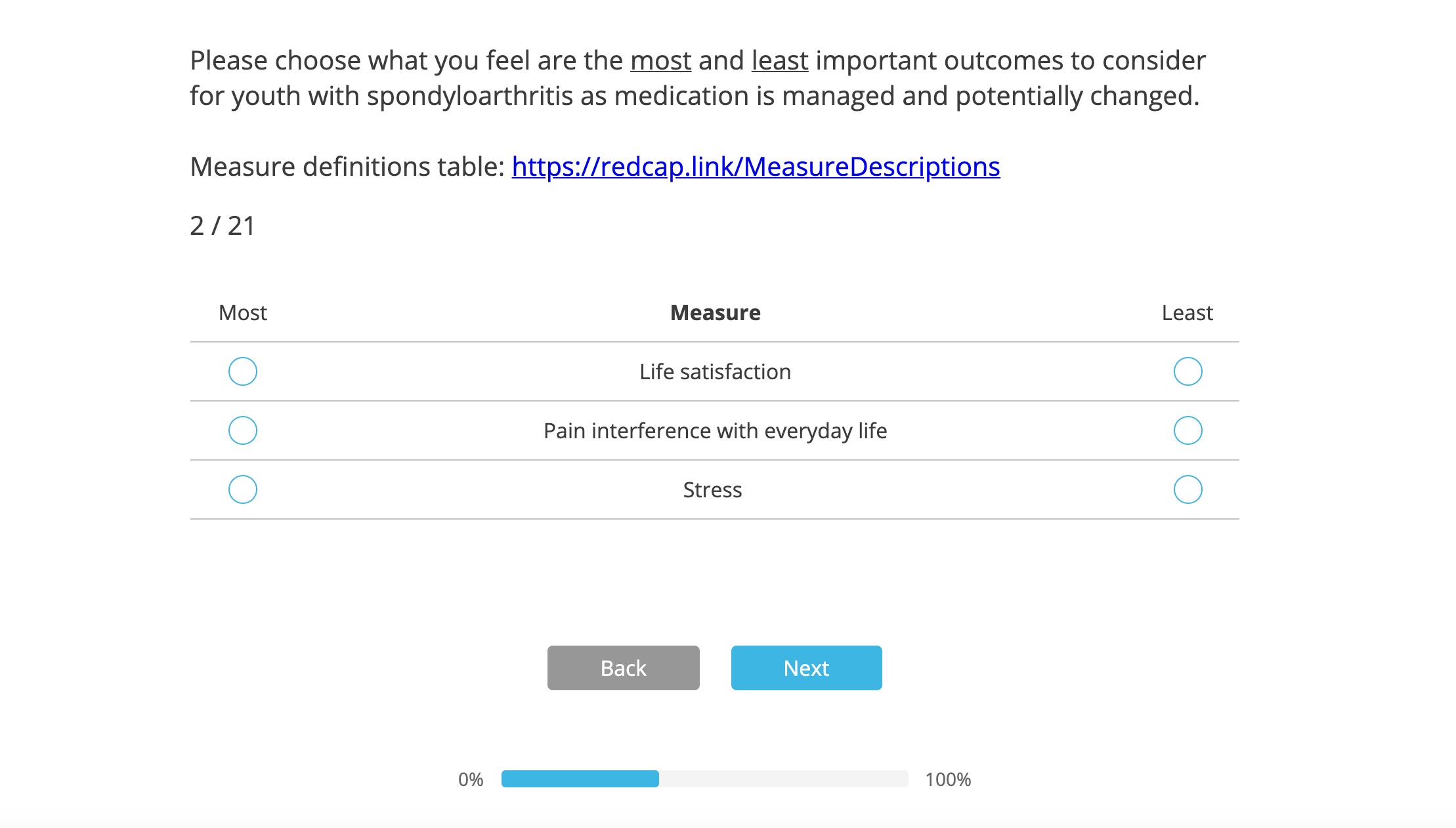 Sample question from the discrete choice experiment
---
Disclosures: P. Weiss, Lilly, 1, 2, Pfizer, 1, 2, Biogen, 2; C. Sears, None; T. Brandon, None; R. Xiao, None; T. Aquino, None; K. Archie, None; A. Hameed, None; E. Holland, None; M. Holland, None; A. Khan, None; M. Kohlheim, None; J. Leal, None; L. Murphy, None; S. Murphy, None; A. Neu, None; E. Neu, None; J. Neu, None; J. Neu, None; R. Richmond, None; T. Suplee, None; D. Suplee, None; C. Forrest, None.
To cite this abstract in AMA style:
Weiss P, Sears C, Brandon T, Xiao R, Aquino T, Archie K, Hameed A, Holland E, Holland M, Khan A, Kohlheim M, Leal J, Murphy L, Murphy S, Neu A, Neu E, Neu J, Neu J, Richmond R, Suplee T, Suplee D, Forrest C. Stakeholder Outcome Prioritization in the Biologic Abatement and Capturing Kids' Outcomes and Flare Frequency in Juvenile Spondyloarthritis Trial [abstract].
Arthritis Rheumatol.
2021; 73 (suppl 9). https://acrabstracts.org/abstract/stakeholder-outcome-prioritization-in-the-biologic-abatement-and-capturing-kids-outcomes-and-flare-frequency-in-juvenile-spondyloarthritis-trial/. Accessed February 1, 2023.
« Back to ACR Convergence 2021
ACR Meeting Abstracts - https://acrabstracts.org/abstract/stakeholder-outcome-prioritization-in-the-biologic-abatement-and-capturing-kids-outcomes-and-flare-frequency-in-juvenile-spondyloarthritis-trial/