Session Information
Session Type: Poster Session (Sunday)
Session Time: 9:00AM-11:00AM
Background/Purpose: Patients of color are more likely to have systemic lupus erythematosus (SLE) and a smoking history. Prior literature notes that both smoking and race impact odds of cutaneous manifestations. Thus, we examined the impact of cumulative smoking and race on cutaneous manifestations of SLE.
Methods: For this cohort study, electronic health records at an academic center were manually abstracted to include adult patients meeting ACR 1997 or SLICC 2012 classification criteria and with at least one ambulatory rheumatology encounter with an SLE ICD- 9 or 10 code from 2003 – 2016. Our cohort included 632 consecutive SLE patients; 552 met ACR and 80 met SLICC SLE criteria only. The primary outcomes were ACR or SLICC cutaneous criteria and SLICC Damage Index (DI) cutaneous criteria. The primary explanatory variable was smoking exposure defined as low (< 5 pack-years), medium (5-10 pack-years), and high ( >10 pack-years), compared to nonsmokers. Covariates included age category at diagnosis (early onset < 18 years old, 18-50 years, or late onset >50 years), sex, and race. Analysis was performed using multivariate logistic regression to calculate odds ratios and 95% confidence intervals (OR, (95% CI)).
Results: Among 632 SLE patients, mean age was 42 ±14 years, 91% female, 82% white, and 40% were ever smokers. Figure 1 compares age at SLE diagnosis of ever smokers and never smokers. Never smokers were on average younger with a wider age distribution observed among ever smokers. Patients with low smoking exposure were nine times more likely to develop any mucocutaneous manifestations (OR 9.0, (1.2, 67.7)), four times more likely to meet any SLICC cutaneous criteria (OR 3.7, (1.3, 10.6)), and twice as likely to meet ACR cutaneous criteria (OR 2.0 (1.0, 3.8)) compared to non-smokers (Table 1). Patients with medium smoking exposure were twice as likely to meet acute cutaneous SLICC criteria (OR 2.3, (1.1, 5.1)), whereas those with high smoking exposure had two-fold higher odds of discoid lupus (OR 2.1, (1.1, 4.1)). Chronic cutaneous SLICC criteria and SLICC DI cutaneous criteria showed linear pack-year trends that met significance with high smoking exposure (OR 2.2, (1.2, 4.2) and OR 4.2, (0.9, 9.2) respectively). Patients of color had increased risk for alopecia, discoid lupus, chronic cutaneous lupus, and DI skin damage. Limitations included sample size and just 18% patients of color.
Conclusion: Any smoking exposure was an independent risk factor for nearly all cutaneous manifestations of SLE, whereas high smoking exposure and patients of color had significantly increased risk of chronic cutaneous manifestations and persistent skin damage. Findings suggest a dose relationship between smoking exposure and cutaneous manifestations/damage, making cessation an important strategy to potentially reduce disparities and improve cutaneous outcomes in SLE.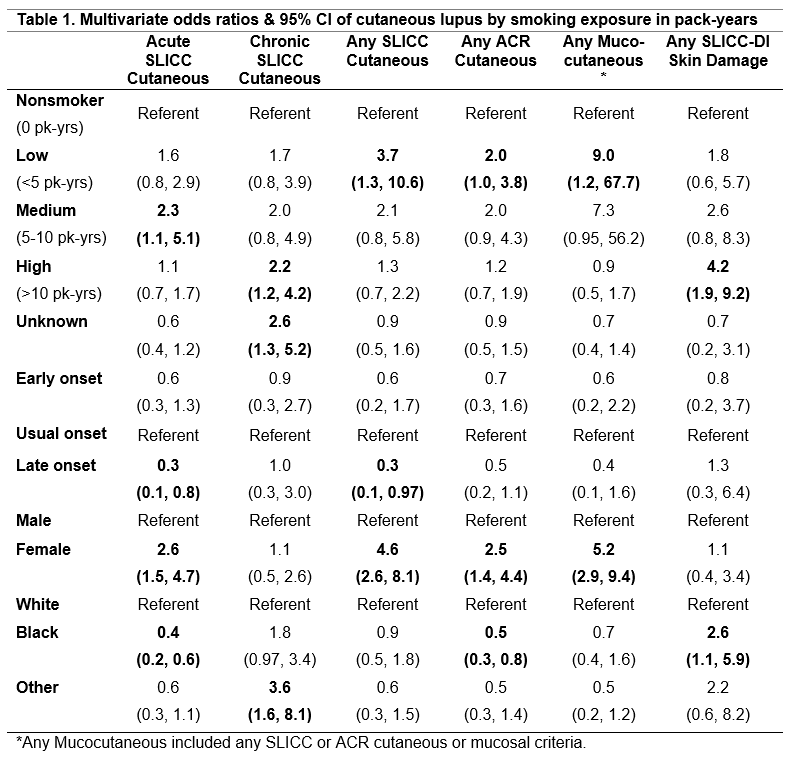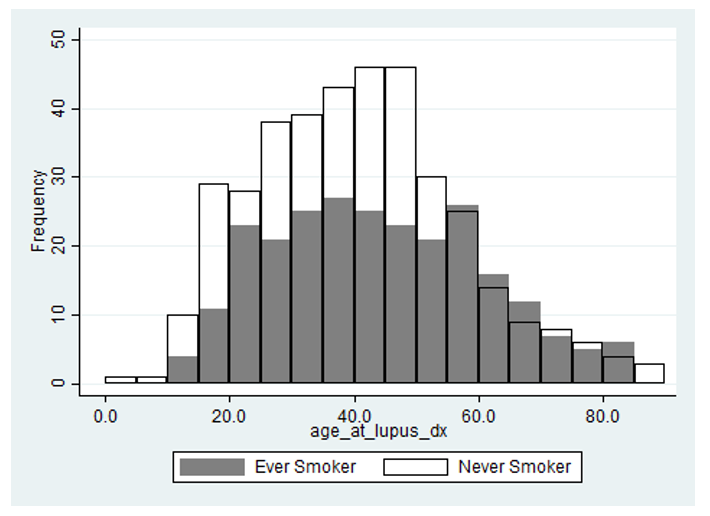 ---
Disclosure: N. Ezeh, None; T. McKown, None; S. Garg, None; C. Bartels, Pfizer, 2, Pfizer Independent Grants for Learning and Change, 2.
To cite this abstract in AMA style:
Ezeh N, McKown T, Garg S, Bartels C. Smoking Exposure in Pack-Years Predicts Cutaneous Manifestations of Lupus [abstract].
Arthritis Rheumatol.
2019; 71 (suppl 10). https://acrabstracts.org/abstract/smoking-exposure-in-pack-years-predicts-cutaneous-manifestations-of-lupus/. Accessed February 1, 2023.
« Back to 2019 ACR/ARP Annual Meeting
ACR Meeting Abstracts - https://acrabstracts.org/abstract/smoking-exposure-in-pack-years-predicts-cutaneous-manifestations-of-lupus/