Session Information
Session Type: Abstract Session
Session Time: 10:30AM-10:45AM
Background/Purpose: Foot symptoms (i.e., pain, aching, and stiffness [PAS]) are common in middle-aged to older adults and are linked to restricted physical activity, poorer physical function and balance, disability, and falls. Their contribution to mortality is not known. This longitudinal analysis examined whether presence and severity of foot symptoms were associated with mortality in a large prospective community-based cohort of Black and White men and women 45+ years old.
Methods: Data were from three study visits (baseline [1999-2004], 1st follow-up [2006-2010], and 2nd follow-up [2013-2015]) of the Johnston County Osteoarthritis Project (JoCoOA). Presence of foot PAS (yes/no) was assessed by the question: "On most days, do you have pain, aching or stiffness in your left/right foot?" Foot PAS severity was recorded as none (referent=0), mild=1, moderate=2, or severe=3. Foot PAS Severity Count summed severity across both feet (0 [none] to 6 [severe in both feet]). All-cause mortality was determined for participants at each follow-up study visit using data from the National Death Index to determine date and cause of death through December 31, 2015. Static covariates (did not change or changed at same rate for all participants over time) were enrollment cohort (original [1991-1997] or enrichment [2003-2004]), birth cohort, age, sex, race, and education level. Time-varying covariates were body mass index (BMI), smoking, alcohol use, minutes/week of moderate/vigorous physical activity, non-steroidal anti-inflammatory drug use, hypertension, cardiovascular disease, diabetes, depressive symptoms, liver disease, knee PAS, and hip PAS. For each foot symptom measure (PAS, PAS severity, PAS Severity Count), separate Cox proportional hazards regression models with covariates were used to estimate adjusted hazard ratios (aHR) and 95% confidence intervals (CI) for the total sample and stratified by sex, race, obesity (BMI< 30 vs. ≥30 kg/m2), and diabetes (test for interaction significant at p< 0.1).
Results: At baseline, mean age was 63 years, 2/3 were women, 1/3 were Black, mean BMI was 31 kg/m2, and 37% had foot PAS (Table 1). Mean follow-up time was 11.8 years, and there were 818 deaths. In adjusted models (Table 2), foot PAS was related to a 16% greater hazard of all-cause mortality (aHR 1.16, 95%CI 0.99, 1.35). Compared to no foot PAS, severe foot PAS was associated with a 59% greater hazard of excess mortality (aHR 1.59, 95% CI 1.23, 2.04). Every 1-unit increase in PAS Severity Count was associated with a 7% greater hazard of all-cause mortality (aHR 1.07, 95% CI 1.03, 1.12). There were no statistically significant differences by sex, race, obesity, or diabetes.
Conclusion: In the JoCoOA, individuals who had greater severity of foot symptoms had increased mortality, independent of confounders. Although mechanisms for this relationship are not yet understood, foot symptoms may contribute to less physical activity and loss of physical function, which over time leads to factors that impact mortality, such as comorbid conditions from increasing BMI or falls from muscle weakness/impaired balance. Strategies to prevent and treat more severe foot pain may be needed to reduce mortality.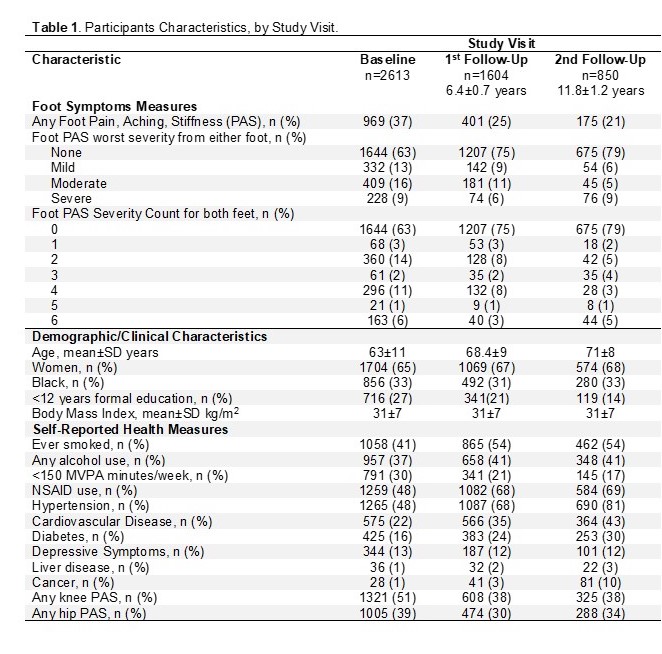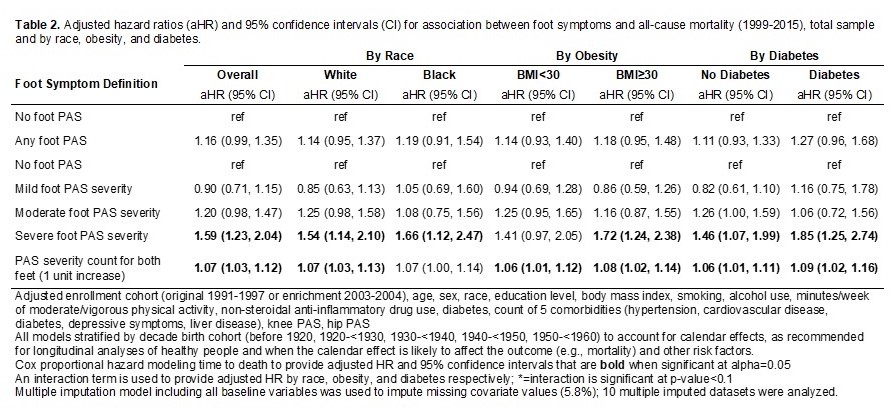 ---
Disclosures: Y. Golightly, None; C. Alvarez, None; M. Hannan, None; L. Gates, None; B. Cleveland, None; A. Nelson, Lilly, 1; L. Callahan, None.
To cite this abstract in AMA style:
Golightly Y, Alvarez C, Hannan M, Gates L, Cleveland B, Nelson A, Callahan L. Severe Foot Symptoms Are Associated with Mortality: The Johnston County Osteoarthritis Project [abstract].
Arthritis Rheumatol.
2021; 73 (suppl 9). https://acrabstracts.org/abstract/severe-foot-symptoms-are-associated-with-mortality-the-johnston-county-osteoarthritis-project/. Accessed January 28, 2023.
« Back to ACR Convergence 2021
ACR Meeting Abstracts - https://acrabstracts.org/abstract/severe-foot-symptoms-are-associated-with-mortality-the-johnston-county-osteoarthritis-project/